George Bowdrey was born to Robert and Anne Bowdrey on 30th June 1890 in West Drayton, Middlesex. He was the seventh of nine children. His mother died in 1895 when her youngest child was just 3 years old. When his father died in 1899 the older children found jobs as servants. Of the three youngest, one was adopted, one was sent to an orphanage in Yorkshire, and George was sent to an orphanage in West Malvern, Worcestershire.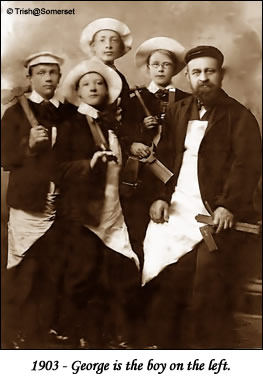 The orphanage (which was also a school) was run by David Proctor, a clergyman of the Church of England. While not a cruel man, he was exceedingly strict and the boys referred to him as 'Cranky'. From what I've been told it seems that the orphanage had a 'self-assist' emigration programme in that they were not affiliated with organisations such as Barnado's or those mentioned in this article: Dictionary of Canadian Biography Online. Only children who volunteered for the 'Home Child Scheme' actually went to Canada.

In 1904 George volunteered to go to Canada, along with two other boys – Frank Hall and Fred Knight. The three of them became good friends and going to Canada must have seemed a huge adventure to them. They were much luckier than some home children as they went to an area that was very much, and still is, community minded.
They left Liverpool on 26th May 1904 on the 'Dominion', arriving in Quebec on 5th June 1904, where it is assumed they were met by an agent of the Church of England and forwarded to Minnedosa, Manitoba, by train. When they arrived in Minnedosa they had no idea what they were supposed to do and were pretty much left to fend for themselves. They found jobs here and there – chopping wood, shovelling snow, doing farm labour etc. They were never paid, but were always fed and had a good bed.
In 1906 George was working for a Melville McKinney and after about three years, all the boys had found permanent places to work. George was working/living with the Boyd family in Clanwilliam. To this day there are many Boyds living in the area. On 3rd April 1916 George joined the Canadian Army and was based in England, which is where he met his future wife, Agnes Amelia Gillett. They married on 26th March 1919 at St Martin's Church, West Drayton, with one of his brothers as a witness. George and Agnes left England on the 21st October 1919 and arrived in Quebec on 28th October 1919. Many passengers on the boat, the 'Empress of France', were soldiers returning home with their new brides, and some of them even had children already.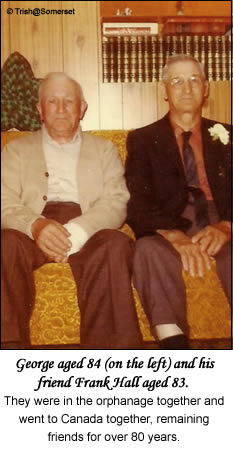 George and Agnes returned to Minnedosa, which must be a very telling fact in that George wanted to go there and considered it his home, and where, of course, his good friends Fred and Frank were. The couple had three children, one of whom sadly died at just one day old. Eventually they settled in a small village called Bethany, which is just north of Clanwilliam. George found work with the Canadian National Railway as a track man, and stayed with them until his retirement.
In 1958 he was voted in as 'reeve' (or 'mayor') of the rural municipality of Minto and was re-elected five more times, serving in that position until 1969. The son of Fred Hall has told me that George was a well liked man and known for his good nature and sense of humour. Apparently George and Fred, even as they got into their 80's and 90's, loved to argue politics. George, Agnes and their small baby are buried together at St John's Cemetery, which is about a quarter of a mile west of the village of Bethany. Their two other children married and went their separate ways, and I am still hunting them down
I am so grateful to Frank's son for recounting his memories to me. It means a lot that George found happiness after such an awful start in life, and that he was respected and well liked.
Trish@Somerset
© Trish@Somerset 2010
---
SOURCES
Ancestry for:-
– 1891 & 1901 English Census
– BMD indexes
– London Parish registers
– Passenger List to Canada 1904
– Returning Soldiers to Canada 1919
Library and Archives Canada for:-
– 1906 & 1916 Canadian Census (Manitoba, Saskatchewan and Alberta)
– Attestation Papers of Canadian Soldiers
– Index of graves
And many thanks to the son of Frank Hall for his personal memories and Lesley who is researching Canadian 'Home Children'