My small sideboard is quite literally a family piece as it was made by my great uncle, Lawrence Crisp.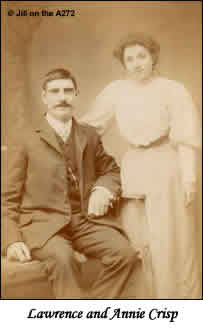 Laurie was born in Deptford in 1883, but by 1890 the family had moved to West Wittering in Sussex. In due course Laurie became a carpenter and joiner, later taking on his little brother Bert (my grandfather) as an apprentice and later a partner in the business.
They worked on any job, big or small, and their account books show a number of jobs for Sir Henry Royce who lived in the village.
The sideboard was made in oak for my great grandmother. There is a panel made of tortoiseshell and mother of pearl, which originally came from her workbox. She died in 1928, so the sideboard moved to Laurie's home. In the 1930s, he and his wife Annie moved to Westerham in Kent to be nearer her ailing parents, so the sideboard went with them.
It was here where I first saw it in the 1970s after he had 'retired' – he was one of those people who carried on working, but only on projects he really enjoyed. The front room was like a workshop filled with antiques that he was restoring, while the back room was hung with various pendulum clocks on which he had made repairs to the cases, so there was a constant ticking and chiming. I also have a photo of him with a medal case he made for Sir Winston Churchill's home at 'Chartwell', which is close to Westerham.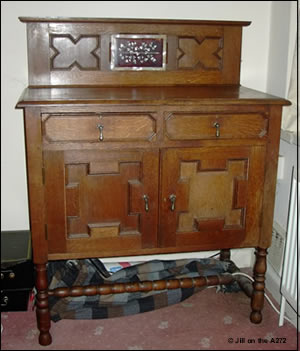 When approaching 90, Laurie had been a widower for several years and had no children of his own. He became too frail to live alone, so before going into a nursing home, he made sure that all the pieces he couldn't take with him went to a good home. So the sideboard went to his brother Bert's widow, my granny. Granny lived alone until her late eighties, when she went to live with her second daughter. It was at this point in 1985 that the sideboard came to our tiny studio flat, where my husband and I used it temporarily as a baby changing unit, stowing the nappies in the cupboards!
It now stands in our house and gets a traditional beeswax polish from time to time. Apart from some glasses and china, it also holds … what else could it be? You guessed it of course – my family history documents and photos.
Jill on the A272
© Jill on the A272 2010
---