I have what remains of a tea service given to my paternal grandparents at their wedding in 1910. The china came to my parents on their marriage, as by then Grandma had died and Grandad wanted his son's wife to have it. I remember seeing this set in the china cabinet at my grandad's house, where we lived for a while, and later in our own family home.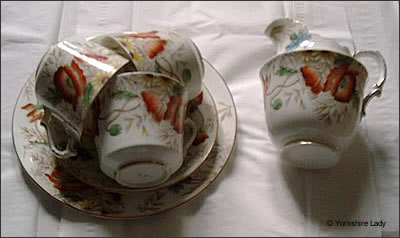 When I started researching my family tree, I was contacted by a lady in Australia who turned out to be my second cousin. I learned that her grandmother was my grandma's sister, who had emigrated shortly after my grandparents' wedding.
On hearing about this development my mum remarked, "Oh, yes, I remember Grandad saying they went to Australia… that was the lady who bought the tea set!". I was able to send a photo of the china to my newly found relative who was, of course, delighted as it was a link with her own grandmother. And to MY delight, she sent me images of postcards my grandma had sent to her sister in Australia.
As I never knew my grandma, or much about her, having these few handwritten messages was like finding lost treasure, I'll never forget the feeling it gave me to see them.
When my mother died, what was left of the tea service came to me. I was both saddened to see that so little remained, and glad that it had been loved and used down the years.
At Mum's funeral I met a relative of my dad's, a lady I hadn't seen for years. She had heard from Mum that I was the family's historian, and she brought along all sorts of stuff she thought I might like to see. I could hardly believe my eyes, as one of the tiny pictures showed my grandparents, in front of the house I grew up in. I have since received a larger, much clearer, photo of Grandma, from this relative.
Thanks to the members of Family Tree Forum and other genealogy websites, I have spoken to some of the many cousins I never knew I had, some of whom have been able to tell me a little about my grandmother. My dad was a lovely man and I miss him greatly. It's evident that much of his kindness was inherited from this gentle lady, whom I'm gradually getting to know.
It was a close friend's chance remark which got me started on family history as, during a dinner party at her home, she showed me a birth certificate which she had just received from the General Record Office… and the rest, as they say, is (family) history!
Yorkshire Lady
© Yorkshire Lady 2009