My auntie, Chrissie O'Neil, died in New York on Easter Sunday 2009, aged almost 101, and I'm writing this article as a tribute to her. She was the youngest of 10 children and the last one in her family to pass away. During her life she wrote to all the members of the family and we all wrote to her.
In 1928, when she was 20 years old, she emigrated from Cobh, Ireland, to become a Dominican Nun in Amityville, New York. I found her on the 1930 American Census, and I had this printed, enlarged, laminated and sent with a special card when she reached that magic age of 100 in June 2008 – celebrating 80 years of being a nun.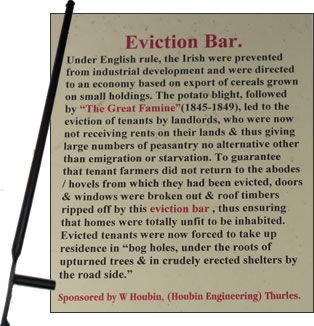 Auntie Chrissie and a companion would often travel to Ireland to see her cousins. She made that pilgrimage to her native land for the last time in 1995, when she was 87 years old. My father was her older brother, and he too travelled regularly to Ireland to see his family until he died in 1978. When my mother died in 1987 I knew little of my Irish roots, so when Auntie Chrissie went to Cork in 1990, I went there to meet her, and was introduced to all of my cousins. They all wanted to meet and talk to their newly found English cousin so, armed with a notebook, I started to make lots of notes.
One told me the sad story of how my grandmother died of consumption in 1912, leaving 10 children under the age of 13. My grandfather was unable to cope and went to Southampton, so that all but two of the children were placed in a local orphanage. The eldest girl of 13 found work as a housekeeper and took Chrissie with her. Chrissie told me tales about my father I never knew, and others spoke about the poverty they experienced.
Yet another cousin told me, with pride, about the engine drivers in the family and, with a glint in his eye, talked about the elopement of great grandparents Michael Neill and Allicia Martley/Markley. Allicia was, according to family legend, the daughter of a wealthy landowner. Michael was an engine driver, although he had to give it up when he lost an arm in a horrific accident whilst walking through a tunnel back to his home in Cork City. He was retained as an office worker within the railway, but found it difficult coping with the loss of his arm.
Another told the tale of the 'Manchester Martyrs' (1) being hidden by the family at the cottage where they lived. I was also told about one who spent six months in Spike Island Prison, Cork, for hiding others. My father had talked about the 'Black and Tans' (2) and of how he hid in the ditches until they went by. My mind was in a whirl, I could not take it all in and failed to ask for more information on the 'Manchester Martyrs'.
In 1990 I was ignorant of Irish affairs and did not know who they were. I went home, back to work, and tried to put some of the history together. With so many Edwards, Michaels and Thomas', I was never sure which generation was which, but by 1991 I was hooked.
Every year we returned to Ireland to gain more information, but nobody knew where the runaway marriage took place. With a name like O'Neill, that was not good news. I visited Cork Library and found baptisms for those born in Cork. We found some of the names on the 1901 and 1911 census returns in the Dublin National Archives, but it was a hard slog not knowing the addresses and with so many O'Neills to choose from. When another cousin told me that he had seen the elopement in a register at Holy Cross church in County Tipperary, I was delighted. At this time the Diocese of Cashel and Emly, which included Tipperary and parts of Limerick, was a closed diocese to the public. The registers could not be accessed through Dublin National Library, as the Bishop refused permission for anyone to see the registers. However, since June 2008 these are now accessible to the public.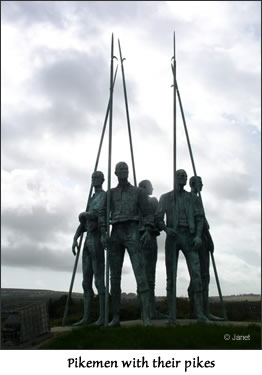 But in the 1990s the only way was to visit the churches of interest. We arranged another holiday in Tipperary, visiting Holy Cross, but no marriage was found. The priest suggested we try the Church of the Assumption at nearby Thurles. So we searched the registers and came across a marriage by delegation of Michael Neill to Allicia Martley in February 1854. This meant that a visiting priest officiated at the marriage. Another entry showed that their daughter, Margaret, was baptised there in January 1855.
The witnesses to the marriage were James Neill and Honora Dea. So was James his brother? With the family still in Thurles this hardly looked like an elopement! Another cousin in Cork later confirmed that Michael and Allicia had not eloped, but had incurred the wrath of three of Allicia's brothers. They had been chased by them to the Hayes Hotel in Thurles, where they put up a barricade to protect themselves. However, all must have ended well because we found a record of a Thomas Martley marrying a Mary Neill in 1855 and a Patrick Martley marrying a Margaret Neill in 1871. Even so, their brother, John O'Neil, who lived in Albany, USA, wrote displaying his disapproval of his sister, Margaret, marrying an Englishman.
We also found a marriage between a Margaret Neill and a Dennis Driscoll in September 1857. Dennis was a member of the Royal Irish Constabulary, and I have uncovered that he resigned from the force in June 1868, age 44, and died just two years later. Why had he resigned so young when members of the RIC were unable to do so? This happened a few months after the execution of the 'Manchester Martyrs', in November 1867, and rumour had it that he was injured in an attack on one of the police stations. His widow, Margaret, went on to marry Patrick Martley in 1871, with his brother, Michael Martley, as a witness.
Returning to the registers, I found a Michael Neill baptised in October 1827, Catherine in 1831, Margaret in August 1837 and James in January 1840, all to a Michael Neale and a Margaret Cummins. Are these my family?
I turned my attention to the Martley baptisms and found Thomas (July 1826), Patrick (May 1831), Allicia (November 1833) and James (February 1829), all born to Michael Martley and Judith Dea. Although their children were christened in Thurles, no marriage details could be found. I was certain that three of the Martley siblings had married three of the Neills. It is possible that Allicia was chased to the hotel by her brothers James, Thomas and Patrick, probably because Allicia was the only girl in the family and that their 'house servant' was being taken away from them. Or perhaps it was because Michael had not provided the required dowry. According to the Tipperary Historical Journal, the railway reached County Tipperary in 1848, so 21 year old Michael Neill would have easily found work on the new rail link. It was not a true elopement, but it certainly had elements of an unusual marriage! He worked and lived in Cork City after 1855 and became one of the elite – an engine driver.
So, who were these Martleys? Were they landowners? In the registers of the same church, I found Michael Martley senior baptised at Thurles in May 1798, the son of Thomas Markley and Alice Tuohy. Another son, Patrick Martley, was in baptised April 1812. I then turned my attention to the Tithe Applotments of the 1820s and Griffiths Land Valuation of 1856, and discovering that a Patrick Martley had rented land in Cassestown, in the civil Parish of Rahelty, Barony of Eliogarty, from land owner Henry Langley. Griffiths Land Valuation found a Michael Martley with a house, land and forge at Cassestown, with Henry Langley also as the landowner. Henry Langley owned Brittas Castle, Thurles, which had been destroyed in earlier troubles. A William Markley signing the Oath of Allegiance in 1775, and is the earliest Markley to be found in Thurles, but is he Thomas' father?
One of the ways to discover your Irish roots is to look in modern-day directories to see if there are any family names worth researching. I discovered a possible relative and on contact found that she lived in James Martley's house and forge, which had been passed down her side of the family. She showed me photographs of the now much modernised house, together with the place in Cassestown where the Martleys used to live. The hill was still known as Martleys Hill, but she assured me that they were not wealthy landowners. So myth number two had been demolished… or had it? I have since discovered a Protestant Martley/Markley family in Meath and these were, and still are, wealthy landowners.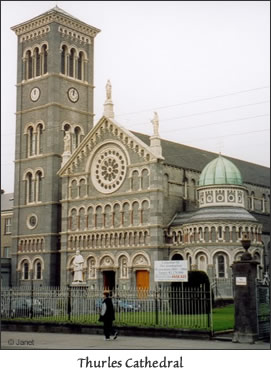 Bearing in mind that Martley/Markley was, and still is, an unusual Irish name, would it be safe to assume that the Martleys may have come over from England, maybe under Cromwell? There are places called Martley in Worcestershire and Huntingdonshire with families of Martley in both places. Is there any connection? Did John O'Neill have some knowledge of their 'Englishness'? Is there a connection with the Meath Martleys and those of Thurles?
However, it should be said that many within this Thurles Martley family were blacksmiths, and that forges in Ireland were the places for people to congregate and read the dissident material that was being written in these troubled times. Blacksmiths in Ireland may have been associated with all the usual forge activities, but Irish forges also made pikes, the weapons used to fight the British. Many pikes were found hidden around the Thurles area. It was not just the 'Great Famine' of the 1840's that forced people to leave Ireland, as by 1848 there was much upheaval and Tipperary, Limerick and Cork were the main counties where trouble and unrest became apparent. It started when William Smith O'Brien was arrested at Thurles Railway station in 1848. By the 1850s the landlords had become very officious and were evicting people from their homes leaving much deprivation. The 1860s saw many uprisings of the Fenian movement and there were many outlaws who escaped to other countries when discovery seemed imminent.
Soon after I met this cousin in Thurles, I discovered a message on Rootsweb from an American family talking about a Martley family who came from Thurles, who owned some ironworks and who had designed the gates at St Patrick's Cathedral in Dublin. I left a note to say it was a forge and that the iron gates built had been the ones around St Patrick's Cathedral and College in Thurles, not Dublin. A year went by, then I was contacted by another American family who recognised the names. They had much information including letters written by the O'Neill family from Ireland to the Martleys in the USA. We exchanged notes and eventually I saw copies of the letters. They were amazing, as all the suppositional work I had done in Thurles proved to be correct. There was a letter written by my great great grandfather, Michael Neale, another by my great grandfather, Michael, confirming the loss of his arm, and one by great Uncle James (Michael's brother), talking about letters he had written to an Irish newspaper and to his sister Mary who was very ill. There was a letter written by a John O'Neill, who was clearly another brother who had emigrated to the USA in 1849, just a few months after the troubles in Thurles.
John and Mary were not christened in Thurles, nor were Michael Neale and Margaret Cummins married there, and I have yet to discover where. I may have found the records of deaths of Margaret's parents at the General Record Office in Dublin – John Cummins died in Thurles age 85 in 1876 (birth c1791) and Johanna Cummins died there the same year aged 95 (birth c1781).
However, the fate of James is a complete mystery to all of us. He was baptised in Thurles in 1840 to Michael and Margaret Cummins, and was educated in the town. He appeared as a witness to the marriage of my great grandparents, Michael Neill and Allicia Martley, in Thurles in 1854, and as a sponsor at the baptism of a Margaret Martley who was born in May 1861. According to one of the surviving letters of that period, his father found him a job as an apprentice baker in 1859, when he was 19 years old. We know that he wrote letters to an Irish newspaper, because he wrote to John detailing them.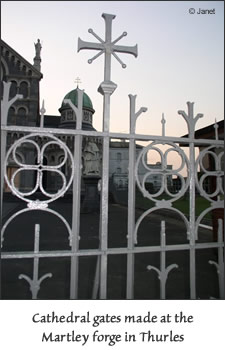 So it appears that some of the family were clearly on the fringes of the 'Brotherhood Movement', or the 'Fenians' (3) as they came to be known. We know that James called himself 'James Cummins O'Neil', which confirms the correct family in Thurles, as well as showing his pride in his mother's name. James wrote letters to a local newspaper, detailing his disgust at the evictions that were taking place in his area, hoping that the elections would help solve some of the problems. The following are extracts from two of his letters of 1859, exquisitely written in poetic and flowery language, leaving one in no doubt where his sympathies lay:-
For in every quarter of Ireland where nature dons her most smiling vesture, or where happy homesteads rear their humble roofs, there the spoiler plies his ungodly work, and if you gaze around you will behold the sad spectacle of the cowering forms of the shivering wretches, who crouch within the wretched hovel, that yield them a temporary shelter by the ditches side. List to the mournful wail which hunger and want forces from them as pale and emaciated they huddle together, while the cold and biting blast of winter pierces through the frail, open shantee, which now alone remains of all the broad lands they once possessed.
The old spirit of ascendancy and petty despotism of religious rancour and intolerance has not, I am sorry to say, yet taken its departure from this old country of ours. Landlord terrorism and power are still at work, compelling the craven serf to bow before his mighty master and crouch to the very dust at the voice of the agent or bamb-bailiff. I am led to make these remarks by the unjust and iniquitous course pursued by the saxonised landorates of this fine old catholic country, to coerce their tenants to vote at the coming election against their country and their conscience, against their noble instincts of independence which pervade the body and soul of every Irishman for the purpose of electing an alien to their feelings and their blood – a maligner and opponent of their faith, and sworn foe to priests and people, and all who profess the oft persecuted creed of catholicity. Who is he you would ask? Colonel Dickson, a militia officer, who glories in pointing to the robber ranks of the illustrious and infamous Oliver Cromwell for an ancestor.
To date, I have found five letters which James wrote to this paper, but none after 1861.
I would like to pose some questions as to what might have happened to James Neill, as there are two different stories circulating amongst the Irish and American branches of the family. The American version is that he had a price on his head, so left Ireland quickly and was involved in a cross border skirmish on his way from Canada. Although I have virtually proved that the person involved in this skirmish was a John O'Neill (born 1834 County Monaghan), who emigrated from Ireland in 1857 to join the American Fenians, and died in 1878.
I also have a story passed on to me that my family hid the 'Manchester Martyrs' in Cork, but who? On 18th September 1867, a group of armed Irishmen freed two 'Fenian' prisoners from a prison van in Manchester. A policeman, Sergeant Charles Brett, was accidentally shot dead. Three Irishmen, William Allen, Michael Larkin and Michael O'Brien were convicted for the shooting, and hanged outside the New Bailey Prison in Salford on 23rd November 1867. But how could my family be possibly involved?
In 1869, James Neill was with his brother, John, in Albany, New York, working for a mercantile agency, RG Dun and Co. There is also a record of a James Neill marrying a Mary (O')Brien on 11th April 1864 in the Thurles register. The witnesses were a James Carew and a Mary Stevens. James Carew married a Judith Neill and a Judith Neill lived in Stradovoher, the same area as my own family of Neill, but is she a relation? The Thurles register also records the baptism of three of James Neill and Mary (O')Brien's children – Mary in July 1865, Bridget in November 1866 and Johanna in July 1869. No other baptisms are found after this date, so did they emigrate? Is this James my missing link, or is he another James unconnected to my family?
Other Briens have been found in Thurles as sponsors to my Martley and Neill families. A Mary Brien was a sponsor at the baptism of Joanna Martley in July 1858 – is this the same Mary Brien that married James Neill in 1864?
In September 1868 the baptism took place of Allicia Martley, daughter of Thomas Martley and Mary Neill. The sponsors were Michael Brien and Cath Bannon. Mary Neill died of cancer in 1876, and her widower, Thomas, and his family emigrated to Albany, New York, shortly after. Six years later, in March 1874, Patrick Martley and Margaret Neill baptised their daughter Johanna. The sponsors were Johanna Brien and Michael Martley. So were Mary, Michael and Johanna Brien siblings? Is the name Brien the link with the 'Manchester Martyrs' story, as a Michael O'Brien was one of those executed?
I would therefore be pleased to know if there is anyone out there who can help solve the mystery.
N.B. All spellings of O'Neill need to be taken into account: Neale/Neal/Nealle/O'Neil/O'Neill/Neil/Neill
Janet
© Janet 2009
---
NOTES
For more information:-
1. Wikipedia: Manchester Martyrs
2. Wikipedia: Black and Tans
3. Wikipedia: Fenians
SOURCES
Oral history from Irish cousins – Ireland has a tradition of oral history and storytelling which fill in the gaps left by official documentation.
Contact with Jim Herlihy in Ireland, who has written books on the Royal Irish Constabulary. These can be bought through Amazon (Search under his name for a list of titles.)
National Library of Ireland for Cork baptisms
National Archives of Ireland for 1901 and 1911 Irish census returns (although now coming online)
The British Library: British Newspapers 1800-1900 for James' letters to the Irish newspaper
Cork City Libraries for local history and some baptism information
Tipperary Libraries: Thurles for Thurles history, Tithe Aplotments and Griffiths Valuation, Rate books and maps
N.B. Griffiths Valuations 1848-1864 are now available online on Griffiths Valuation of Ireland 1848-18164
County Tipperary Historical Society

Cork Genealogical Society

Cathedral of the Assumption for all marriages and baptisms
Ancestry for US Census information/Passenger Lists
The National Archives for OS maps of Ireland, lists of soldiers who went over with Cromwell to Ireland and records of Royal Irish Constabulary.