I started researching my ancestry five years ago and, after reading about how so many people found it difficult tracing theirs, I didn't quite know how I was going to get on. My Irish-born mum only ever had a baptism certificate, and had tried to get her birth certificate from Dublin before she could marry my dad in England in 1947.
As she was born in 1916, the same year as the uprising in Dublin City, it seems that her birth was not registered. I have even tried to get a copy from Ireland myself, but without success. So the only proof Mum had of her existence was her baptism certificate and, thankfully, it was considered proof enough to allow her to marry in England and also to obtain a passport later on in life.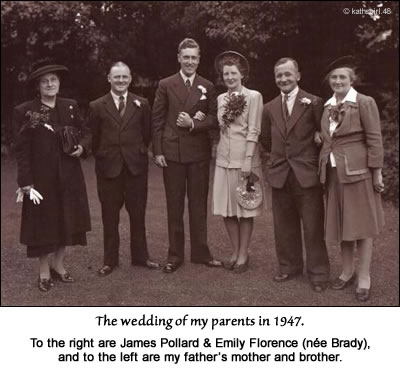 Luckily I knew my Irish maternal grandparents, James Pollard and Emily Brady, as the family (my grandparents, mum and her four sisters) had moved to England in 1928 and settled in Kilburn, London. I remember that Grandpops died when I was about 10 and Granny many years later, and that was about it. I had no idea who either of their parents were, or if they also came from Dublin.
Mum and all of her sisters, except for the youngest (Aunty Maureen) who is in a nursing home suffering from Alzheimer's, have all sadly passed away. Both myself and my cousins did not know anything about our Irish ancestry, and didn't have anyone to ask either. What fools we had been not to find out when we all had the chance!
However, what I did know was that my mum's eldest sister, Christina (aka Dinah), was two years older than she, so my grandparents must have married before 1914. They were Catholics so I thought that I would have a good chance of getting their marriage certificate from the Dublin Record Office, so I sent off for that first. I waited and waited, and eventually about two months later it popped through the letter box, providing me with the information that my two great grandfathers were Joseph Pollard and Michael Brady.
My daughter, Laura, was just as excited as I at seeing my Irish grandparents' marriage certificate. They married on 12th October 1913 at the Pro Cathedral Chapel, Dublin. Emily Brady was aged 19 and James Pollard was of 'full age'. Laura then said, "I wonder if they had any brothers and sisters?".
Now that got me thinking! I remembered that when I was a little girl of about 7, my mum used to get letters from New York, USA, from her Aunt Alice. But Alice who though… Pollard or Brady?
The Pollard Family
By this time I had subscribed to Ancestry and, as Aunt Alice had lived in the USA, I thought that I might be able to find something on there – and I did.
Looking on the message boards for my grandfather's surname 'Pollard', I found an entry by a lady called Pat, who described herself as one of the granddaughters of an Alice Pollard, who was looking for living relations. I sent her a message through the site, but got no response. I was so disappointed. A few months later, however, I found that an uncle of hers had also posted on the boards, so I sent him a message explaining who I was and that I thought I was related to Pat's grandmother Alice. He replied saying that he would tell her to contact me pronto, which she did, although it took some convincing to confirm that we were indeed related. She was only convinced after I said that my mum used to write to her parents before she died in 1992, and I had found their details in her address book.
My great aunt, Alice Pollard, had kept a list of all her siblings, as well as her parents' names for future generations, and Pat now held this vital information, which she copied to me. On our shared Pollard line, our great grandparents were Joseph Pollard and Margaret Mary Lawless. Joseph died at his home in Lower Wellington Street, Dublin, in 1930, and Margaret Pollard lived until she was 93 years old, dying in hospital in 1954.
Pat also gave me the UK address of another cousin, Brian, saying that her mother hadn't heard from him in years. A member of Family Tree Forum very kindly did an electoral roll look-up for me and I discovered that he was at the same address, so wrote to him. I was almost in tears when he rang me, as he sounded so much like Grandpops, with his lovely soft Irish accent. He sent me some photos of his father, together with lots of information.
After collecting all of this information from my newly found contacts and subsequently obtaining birth certificates, the online release of the 1911 Dublin census furthered my knowledge of the family. What I now know about the children of Joseph Pollard and Margaret Lawless is as follows:-
Follow this link to see The Pollard Family Tree.
Thomas Francis Pollard – born on 2nd August 1882 at 108 Upper Dorset Street, Dublin.
Mary Margaret Pollard (aka Margaret) – born on 25th March 1884 at 18 Bolton St, Dublin. Married Peter Larrigan. The 1911 Dublin City census shows them living at Whitworth Terrace, Drumcondra, Dublin. Both were aged 26, been married 3 years and had no children. Mary's brother Joseph Pollard (see below) was living with them. Margaret was widowed at a young age and died on 22nd November 1965.
Joseph Sebastian Pollard – born on 20th January 1886 at 46 Mountjoy Street, Dublin. In 1911 was living with his sister Margaret and her husband (see above) and described as a 24 year old plasterer. He married Molly Nolan and died in Drumcondra, Dublin, in 1971. I'm in contact with two of his grandsons.
James Fedalas Pollard – my grandfather – born on 24th April 1889 at 18 Bolton Street, Dublin. Died in 1959, aged 69, in Hampstead, London.
Francis Pollard – born on 16th July 1890 at 12 Henrietta Street, Dublin. He possibly died in childhood.
Alice Bridget Pollard – born on 30th January 1892 at 31 Bolton Street, Dublin. Alice emigrated to the USA, arriving on Ellis Island on 11th August 1906 on board the ship 'Campania'. She married William Reeves Tanner (aka Babe) in 1909 in New York. Alice remarried after William death, dying as Alice Byrd on 8th November 1983. Patricia and another contact, Nancy, are Alice's granddaughters.
Stephen Patrick Pollard – born on 4th April 1893 at 17 Bolton Street, Dublin. He married Eileen Foley of in 1930. Stephen died in 1962 at 150 Leinster Rd, Rathmines, Co. Dublin. I am in contact with his sons Brian & Derek.
Francis Pollard – born c1898 in Dublin. The 1911 Dublin City census shows him, aged 13, living with his parents at Lower Dominick Street.
Christopher Ignatius Pollard – born on 27th December 1899 at 27 Royal Canal, Dublin.
Christopher arrived on Ellis Island, New York, on board the ship 'Orbita' on 20th October 1924. The passenger list shows that his last place of residence was Dublin, with his nearest relative shown as a Mrs J Pollard of 21 Lower Wellington Street, Dublin, and that his final destination was Millerton, New York. He married an Ethel Donovan, who was also an Irish immigrant, and had two sons, both born in New York.
Sadly, the youngest son, William (born 1929), died in a plane crash on 7th December 1955. With a bit of searching on the 'Historical Newspapers' database on Ancestry's site, I found a small report in one of the New York newspapers:-
The Post Standard (Syracuse, New York), December 8th, 1955
Two Lost Pilots in Private Plane
White Plains, Dec 7th. A search was underway today for a four passenger private plane carrying two airline pilots which apparently failed to complete a short flight from Armonk to Candlewood Lake, Conn, last night.
The Westchester County Airport at Rye Lake said that Anthony Varisco of White Plains, an Eastern Airlines pilot, boarded the Seabee plane there yesterday and flew to Westchester Airport at Armonk, where he picked up a fellow pilot, William Pollard of Greenburgh"
Margaret Sheila Pollard (aka Maggie) – born on 1st May 1902 at 4 North Kings Street, Dublin. She was living at home with her parents in 1911, she later married a Mr McNulty and is believed to have emigrated to Canada.
I managed to obtain the marriage certificate of my great grandparents, Joseph Pollard and Margaret Lawless, from Dublin Record Office. It showed that they were married on 8th January 1882 in the Roman Catholic Chapel of St Michael, Kingstown (Rathdown), Co. Dublin. Joseph's father was recorded as Thomas Pollard, a plasterer, and Margaret's was Laurence Lawless, a labourer.

The Thoms Directory for Dublin, which is available online through Irish Family Research, showed that from 1868 to 1891 Thomas Pollard resided at Bolton Street, Dublin. In 1868 he was described as a 'plasterer and confectioner', but in subsequent entries was recorded as a contractor. However, a Dublin-based researcher whom I hired, found the directory from 1897, when only a Mrs Pollard was living at the address. This suggested that he died sometime between 1891 and 1897. The death certificate, which I obtained from the Dublin Record Office, confirmed that he had died on 19th June 1892, aged 62, at Jeruis Street Hospital, Dublin, with his widow, Mary Bridget Pollard, in attendance. He was described as a retired plasterer, living at 18 Bolton Street, Dublin.
Through searching on the IGI on FamilySearch, obtaining birth certificates in confirmation (which gave me Mary's maiden name of Quigley and Thomas' second name of Joseph), and with the help again from my researcher, I now know the following about their children: –
Joseph Patrick Pollard – my great great grandfather – born on 24th March 1860 at 47 Mid Abbey Street, Dublin.
William Pollard – born on 23rd June 1863 at 18 Bolton Street, Dublin.
Mary Anne Pollard – born on 25th November 1864 at 20 Bolton Street, Dublin.
Mary Bridget Pollard – born on 1st February 1866 at 20 Bolton Street, Dublin.
Thomas Richard Pollard – born on 19th November 1867 at 20 Bolton Street, Dublin.
William Francis Pollard – born on 12th February 1870 at 17 Bolton Street, Dublin.
Michael Stephen Pollard – born on 17th December 1871 at 17 Bolton St, Dublin.
I have recently found my cousin Tony on Genes Reunited, whom I haven't seen since I was about 13 (that's 47 years ago!). He told me that his mother, Sheila, who is my mum's sister, was not born in Dublin like the rest of the family, but in Colchester, Essex, in 1918. So I quickly ordered her birth certificate and discovered from it that Grandpop's army number was quoted on the certificate. It said:- "Corporal in Royal Engineers, No. 316211", and underneath, "Painter, Journeyman".
I knew that he was a painter and decorator by trade and that he had been in the army, but had no idea which regiment. So after 5 years of researching, yet another piece of the jigsaw had fallen into place.
The Brady Family
Tracing my grandmother's side of the family, the Bradys, has also taken me down many paths of discovery. I now have many living relatives who knew my mum and her sisters, yet were totally unknown to me and most of my first cousins.
My grandparents' marriage certificate revealed that my great grandfather was a Michael Brady – a very common name in Dublin, yet alone in all of Ireland – so how was I going to find out anything about him?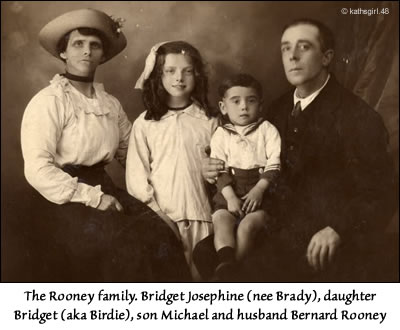 One day I was asking my cousin Susan (Aunty Maureen's daughter) if she had any information about our Irish ancestors. The only thing she had was her mother's address book, so I made a note of some of the names, addresses and telephone numbers. The first person I contacted was a lady called Brenda, who lives in London and kindly put me in contact with her older brother, Derick, who knew more about the family. He told me that he was the grandson of my gran's sister, Bridget Josephine Brady, who had married a Bernard Rooney. I felt as though I had won the lottery! Derick even knew of my mum's eldest sister, Dinah, and had met her and her second husband on several occasions. He was also having trouble tracing his ancestry, as his late father was placed into a home in Dublin after his mother died in 1923. So now both of us were on a mission of discovery!
I have also been in contact with Kate, who is another grandchild of Bridget Josephine Brady. It has transpired that she and my mum were both bridesmaids at my Aunty Maureen's wedding in 1942, and that she was actually named after my mum, who was known as Kathleen. Kate provided me with a photo of my mum taken when she was 22 years old, which I had never seen before. It reminded me of the time, when I was 13 years old, when we visited my aunt, Dinah, in Hammersmith, London. We went on what seemed like a long journey on the underground to see a lady called Birdie. This was Kate's mum and, at the time, I had no idea that we were related.
However, my real breakthrough came when I sent a letter to my second cousin, Oonagh, in California, USA, who was also listed in Aunty Maureen's address book. Unfortunately she was in hospital at the time, having suffered a stroke, so gave her next door neighbour permission to take photocopies of all her family's certificates and post them to me. When the fat envelope arrived, I was stunned – this was my biggest lead ever! Apart from all of Oonagh's immediate family's certificates, there were the baptismal and marriage certificates for another of Gran's sisters, Martha Jane Brady, as well as the death certificates for both my great and great great grandfathers, Michael Patrick Brady and Daniel Brady. Both men died in Dublin, and, in Daniel's case, the workhouse. Oonagh also told me that Daniel Brady's wife was a Mary Murphy and that his parents were Bartholomew and Mary Brady.
Another piece of information which she was able to pass on to me was that Michael Brady's wife was called Bridget Conboy and that they had about 20 children, but not all survived. I can't begin to imagine any woman giving birth to that many children! I took the information on board, but didn't really believe it until last year when the 1911 Dublin census became available. There it was 'in black and white', written by the hand of my great grandfather, Michael Brady, showing that they were living in Leeson Street, Dublin at the time:-
Head: Michael P. Brady, aged 57, house repairer, born Dublin Co.
Wife: Bridget, aged 54. born Roscommon
Son: Charles Brady, age 21, builders labour, born Dublin
Daugter: Emily F. Brady, aged 16, born Dublin (my gran)
The census summary sheet states that Michael and Bridget had been married for 38 years and had 18 children born alive but only 8 still living.
I had, unsuccessfully, tried to obtain Michael Brady and Bridget Conboy's marriage certificate, until another Brady researcher, who I contacted through the Ancestry site, said that he had seen a record of their marriage in Dublin, whilst researching his own family. He offered to get me a copy from the Dublin Record Office the next time he visited and would post it on to me, if I reimbursed him the cost. How could I refuse an offer like that? Sure enough he kept his word and the certificate showed that they were married on 7th July 1872 at the Catholic Chapel of Rathmines, Co. Dublin. We have yet to find a link between our Brady families, although both share the same Christian names through several generations.
So, as I couldn't get over to Ireland, it was time to hire my researcher again, and I asked him to check the Roman Catholic Rathmines Parish Records for all Brady marriages from 1843-1883. The results were very interesting, to say the least, as not only did he find my great grandparents' marriage entry which provided so much more information than the certificate, he also found the marriages of some of my great grandfather's siblings as well.

My biggest challenge now was to find out who my gran Emily's siblings were. With the information gleaned from my newly found contacts, searching for baptisms on the IGI, ordering birth certificates for confirmation and, again, enlisting the help of my Irish researcher, these are the children of Michael Brady and Bridget Conboy whom I have discovered:-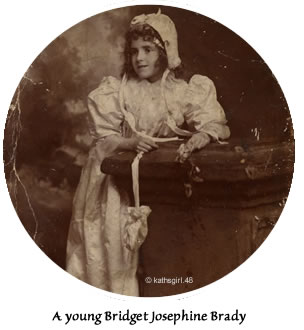 Mary Brady – born 13th March 1873 at 817 Temple Street West, Dublin.
Catherine Brady – born 12th June 1874 in Coolmine, Co. Dublin.
Baptised on 14th June 1874 at Blanchardstown.
Sponsors: John Evan & Anne Conboy
Catherine probably died before 1886

Agnes F Brady – born 30th July 1876
Baptised on 7th January 1879 at Rathmines
Sponsors: Maria Brady & Daniel ?
Daniel Brady – born 7th September 1879 at 42 Ranelagh Road, Rathmines, Co.Dublin
Baptised on 14th Sep 1879, Rathmines
Sponsors: Thomas Dunne & Esther Ennis [sic]
John Brady – born on 6th May 1881 at Charlemont Street, Rathmines, Dublin
Baptised on 12th May 1881 at Rathmines
Sponsors: John Burke & Marie Murphy
Bridget Josephine Florence Brady – born on 13th September 1882 at 4 Gordons Lane, South Richmond St, Dublin.
Baptised on 22nd December 1882 at St Kevins, Harrington St, Dublin
Sponsors: John Carroll & Marie Murphy
Martha Jane Brady – born on 31st March 1884 at 4 Gordons Place, Dublin
Baptised on 18th April 1884 at St Kevins
Sponsors: John Carey & Jane Kearnehens [sic]
Catherine Brady – born on 15th May 1886 at 3 Charlemont St
Baptised on 25th May 1886 at St Kevins
Sponsors: Patrick Diamond & Bridget McArdle
Michael Charles Brady – born on 30th August 1889 at 68 Pleasant Place
Baptised on 6th September 1889 at St Kevins
Sponsors: Charles Dillon & Catherine Kelly.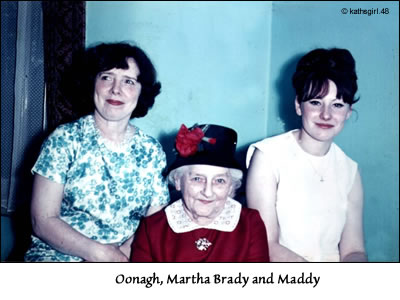 Arthur Brady born c1890
Elizabeth Lilly Brady born c1890
Patrick Brady – born on 24th March 1891 at 5 Synge Place, Dublin
Baptised on 3rd April 1891 at St Kevins
Sponsors: Andrew Ryan & Ann (possibly Conboy)
Peter Christopher Brady – born on 28th November 1892 at 5 Synge Lane
Baptised on 9th December 1892 at St. Kevins
Sponsors: John Nolan & Bridget Halpin
Emily Florence Brady – my gran – born on 12th December 1894 at 5 Synge Place, Dublin City
Baptised on 13th November 1894
Sponsors: James Nulty (not present) & Agnes F Brady (her older sister?)
Follow this link to see the Brady Family Tree.
So, I found 14 out of the 18 children they had said they had on the 1911 census. But so many questions remained unanswered – who were the other 4, and which ones were the 8 who survived? I updated my trees on the Ancestry and Genes Reunited sites, and posted some more messages in the hope of finding more contacts.
I was therefore delighted to get in contact with Maddy, who lives in Wales. Her grandmother was my gran's sister Martha, and she told me that she knew Oonagh before she went to California. We exchanged photographs including the one above, showing Oonagh, Martha and Maddy together. She had been having problems obtaining the correct birth certificate for her grandmother, Martha, so I was able to send her a copy of Martha's baptism certificate and church marriage certificate. To me this is what genealogy is all about – sharing precious photographs and certificates.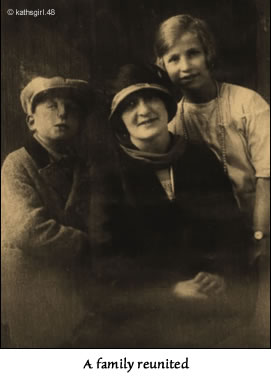 Just after the 1911 census came on line I was contacted by an Ann who lives in Indiana, USA, who saw that I had Michael Charles Brady on my tree. She is the great granddaughter of Michael Charles Brady, another one of Gran's siblings. She gave me some other family names that her grandfather had told her about not long before he died. But some details were a bit sketchy, so she passed my email address on to her uncle Charles in Dublin. We were soon in contact and I passed on all the information I had collected over the past 5 years. He was delighted and had quite a few interesting snippets of information that he had obtained from his grandfather, Michael. He told me that Agnes Brady married a John Sheehan, and that Mary Brady (aka Minnie) married Arthur Joseph Grace. Now Mary Grace rang a bell, as she was named as a witness on a couple of her sibling's marriage certificates held in my possession.
Charles helped me obtain Mary and Arthur's marriage certificate which showed that they married on 8th January 1902 at the Roman Catholic Chapel in Aughrim Street, Dublin City. The witnesses were Martha Brady and Joseph Grundy. We have exchanged family stories, and he was able to pass on information about his father and other family members, giving a picture of family life which cannot be gained by certificates alone.
He told me that in 1917 his grandfather, Michael Charles Brady (my gran's brother), seriously injured his knee whilst working for his father. He refused to go to the hospital, but was forced to after it got badly infected, and was told that his leg would need to be amputated to save his life. He refused saying, "I came into this world with two legs and I will go out with two". Unable to walk and therefore work, he would have placed an enormous burden on his wife, who would have had to find work to support the family, as well as caring for her husband. He sadly died in March 1919, and the death certificate indicates that his mother, Bridget, cared for him up until his death as she was named as the informant. Charles' father, also called Charles, had told him that he could remember his mother lifting him up so that he could see his father lying in his coffin. After his father's death, it was decided that he would be sent to England to live with his aunt, Mary Grace (nee Brady) in St Helens, Lancashire. It must have been a heartbreaking decision to make, but their intentions were honourable. The family was reunited when their mother remarried in 1922.
The quest to research my Irish ancestry continues, but whether any further information is found remains to be seen. I'm just pleased to have been able to collect so much already. I was very fortunate in knowing that my grandparents lived in Dublin City, which was a good starting point. But without Aunty Maureen's address book I would never have found out that we still had living relations who have helped me so much in my research
Postscript
If anybody is fortunate enough to have a church baptism or marriage certificate in their possession it would certainly be worthwhile seeing what parish records are held on microfiche at the National Library of Ireland. You can search the records yourself or hire the services of a researcher, as I did. The National Library of Ireland does not provide copies of, or transcriptions from, registers.
kathsgirl.48
© kathsgirl.48 2009
---
SOURCES
The General Register Office Ireland ~ An tSeirbhís um Chlárú Sibhialta for Southern Ireland (Eire) BDM Certificates
Ancestry for message boards, passenger lists and census records
The National Archives of Ireland: Census of Ireland 1911
International Genealogical Index
FamilySearch: Record Search
National Library of Ireland: Parish Registers
---