Norman Macleod was born, according to his birth certificate, at 12 noon on 12th November 1874 at Swordale on the Isle of Lewis, in North-West Scotland. Fluent only in his native tongue of Gaelic, he joined the Royal Navy in early 1891 and was sent to the shore base of 'HMS Impregnable' at Devonport for his training. Whilst there he was promoted from a boy (2nd class) to a deck hand and also passed as a seaman gunner.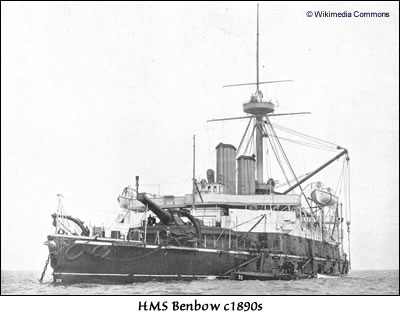 From 8th October 1892 to 22nd May 1894 he was on board 'HMS Superb' and was promoted from deck hand to ordinary seaman and then to able seaman. During this time his naval record consistently described his character as 'very good'. Norman was then re-assigned to 'HMS Benbow' as an able seaman. However, between the morning and evening of 23rd May 1894 he both joined the ship and fell foul of the rules such that he was sentenced to 21 days imprisonment with hard labour at Lewes Gaol. Having completed his punishment he was immediately sent to four consecutive shore establishments – 'HMS Pembroke' (Chatham), 'HMS Wildfire' (Sheerness), 'HMS Pembroke I' and 'HMS Vivid I' (Devonport base ship). These ran from 13th June 1884 to 27th May 1895. His character for 1894 was described, with the typical Royal Navy euphemism, as 'fair'.
On 28th May 1895 he was permitted to return to a vessel – 'HMS Tamar', and remained an able seaman. He served less than three months on board, moving on to 'HMS Esk', where he gained his gunner badge on 1st January 1897, having had his character assessed as 'very good' for the previous two years. He served on board 'HMS Esk' for over two years, leaving her for 'HMS Pique' on 13th October 1897.
During 1898, following another spell of service on shore at 'HMS Vivid I', Norman served on board 'HMS Cambridge' (1st June to 30th July) and 'HMS Defiance' (31st July to 19th November). He was still an able seaman, but during his time he was rated as a 'seaman gunner torpedo man' on the latter ship. He kept this rating until August 1901.
Two more spells of shore service ('HMS Vivid I' and 'HMS Pembroke I') were marked by Norman's promotion to leading seaman. He then served on 'HMS Severn' from 13th February 1899 to 13th March 1900, being made an acting coastguard. On 14th March 1900 he was transferred to 'HMS Mildura', but on 23rd July 1901 Norman was involved in some kind of incident and consequently demoted to able seaman and transferred immediately to 'HMS Katoomba'. His naval record shows that his character for 1901 was described as 'fair', and that he was rated at the time as a 'seaman torpedo man'.
Norman joined 'HMS Royal Arthur' on 1st October 1902, but this was to be his last ship as he bought himself out of the Royal Navy. He left the service on 3rd December 1902, with an able seaman rating and a character description of 'very good'.
He travelled to Australia with the Royal Navy, so perhaps that's why he then joined the Adelaide Steamship Company and, according to his obituary:-
Began to study navigation and quickly stepped out of the forecastle on to the bridge and became a very capable officer, being strictly temperate and a firm disciplinarian. He soon found favour with his employers, and consequently his promotion was quicker than it is in most cases. At his examination for master mariner, one of the tests was the reading of flash signals at night. By arrangement these signals were given each night for a week by the naval flagship lying in the harbour, and students on shore had to note them down and present them to the examiner next day. In these tests he always obtained full marks.
In 1905, Norman married his first cousin, Henrietta, in Sydney, Australia, to the dismay of both families. She had been married before and had a son by her first marriage. A simplified tree of the relationship is shown below.

My granny can't remember him ever living in Swordale, although she does remember him coming home during World War One. What is most memorable for her was that her Auntie Margaret said, "He's having a bath in the barn". When he came out he gave her half a crown and she can still see it in her hand today. She thought it was wonderful, and it was probably used for something in the house, as it couldn't have been spent on sweets because there weren't any!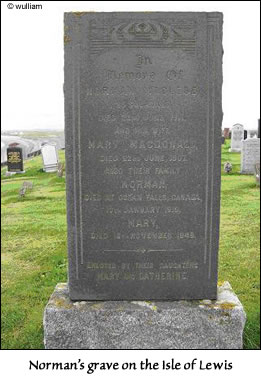 Norman's last voyage was on the 'S.S. Yankalilla' which sailed at 9.59 am on 5th November 1918 from Newcastle, Australia, with a crew of 27. Norman was the 1st mate under the master, F.W. Joliffe. They sailed firstly to Townsend, then to Vancouver and Union Bay, arriving at Ocean Falls, British Columbia, on 31st December 1918.
This was the time when the Spanish Flu pandemic was spreading around the world and, the following day, Norman was diagnosed with the disease. He was admitted to the isolation hospital in Ocean Falls, where he remained until his death from pneumonia in the early afternoon of 10th January 1919. He was just 45 years old.
The 'S.S. Yankalilla' sailed for Sydney, Australia, on 11th January 1919, leaving behind four other crew members who were too ill to proceed to sea, two of whom died. All of Norman's personal effects were kept by the ship's master who was to hand them over to the proper authorities in Sydney, being Norman's home port. These included his wage for the voyage, after deductions, being £5 2s 2d.
The ship's log states that "he will be buried at the cemetery at Ocean Falls", and indeed he was, with the small Lewis contingent in that area holding a Gaelic wake, just as they would have done if he had died in Lewis. However, he is in fact buried at the Braighe Cemetery at Aignish, Isle of Lewis, so it appears that his widow arranged for his body to be exhumed, embalmed and booked on board the homeward passage to Lewis. This was part-funded by the company, with his remains transported in a specially crafted coffin.
Henrietta had some very strange quirks and, during a pre-funeral service in Lewis, told all the relatives and villagers of how she and her husband conversed during the voyage home to Stornoway. The elderly villagers knew little or nothing of spiritualism, but they certainly concluded that something was far amiss with her. Communcation between her and the family subsequently ceased.
wulliam
© wulliam 2009
SOURCES
My granny gave me the newspaper cutting of his obituary, although the publication is unknown.
Other biographical information is from oral history within the family.
The National Archives for Royal Navy records
The National Archives of Australia for the records of Adelaide Steam Ship Company
ScotlandsPeople for Norman's birth certificate
NSW Registry of Births, Deaths and Marriages for details of the marriage
British Columbia Archives for information regarding his death