A number of years ago my mother was very interested in her family tree and spent some time tracing her relatives here in New Zealand. Her great grandparents, immigrants from England and Ireland, had all settled in the South Island of New Zealand, but her parents had both moved to the North Island, where they met and married.
For some time I lived in the South Island and my mother would visit every year for a week or so, and would spend some of that time travelling around and meeting up with her cousins and second cousins.
It was following one of these visits that she returned with a very old and very battered scrap of fabric that she had been given by one of her relatives, with the comment that "as she was interested in the family's history she might as well have this, as it had been handed down in the family".
On examination, 'this' was a cross-stitched sampler of the alphabet, with the notation at the bottom, in cross-stitch: Mary Jennings's work age 10 years 1826.
I was a keen cross-stitcher myself and so was very interested in this find, but at the time, we had no idea of who Mary Jennings was.
What we did know was that my great great grandmother was Hannah Mortimer Jennings, who had come to New Zealand as a single woman, arriving on Boxing Day 1862. She married my great great grandfather, Charles Tatam, on the 4th of June 1863 in Christchurch, New Zealand.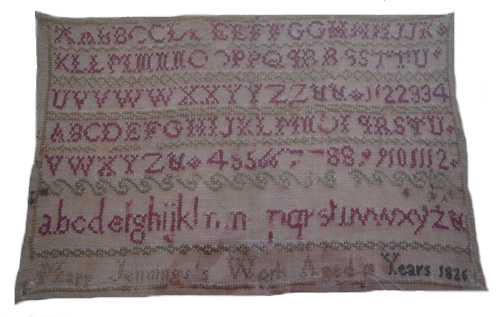 The family story was that Hannah Jennings was an orphan and had been brought up by some maiden aunts.
We surmised that maybe Mary Jennings was one of the maiden aunts, a sister of her father, and that Hannah had brought this memento to New Zealand.
It was a number of years later, after I bought my first computer, that my mother and I sat down to explore the then recently publicised Mormon internet site FamilySearch, which we had heard contained early baptism records. There we found the baptism of Hannah Mortimer Jennings on 26th September 1841 in Scarborough. Her mother was named as Mary Jennings, and there was no father named. Suddenly we had discovered exactly who Mary Jennings was! We then began to wonder if the 'maiden aunts' story was to cover up the fact that Hannah was illegitimate.
It was some time after this that I began to be interested in family history. With access to the internet, tracing family members in the UK became a whole lot easier. I had to wait a while until the appropriate census information became available, but with the help of Jools in Scarborough, a member of Genes Reunited, who's now a member of FTF, I was able to begin to uncover Hannah and Mary's story.
Mary and Hannah appear on the 1841 census living in Scarborough, Mary is 24 years old and Hannah, her daughter, just 3 months. By 1851, Hannah is 10 and is a visitor in the home of Joseph and Ann Dowson. In 1861 she is 20 and is listed as a niece of Jane Jennings, age 54, described as the head of the household and single. Also living at the property are Jane's spinster sisters – Hannah, aged 52 and Rebecca, aged 47, who were needle workers and milliners.
Tracing the Jennings sisters back through the census returns; in 1851 at the same address is John Jennings, aged 81, head, supported by the Society of Friends, his wife Sarah, aged 77, and his daughters, the three sisters, Jane, Hannah and Rebecca. We could find no sign of Mary Jennings after the 1841 census.
More recently, I've discovered the record of the death of a Mary Jennings in Scarborough, in June quarter 1846 on FreeBMD which fits the time frame for it to be Hannah's mother. The death certificate, which I received a few months ago, shows that this Mary Jennings died of 'disease of the heart' on the 14th April 1846 at the Union Workhouse, Scarborough, and was a spinster, aged 28. So it is very likely that she was Hannah's mother and therefore my great x 3 grandmother.
So, the family story about Hannah being brought up by her maiden aunts appears to be true, and when in 1862, Hannah set off alone for a new life on the other side of the world, amongst her belongings she packed, possibly the only thing she had belonging to the mother she could hardly remember, a scrap of embroidery Mary had done as a child.
KiwiChris
© KiwiChris 2008