In one of my favourite parts of Charles Dickens' 'A Christmas Carol' the ghost of Christmas Present takes Scrooge through the streets of London, and just before they reach the Crachitts' there is an evocative description of a grocer's shop at Christmas.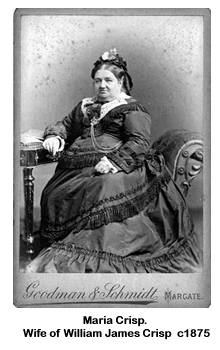 "The Grocers', oh the Grocers'! Nearly closed, with perhaps two shutters down, or one; but through those gaps such glimpses!…The blended scents of tea and coffee were so grateful to the nose…raisins were so plentiful and rare, the almonds so extremely white, the sticks of cinnamon so long and straight…figs were moist and pulpy…French plums blushed in modest tartness from their highly decorated boxes".
During this period of time my ancestry is peppered (pun fully intended) with grocers. William James Crisp, born in 1805 in St Clement Danes, London, had been in business at 1 Sidney Place, Commercial Road, Stepney, since at least 22nd May 1827 (a week after his marriage to Maria Thomson), when he had taken out an insurance policy on premises and contents with the Sun Fire office.
Unfortunately the 1841 census for this address no longer exists, although trade directories place him here. William, his family, shop staff and domestic servants were still in Commercial Road in 1851. It was quite usual for male shopworkers to sleep in the shop during this period, but whether this was the case or they had a room it is impossible to tell. I visited the site in 2006 and post war flats now stand where the shop was.
William retired to the country and his youngest son, Frederick, carried on the business, and had another branch in Commercial Road. William was visiting him in 1864 when he had his gold watch stolen at London Bridge station. He was lucky in that he called out and others came to his aid, caught the thief and recovered the watch. Source ~ Reynolds News May 29th 1864
In the days before the trading standards we know of today were so stringent, many products were likely to be a adulterated either by the wholesaler or retailer – mahogany sawdust could be added to ground coffee for instance. But I was pleased to find that a sample of ground chicory bought from William's shop was not adulterated, just somewhat gritty, although some of the neighbouring traders had ground acorn and coloured sawdust in theirs. Source -~ Food and its Adulteration by Arthur Hill Hassell 1855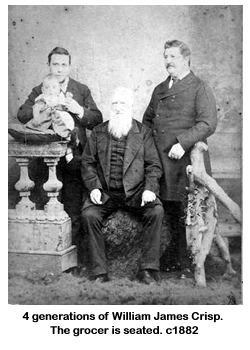 William James Crisp had a friendship with another, older grocer who had also insured his premises with Sun Fire. This was Jonathan Hawes, who was born in Berkhampstead, Hertfordshire in 1789, who had been trading in Pitfield Street, Hoxton, from about 1815. Jonathan's wife Harriot stayed with the Crisp's in Ightham, Kent, in 1861 and the Hawes granddaughter, also Harriott, later married the Crisp's grandson in 1880, producing my grandfather in 1898.
The Hawes dynasty of grocers – his sons Jonathan junior, and Joseph all went on to have sons who were grocers, grocers and teadealers, grocers oilmen and Italian warehouseman (selling olive oil, and Italian imports) in Camden, Pimlico and Deptford. Frank Shepherd Hawes, one of Jonathan's grandsons, completed a questionnaire on his employees for the Charles Booth survey into Life and Labour in London 1886-1903, which is held at the London School of Economics & Political Science, and I hope to be able to view at their library.
My other grocer is William Thomas Badcock, who became a successful grocer on the Old Kent Road, London, in spite of his father and brother, grocers in Shrivenham, Wiltshire, been declared bankrupt. He married Elizabeth Ann, another member of the Hawes clan and after many years living above the shop with his sons helping to run the business, he was able to take a rather fine house at 288 New Cross Road in which to spend his last years. It's still there, next to Deptford town hall and is part of Goldsmiths College. He also took on more premises on the Walworth Road. His daughter married a Crisp, thus all of my grocers were drawn together.
The older ladies of the three clans appear to have taken off to Margate in the summer. Central London was notoriously oppressive during the summer months and, as well as the railways, regular steam boats left down the Thames to the fresher Kent coast. I have photographs of Maria Crisp, a stout woman, and Elizabeth Ann Badcock all by the same Margate photographer.
One of William Crisp's grandsons, Herbert Crisp had a brief period as a grocer and gained a little local notoriety at the same time. His father specified in his will that both he and his brother (my great grandfather) had both been provided for during his lifetime, so his estate was split between his three unmarried daughters. If Herbert is to be believed, his sisters bought a grocers shop in Richmond, Surrey, and he worked there for them. While running the business he courted a young dressmaker called Eliza Lily James, and made her an offer of marriage. However, he underwent a period of illness and went to Grayshott on the Surrey/Hampshire border to recuperate and although they continued to write she never saw him again, as he wrote breaking off the engagement.
Lily decided to sue for breach of contract – £500 damages were claimed as she had let her business run down in view of her impending marriage and had incurred expenses putting it up for sale. The court were highly entertained by examples of their letters as reported in the Lloyd's Weekly newspaper of 20th June 1897.
He wrote:
"Plenty of extra specials and a big hug".
Concluding:
"So goodbye my darling old duck with love and kisses".
The next letter referred to an oyster supper, followed by a 'smoker', and he wrote the letter "to show that he could write (much laughter)".
On January 16 he burst into poetry, writing:
When I am fat
And off my back
I shall come back
To the lass I lack
He added:
"Your nightshirts fit perfectly and are very comfortable (laughter). Please consider yourself cuddled for one hour".
Her letters were quoted too.
She admitted writing:
"My Own Little Darling, how is the cold? I do hope better and that the worries have not been continued today. Please send three soda water, packet Bryant and May's matches, packet candles, 1lb tomatoes if you have any, 2lb cheese (nice one, mild, you will have it for your supper), 6lb tea usual. The boy can bring them if you like, and a nice piece of bacon for boiling. With fondest love, always your loving old Ciss".
Herbert denied that the business was his in spite of boasting to her that he had a turnover of £90 per week and could expect £1500 if he sold it. He maintained that his sisters owned it and had sold it for £800 because he had been too ill to work and, at the time the case was brought, was only earning 16 shillings a week at a grocers on the Old Kent Road (quite possibly that of the Badcocks, his sister in law's family).
I suspect that he was trying to pull the wool over the court's eyes after jilting Lily, as 5 years later he and his sisters were well off enough to be in business together as hotel proprietors in Churt, Surrey, with him going on to own others in London and Bude. The jury assessed damages at £175, and Lily found love again, marrying by the time of the 1901 census. No doubt that the nest egg from the court case came in handy!
There are no grocers left in our modern family, but my great x2 granddad, William Thomas Badcock, would be pleased to know that the site of his Old Kent Road shop is still a grocers – a Tesco superstore now stands on the site.
Jill on the A272
© Jill on the A272 2008