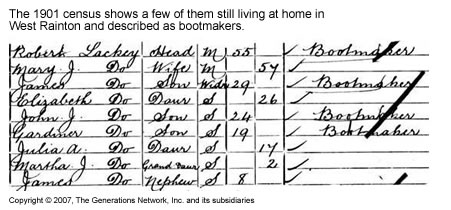 On my dad's side of the family there were definitely four generations of boot and shoemakers, and one of my great grandfather's grandchildren knew the boot and shoemaking trade, although he didn't take it on as a career, as he was a leather merchant until the 1940s.

My great grandfather, Gardiner Lackey, was born in July 1881. I'm guessing that when he wasn't at school he watched his father and older brothers at work and picked up the trade, as on the 1901 census he is listed as a bootmaker at his father's yard. Sadly, he didn't keep it up as a career, as when he married and had children he was working as an overseer at the local coal mine.However, interestingly, one of Gardiner's sons, my great Uncle Cecil, did take up the trade and was the village cobbler in West Rainton, Durham, right up until the late 1950s/early 1960s.
Gardiner's father, my great x2 grandfather, Robert Lackey, was born in Saintfield, Ireland, in 1845. Robert and his wife Mary, together with their two eldest children moved from Ireland to South Street, West Rainton, Durham, sometime after the 1871 census. On the 1881 census, Robert is listed as a boot and shoemaker living at 'Lackeys Yard'. The family lived at the property, whilst Robert ran his business from the back yard.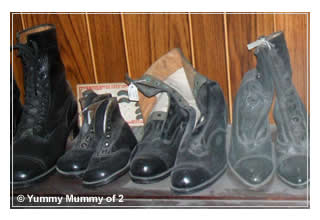 Over the years as his sons became old enough, they were also taught the boot and shoemaking trade. Four of Robert's six sons were listed as shoemakers or bootmakers on subsequent census returns.
On his wife Mary's 1921 death certificate, Robert is listed as a master shoemaker. A master shoemaker is one who has apprentices, hence the title 'master'.
I don't know much about my great x3 grandfather, James Lackey, apart from his name and occupation. According to his son's 1866 marriage certificate he was also a shoemaker.
Boot and shoemaking was a highly skilled and labour-intensive trade. Those of Robert's standing would have known the whole process, from the selecting of the leather to the finishing of the final product. However, it wasn't very profitable and therefore fathers were often reluctant to pass their skills onto their sons, however this did happen in my family.
Yummy Mummy Amy