William Ewing and his wife Elizabeth Duncan are my great x2 grandparents on my paternal grandmother's side. They married in Newton Ayr, Ayrshire, Scotland on the 31st December 1849, when they were both 17 years old.
William Ewing was the son of Samuel Ewing and Agnes McAdam, and was born on 2nd October 1830 in Dumfries, Dumfriesshire.
Elizabeth Duncan was the eldest daughter of Alexander Duncan and Agnes Donachie, and was born on 8th August 1832 in the parish of Newton Ayr/St Quivox, Ayrshire. At the time of the census in 1851 William, Elizabeth and their daughter Agnes were staying with William's parents at 17 Cross Street, Wallacetown, St Quivox, Ayr. William was described as a carter.

By 1855 they were living in Hurlford, Riccarton, Ayrshire, where their daughter Isabella was born on 19th March and registered as their third daughter and fourth child, which indicates that they had a daughter who died. I have been unsuccessful in tracing her, although I suspect her name was Elizabeth. I do know, however, that they had a son called Samuel who died in 1857. Another daughter, also named Elizabeth was born the same year, but sadly died when she was just a year old. Their son William was born in Riccarton in 1858.The family later moved to Kilmarnock, and had a further six children – Sarah (1861), James (1863), Alexander (1868), Elizabeth Jane (1870), Samuel (1872) and John (1875). Elizabeth Jane is my paternal great grandmother.
By the time of the 1861 census they were living at Bonnyton Cottages, Kilmarnock and William worked as a coal labourer at the nearby Bonnyton pit.
No doubt it was his experiences there which later inspired him to sell and transport coal, as he was described as a carter on the next census ten years later.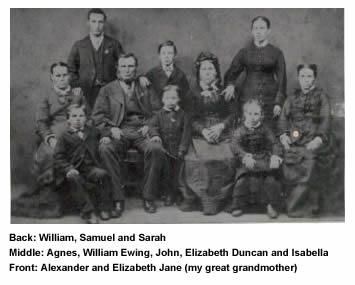 By the time of the 1881 census the family had moved across the road to Bonnyton Cot House, which had a large field attached, and despite the fact that both William and Elizabeth were illiterate and had a large family to support, they started their own coal and contracting haulage business in about 1888, which at its peak had 50 or 60 horses, together with carts, charabancs etc. As founder members of the town's St Marnocks church, they ran Sunday school trips in the summer.
Elizabeth is remembered in family folklore as a hard working woman, with a sense of humour. She is said to have been able to saddle a horse as good as any man, something a lady was not expected to do at the time.
William died in 1898 and his sons, Samuel and John, continued to run the business with their mother, Elizabeth, until she died of a heart attack in 1902. After her death the brothers lacked business acumen and went 'on the binge', forcing them to sell all of their assets.
William and Elizabeth are interred in the local St Andrew's parish churchyard in an unmarked grave.
My great grandmother, Elizabeth Jane Ewing, was born on 23rd April 1870 and married James Russell Dick on the 10th July 1891. They had 7 children – Elizabeth Jane (1891), Jessie Russell (1893) (my grandmother), Janet (1895), James (1896), William Russell Ewing (1899), Agnes Russell (1902) and Louie (1912). James Russell Dick was a tweed finisher born in Stirlingshire but brought up in Peeblesshire, but that's another tale.
Raven
© Raven 2008