When I was about 13 years old, I was visiting my grandparents' house and we were watching the television programme, the Antiques Roadshow. They showed a beautiful ring, which was quite simple, with three small diamonds in it. My nan said that she had one just like that which used to belong to her mother-in-law.
Off she went and came back with a tiny gold and diamond ring. I tried it on but it was a little too big. However, she said that I could have it and when I asked where it had come from she sat me down and told me this story.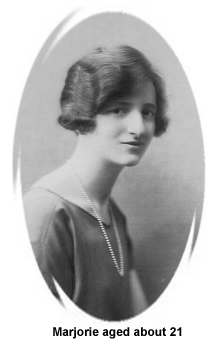 Marjorie Haines was born in Dulwich, London, in 1905. She was orphaned at the age of 11 and was brought up by her grandparents. She didn't have a very happy childhood, but always dreamed that one day she would get married and have a family of her own.
When she was 18 years old, Marjorie met Ted, a lovely young man, who was serving in the merchant navy and had just returned from sea. They became close and a short while later Ted proposed. He didn't have a lot of money to buy an engagement ring, so his mother gave him hers. It was a bit too big for Marjorie, so she had it made smaller to fit her slender fingers.
Ted was working hard to earn enough money to marry her and set up a home, so Marjorie didn't see as much of him as she would have liked.
One Sunday at church there was an announcement that Mr William Dawson had recently died. Marjorie only knew the family in passing, but decided that when she next saw them, she would pass on her condolences.
A few days later she was chatting to a neighbour over the front fence, when Arthur Dawson (William's son) passed by. She approached him and they spoke for a short while. He was tall, handsome and had a twinkle in his eye. Marjorie was hooked.
After that Marjorie made every attempt to see Arthur. She would wait for him to walk past on his way to and from work, and would sit with him in church; all whilst Ted was away earning the money to marry her.
When Ted finally did give up his life at sea, he joined the police force, and it was during his training that Marjorie called off their engagement. Ted was understandably heartbroken, but they remained close, life long friends until his death in 1963. He insisted that she kept the ring as a token of his love for her.
Marjorie did not have the happy marriage she always dreamed of. That twinkle in Arthur's eye should have been the warning. Ted would often tell her that he would take her away from her unhappy life and look after her. But Marjorie was a stubborn woman and wasn't going to give up on her handsome husband.
After my nan finished the story, I wished that Marjorie had married Ted. Although part of me still does, I wouldn't be here to write this article if she had!
vikki brace
© vikki brace 2008