In the 17th Century Lowestoft was a prosperous port. The rich merchants built houses high on the cliff overlooking the sea and the lower town. Lowestoft grew and prospered and many of the merchants' houses became shops.
The lower floor was where the goods were stored and sold and the family lived in the rooms above. Although many were extended to accommodate extra selling or living space most kept their original features. This road at the top of the cliff became Lowestoft's High Street.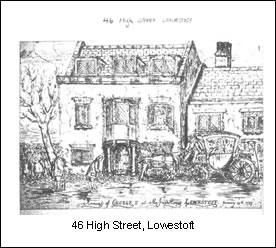 46 High Street was originally built by the merchant John Jex. There hangs a tale in itself. When I used to stay in the house, while visiting my aunt and uncle, my aunt used to put me to bed in 'the King's bedroom'. As I got older I thought that this was a tale told to a little girl to get her to go to bed quietly. I later discovered that King George II came ashore at Lowestoft in 1737 during a storm and stayed overnight at the house. There is a plaque on the wall commemorating this event and a search of the online resources of the Lowestoft brand of Suffolk record office revealed that there was an engraving of the event. A kind member of FTF got a copy for me.
The visit is mentioned in several books about Lowestoft and one account mentions that John Jex kept a phial of the King's urine on prominent display.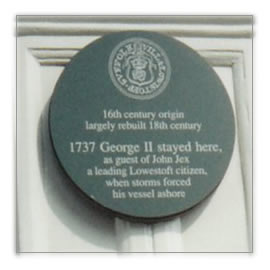 I don't know when the house was converted to a shop but it was an ironmongery shop by the time of the 1901 census. Some time before the 1920s it was bought by George Nelson Hayes. In 1901 he had been an ironmonger's assistant at Lynn in Norfolk. He ran the store with his son Sidney who was married to my Aunt Lena. The shop had been extended into the house next door by the 1950s and George lived above that part and Aunt Lena and Uncle Sid lived above number 46. By the time I came on the scene George had retired and left the running of the shop to Uncle Sid.
I spent several holidays there as a young child and I used to love spending time in the shop with Uncle Sid. It was a wonderful place full of boxes of nails and screws and row upon row of tools hanging from the walls. There were wallpaper sample books that I loved to look through for hours, imagining how I would decorate my home when I grew up. There was a much more limited choice of paint colours than there is now but there were still stacks and stacks of them lining one wall.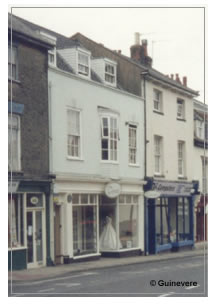 There were at least three male assistants, in addition to Uncle Sid, and they wore brown coats. There was one lady that I recall and she wore a white apron. There were several glass-topped counters with an assistant standing behind each one.
Outside in a covered area was an open tank full of paraffin. Beside it was a jug which assistants used to fill with paraffin and pour into a variety of containers brought round the back by customers. There was also a small barrel of gunpowder. People used to buy 'twists' of gunpowder to throw on their fires to clear the chimneys of soot.
I loved Uncle Sid's shop. It had a distinctive smell that I cannot identify but it was a good smell. Sometimes, when I'm wandering around B&Q I get a hint of that smell.
Uncle Sid and the assistant manager used to sit in a glass windowed office overlooking the shop floor. From up there you could see everyone and everything and I used to love sitting there watching all the activity below. From here there was a network of wires leading to each counter below. The assistant would write a receipt and put it in a tube with the money tendered by a customer. The tube would 'fly' along the wires and up to the office. Here it would be checked and the receipt counter-signed and the change put in the tube which was sent back down the network of wires to the assistant. One of my greatest treats was to be allowed to help with that, I thought it was magic.
Uncle Sid sold the shop in the 1970s and he and Aunt Lena retired to a bungalow further up the coast. Last time I visited Lowestoft the shop was still there but seems to have been split into two again. One part is now a bridal shop and the part next door was being renovated.
That part of Lowestoft has a preservation order, so there will be no major changes to the frontage which is still very much like it was when it was built by John Jex.
Guinevere
© Guinevere 2008