Two kilometres out of Cowra, NSW, a POW Camp was built to hold incoming prisoners of war: Japanese soldiers captured in Borneo and New Guinea, Italians captured in North Africa, Indonesians who were activists against the Dutch, not actually prisoners of war, but political prisoners who were eventually freed and allowed to settle elsewhere in Australia.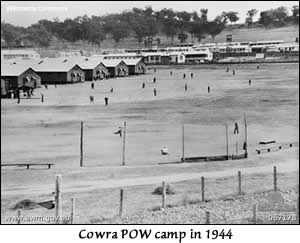 The Italian prisoners settled in well and were later allowed out during the day to work on surrounding farms. Of the 2000 Italian soldiers held, many later returned after the war as 'New Australians'.
The 2000 Japanese soldiers however, felt despair and hopelessness and were deeply ashamed of being taken prisoner. In August 1944 just over half of them organised a mass breakout – three Australian soldiers died during the escape and over 200 Japanese lost their lives. The escapees were eventually rounded up and returned to the camp.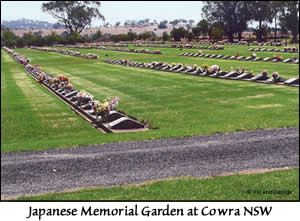 The camp was dismantled after the war had ended, but the paddock it stood in has a photographic display and history board.
The nearby cemetery is a grim reminder. The people of Cowra have worked with the Japanese Government to establish an everlasting memorial to these unlucky men.
Walking amongst the descriptive plates, it is amazing to see that the ages of a good many of these Japanese soldiers showed that they were in their 60s and 70s.
The tranquil Japanese Garden in Cowra is exceptional. It covers a large area and is laid out to draw the eye from one area to another. Each plant/tree is numbered and so is easy to identify from the pamphlet supplied.
Val and George
© Val and George 2009
---
Sources
Personal notes from visit to Cowra
Back to The Dunera Boys
---