George Thorn was the nephew of my 4x great grandmother and the third son of agricultural labourer, Simon Thorn, and his wife Elizabeth. He was baptised in 1806 in Stockbridge, Hampshire.
He became a colour sergeant in the 4th Kings Own Regiment, and when he arrived in Australia in 1832 he served as an orderly on the Governor's staff. George joined the Town Survey Department and was a member of the team that surveyed Melbourne in March 1837. When his regiment moved to India a few months later, George bought his discharge and joined the Commissariat department. That same year, he married 17 year old Jane Hancock.
George is known as the founder of Ipswich, Queensland. Ipswich, about 30 km south west of Brisbane, Queensland, had been established as a convict 'out station' in 1827, the limestone from the quarries there being used in Brisbane's buildings. George arrived there in 1839 as superintendent in charge of government stock. In 1842, the first free settlers arrived – the settlement at that time was known as Limestone and consisted of not much more than a few houses and a general store. In 1843, George purchased town lots totalling 58,000 acres.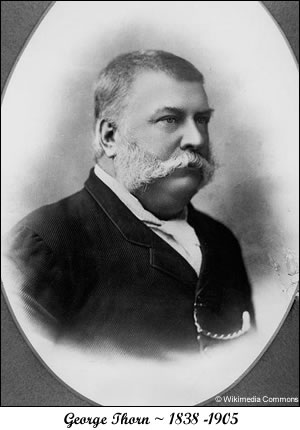 Over the next couple of decades, Ipswich flourished – the area was dominated by wool production. Also, coal had been discovered in 1843 and miners started arriving, many from Wales, judging by the names of some of the mines such as Ebbw Vale and Rhondda. Before his death in 1876, George had served the town as alderman, and helped establish the Anglican church, built the hospital, schools, the botanical gardens and racing club. In the 1850s, Ipswich also lobbied to become the capital of Queensland, but lost out to Brisbane. The railway to Grandchester arrived in 1864 and to Brisbane in 1876. By 1904, Ipswich was a city.
George Thorn was elected to the first Parliament of Queensland in 1860 as the member for West Moreton. He died on 28th April 1876 and, according to the Australian Dictionary of Biography "he left a reputation for 'larky humour', thoroughness and integrity". His wife, Jane died in 1883. George and Jane had nine children and three of their sons – George Henry, John and William – served in the Legislative Assembly, while one of his daughters, Jane, became grandmother to a Governor General, Lord Casey.
Daughter Jane (born c1843) married George Harris in 1860. He had arrived in Sydney in 1833 with his parents and siblings. George and Jane Harris had three sons and three daughters. Their daughter Evelyn Jane married Richard Gardner Casey, 20 years her senior, in 1888, and their elder son, Richard Gardiner born 1890, became Governor General of Australia in 1965.
Another daughter, Ida Australia Thorn, married Wallace Donald Smith, a race horse enthusiast – he owned horses that won both the Melbourne and Sydney Cups. Wallace was a substantial landowner and parliamentarian.
George Henry Thorn, George and Jane's eldest son, was born in Sydney in 1838. He attended the University of Sydney and then spent 9 years managing his father's properties on the Darling Downs. George ran for a seat in the State Legislature and received more votes than his two colleagues in the three-membered seat of West Moreton. When changes were made to the electoral system in 1874, he was nominated to the Legislative Council as government representative and postmaster-general.For a short period, George also served as premier of the state. He resigned his seat shortly after marrying Celia Unjacke at Ellengowan in February 1878, and represented Queensland at the Paris Universal Exhibition while travelling in Europe with his wife. On returning to Queensland, George returned to politics serving as representative for three different ridings between 1879 and 1902.
George and his wife had two sons. He died at Booyal in January 1905. The Australian Dictionary of Biography describes George as being "of vast bulk" and "being very popular because of his good nature, genial romancing, frivolous pranks and minimal dignity". He was also apparently "full of tricks of dubious legality" and according to a colleague, "constantly sailing before the wind raised by the breath of applause".
The English Thorn family didn't fare nearly as well as their illustrious Australian relations, all remaining agricultural labourers through the 19th century.
jenoco
© jenoco 2009
---
Australian Dictionary of Biography Online Edition