In 1964 we emigrated from London to Brisbane as ten pound Poms. My husband George and I had travelled and worked in Germany for about nine months during 1963 and when we got back to London we couldn't seem to settle, as the travelling bug was with us. We both had good jobs, but the weather wasn't great and George seemed to be constantly sick.
On a visit to his doctor, the pair of them were discussing George's travels, when he suddenly asked if George would consider going to live and work in Australia. Apparently the doctor had worked there himself a few years previously and had loved the experience. He also suggested that maybe the climate there would benefit George's health.
So, the seed was sown, we discussed it amongst ourselves, and with our families. My family were all for it, especially as we already had distant relatives living in Brisbane, so Dad wrote to them to ask for their thoughts. George's family weren't quite so keen, but didn't try to stop us. So the next few months we were busy finding out all the information we could, attending information nights up at Australia House on the Strand. Our family in Brisbane were happy to sponsor us, and so the plans were well in motion.
Our wedding was booked for 5th September 1964, and it was midway through that year that things started hotting up emigration wise. We had to go for medicals and interviews, which we obviously passed because the next questions was, "when can you leave?". They also called us in and told us that there were immediate vacancies for tram drivers in Melbourne if we could leave straight away. I was horrified – not married, miss my own wedding – oh, come on please! Anyway Melbourne was not an option, by then we were convinced that we wanted to live in a sub-tropical climate, and our family in Brisbane were keen for us to arrive.
By this time my parents, who were going through all this with us, decided that they too would like to emigrate! Good grief, this was a scenario we hadn't contemplated, but we were very chuffed, so this meant that six of us would be moving there. Us and my parents along with my younger brother and sister, so plans were soon underway for their application too.
Wedding plans were well under way, and the dress bought, the church booked, along with a reception hall and caterers. At least the menfolk were so consumed with the forthcoming adventure to the antipodes that they didn't seem to notice the vast amounts of money being spent on the nuptials. Our honeymoon to Cornwall was cancelled to save some much needed cash, and instead we took up an offer from my grandfather who lived in Eastbourne, to use his house for a week while he stayed up in London after the wedding to catch up with the rest of the family.
Everything went to plan – September 5th, the wedding day, dawned to beautiful weather. The ceremony was remembered for my family's wonderful rendition of all the hymns, the three tiered cake almost collapsed with the heat of the day, and we were off at last to Eastbourne on the late evening train. A week later we returned to find a letter waiting for us with details of our BOAC/British Eagle flight to Brisbane on the 3rd December 1964.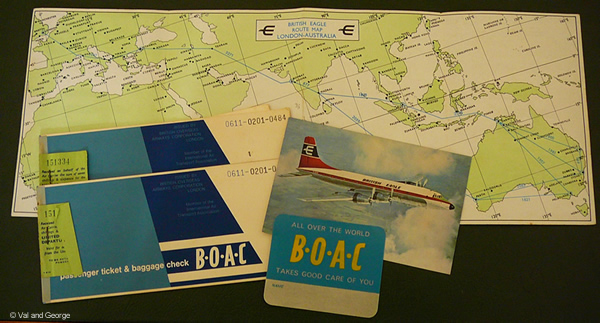 My parents also heard that they were to leave two weeks later than us by ship, on board the 'Oriana', arriving in January. The cruise was to be a well earned holiday for them after all the hustle and bustle of the last six months.
I was working in a shipping insurance firm, so asked my boss if he could make enquiries for us about shipping three cabin trunks to Brisbane. He came up trumps and made all the arrangements for us, for the total cost of £11. It was too good to be true. As the shipping company wanted to know the exact weight of the goods to be shipped we spent one very busy weekend packing all our goods away in the trunks. A cousin of George's came with his truck and we transported them down to the local council yards where there was a set of scales, so we could weigh them. We then had to take them back home and unpack them as we still had a few weeks before we left. When we woke up the following morning our bedroom light was still on, and neither of us could remember crawling into bed as we had been so tired from the day's exertions!
Farewell visits to family members became the norm for weekends, we handed in our notices at work, and the day came when we were to leave. George's mum, dad and sister came to the airport to say goodbye, as did a couple of my aunties. It was a sad farewell and we all cried buckets knowing that it could be a good while before we would see each other again. Although once we had boarded we cheered up and looked around us. The plane was packed with migrants – we were taking the big leap together, many with small children, all off to a new life.
The trip took two days with quite a few stops, although none of them were for more than a few hours; Istanbul, Bombay, Singapore and Darwin before landing in Brisbane. I remember well the smell of greasy lamb chops which put me right off food, and I only nibbled on dry things like biscuits for most of the journey. The flight was bumpy, and looking out the window along the wing, it seemed as though the metal was only stapled together. However, it got us to Brisbane and we disembarked as a thunderstorm was approaching. My first memory of Brisbane as we came into land was of a myriad of red roofs and very green trees, with lightning flashes all around.
The family were there to meet us and we were made to feel very welcome. We managed to pack our luggage in the two cars and headed to the suburbs – just in time, before the storm broke overhead. This was a real baptism of fire as we were unused to tropical downpours and the house had a tin roof, so the noise was deafening and we could barely make ourselves heard.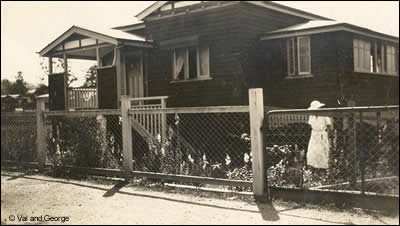 Afternoon tea awaited us, and we were impressed with the best crockery laid out on lace covered trays, along with an assortment of mouthwatering delights. The storm eventually passed by, bringing a peace that was welcome after all the noise.
We were given a tour of the house and garden, and it was all very strange to us Londoners. The house was built on stilts with room for the laundry underneath. The garden was a profusion of greenery and I remember clumps of large lilac coloured flowers that I now know to be agapanthas. A huge poinciana tree stood like a giant umbrella covering the garden. These trees were everywhere in Brisbane and it was these green canopies that I had noticed from the plane.
We were amused to see that there was a 'thunderbox': the famous outside loo that we had been told about at Australia House, standing like a sentry box in the back garden with a path leading to it from the back steps. I was less amused to find that we often had to share it with a friendly frog, toad or lizard, and I became very adept at checking first, with the door open, just to make sure that I would have no unwelcome occupants in there with me.
The next few days went by in a whirl as we explored, and made new discoveries:-
Roads in the suburbs were wide, but had just a strip of bitumen down the centre. The remainder being dirt, with grass often growing through it. Darkness fell about 6.30 p.m. but it was broad daylight at 4.30 a.m. We had to sleep under a 'mossie' net at night as the mosquitoes came out in droves once the sun went down.
The heat was enveloping – a beautiful warmth that we still love, although we are not so keen on the humidity. Different fruit and vegetables from those we were used to in England. We loved the tropical fruits, apart from paw paw. Pumpkin as a vegetable became a firm favourite.
Fashion was different – the ladies in town wore light coloured dresses and more often than not, sported jaunty little hats and lacy gloves.
When they took us to the beach and we couldn't believe that the sand was so hot that we couldn't walk on it with our bare feet.
They introduced us to eating mangoes, standing in the sea to catch all the drips – pure heaven! We went into the city and nearly gagged at the smell of roasting nuts emanating from a couple of the larger stores.
We couldn't believe seeing a Santa (this is close to Christmas remember) strolling about with his bell and saying, "Ho Ho Ho", wearing a red suit and black boots, with a long white beard – IN THE HEAT!!!
Going to visit friends of our 'new' family. We all got into the car, backed out and drove up the road, only to pull into a house close by where we all got out again because we had arrived! George and I couldn't stop laughing and couldn't believe that we hadn't walked that short distance.
These were some of the 'new' experiences we gradually became used to, and willingly accepted as being a part of our new lives here in the tropics.
We both looked for jobs and found them the first day, George working at a large hardware store in the city, and me working as a telephonist at a builder's hardware store out in the suburbs. We hunted for accommodation knowing that the rest of the family would be arriving soon and would need our beds at Aunt and Uncle's. We soon found a 'unit' in an old Queenslander style house which was right next door to the railway station, for us to travel easily to our jobs. There, we had the luxury of an indoor loo, plus a bathroom, kitchen, bedroom and a 'sort of' lounge area. The shared laundry was outside in the spacious garden, and the owners were an eccentric old couple, Mr and Mrs Christian. She would be out in the front garden feeding the birds, and he would be out the back taking aim at them with a pop gun. Life was good and we soon settled into our new routine.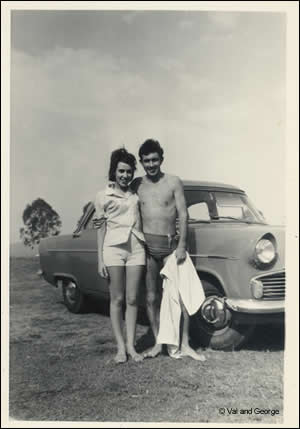 My parents arrived a couple of weeks later, refreshed after their leisurely cruise and brimming with enthusiasm, happy to find that George and I were settled already. They instantly fell in love with Brisbane and its weather and within four weeks had applied to buy a house which fortunately came with furniture (this was sheer luck as they don't usually have furniture included), as they had only brought with them household items, intending to buy furniture as they could afford it. In England they had always rented a house from one of Mum's sisters, so buying their own place was another adventure.
They found jobs immediately, Mum as an accountant and Dad working as a dispatch clerk at a jewellers, both in the city. They were able to travel together by train, meet up for lunch and then travel back home together. This was a whole new world for them, as previously Dad had worked in a factory five and half days a week in Highgate, involving a lengthy bus journey and a long walk, which had made a long day for him. He had done that job for 25 years, so this new life was almost a holiday for the pair of them. My 16 year old brother started an apprenticeship as a mechanic and my sister blended into the local high school and shone at most of the subjects she was taking.
I asked her for her recollections and she told me this:-
As a 14 year old, I had no say in the matter. I just thought it would be the adventure of a lifetime – and I wasn't disappointed! From the first visit to Australia House where we watched a film on Australia and then were given some samples of pineapple and orange juice (and probably other things too, but they are what I remember!) I was hooked. My brother found work and I started school – a big change for me, but luckily the beginning of the school year. I had to get used to wearing thick grey stockings, a hat and gloves to school (in the middle of summer!) and to having boys in my class, as I had come from an all-girls grammar school!
Other memorable first impressions? Well, I was quite perplexed when I got on the bus to school in the first week to hear all the mums calling out, "hooray", to their children – then realising that it was a Queensland way of saying goodbye – sadly no longer in use!
Then there was having the toilet at the end of a garden path – no sewerage in our house for a few years. So we had to get used to sharing it with the frogs and having it emptied each week by the 'dunny man'. Our mail was delivered everyday to the mailbox on the fence and the mailman blew his whistle to let you know that you had a delivery. And lemonade ice blocks – my favourite treat: A man would come around with an ice chest on his bicycle, ringing a bell, at weekends selling ice blocks. That never happened in England!
In March (three months after we had arrived) George and I splurged out and bought ourselves a car – a Zephyr. This was unimagined luxury and we couldn't believe just how lucky we were. George took some driving lessons and in three weeks had his licence. I followed suit and it wasn't long before I was driving to work instead of catching the train.
A year after we had arrived, we were entitled to a three week annual holiday. So after talking to work colleagues we borrowed some camping gear, packed up our little car and headed south. First to Victoria where we had other cousins now living and then on to Canberra to visit friends who had left at the same time as us on a different flight. This was to prove an interesting trip as we instantly fell in love with the new city of Canberra and decided to return there to live.
My parents were very understanding, although sad that we were moving away, but they were so settled themselves and we knew that they would keep busy with their new house, garden and jobs. We packed up our belongings, managing to pack most of it in the car, and headed south to Canberra where once again our luck held and we soon found accommodation and jobs. This time George worked in a small hardware store and I found the best job ever, working as a clerk for the Department of Aviation at Canberra airport. Canberra was the making of us, they were encouraging young couples to go there and set up home. We saved and saved, and managed to find the deposit for a brand new house; the government at that time were giving away 10 trees and 40 shrubs to each new home owner. We made lots of new friends our own ages and eventually started a family.
Our two boys were 1 and 3 when we decided to return to Brisbane to be closer to my parents, so they could watch their grandchildren grow, and also to escape the colder weather. Once again luck was with us, our house sold the first weekend it was on the market and we moved back, making a decision to live close to the beach on the Redcliffe Peninsula – just to the north of Brisbane. We bought a house just up the road from the beach and have lived there ever since. Two more children arrived and life became busy.
George's parents came to visit us several times and after 21 years we managed to save enough to take our family back to see England. George and I have been back several times since.
My parents are now in their nineties and have moved from their first home in Brisbane to just around the corner from us. My sister is married to an Aussie bloke and they have two gorgeous children and one delightful grandson; they too are just around the corner. Our children and grandchildren live close by, so our life in the Sunshine State is truly blessed and we have to say that it was 'ten pounds' well spent.
Val and George
© Val and George 2009