My husband John's 4x great grandfather on his mother's side was Benjamin Cusley who was baptised on the 7th February 1762 in the parish church of St Peter and St Paul, Kettering, Northamptonshire. His parents were cordwainer, John Cursley, and his wife, Anne Parker, who were married by banns in the parish on 5th May 1761.
On 9th April 1781, 19 year old Benjamin joined the Plymouth Division of the Royal Marines as a private in the 57th Company. His trade was given as cordwainer – the same as his father's. His records describe him as being 5ft 6 inches tall, of sallow complexion, with hazel eyes, dark brown hair and of thin visage.
Benjamin first saw service during 1783/4 in the West Indies on board 'HMS Carnatic', a Royal Navy guardship. When he returned to England, Benjamin did not take advantage of the school for marines who wanted to learn to read and write (which would have led to promotions). Instead he joined the majority of marines who were stood down on half pay until their services were required again.
He must have answered the call for marine volunteers to sail with the 'First Fleet', which consisted of 11 ships transporting the first convicts to Australia. Benjamin served on board the 'Friendship', which sailed from Portsmouth at 5am on Sunday 13th May 1787. After a long voyage, stopping at Tenerife, Rio de Janeiro and Cape Town, 'The Friendship' finally arrived at Botany Bay on Saturday 19th January 1788. She then sailed for Port Jackson, arriving a week later.
Benjamin joined the company of Captain James Meredith and was employed on public works in the early settlement. On 5th March 1790, he sailed with his company to Norfolk Island and did not return to Port Jackson until late 1791.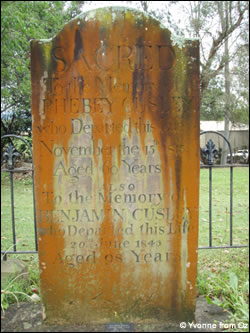 The North South Wales Corps was formed in England in 1789 as a permanent regiment to relieve the marines who had accompanied the First Fleet. So, when they arrived in Australia, the marines were given the choice of joining them or returning to England. Benjamin chose the former, and on 7th April 1792 he transferred to the NSW Corps for a period of 5 years, receiving the equivalent of $18-$25 a year.
On 31st March 1795, Benjamin married Phebe (Phebey/Phoebe) Penbrick (Penlarick) at St Johns Church, Parramatta, with the permission of Captain William Patterson.
Phebe had been baptised at Mylor, Cornwall, on 12th June 1754, the daughter of Thomas Francis and his wife Mary Burges. On 7th April 1776, she married a mariner, John Penlarick.
Just over fourteen years later, on 17th April 1790, between 9 and 10pm, Phebe broke into and burgled the house of Samual Eales in the Parish of Stoke Damerel. On 26th July, at the Devon Summer Assizes at Exeter Castle, she was charged with stealing a cotton gown and various goods to the value of 50 shillings, being the property of Priscilla Popplestone. The sentence was 7 years transportation.
On 16th February 1791, Phebe (listed as a 37 year old widow) sailed from Plymouth on board the 'Mary Ann', which carried 150 female convicts and formed part of the 'Third Fleet'.
Their first child, Ann, had been born in September 1792, and she was followed by another daughter, Maria, in February 1797. Benjamin was discharged from the NSW Corps on the 7th April of that year, and in October 1799 was granted 200 acres near Mulgrave Place, Wilberforce (the northern boundary was Bushell's Lagoon). This became known as Cusley Farm (Grant #858).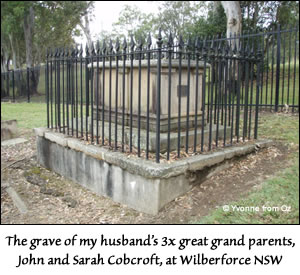 On 14th April 1800, aged 38, he enlisted in the Veterans' Army as a private. It is possible that the frequent flooding of the Hawksbury River was a factor in this decision. Between 1802 and 1805 he was stationed at Windsor and earning the equivalent of $2.12 a month.
From March 1810, the Veterans' 73 Regiment served at Windsor, and was disbanded on 24th September 1823. By now Benjamin was 61 years old, and received a land grant of 100 acres as a pension.
Phebe died in 1815, and on 30th August 1824 Benjamin married widowed Mary Chaderton at St Matthew's Anglican Church, Windsor. She had also arrived in Australia as a convict on board the 'Mary Ann'. They were recorded as living at Wilberforce on the 1828 census.
Benjamin died on 20th June 1845, aged 83, and was buried with his first wife Phebe at St Matthews' Anglican Church, Windsor.
Their daughter, Ann Cusley, had married a George McGinnis at St John's Church, Parramatta, on 11th May 1807, at the age of 14 years and 8 months old.
George McGinnis was born in the farming area of Trim, County Meath, Ireland, c1780. He had sailed, as a convict, from Cork, on the 10th December 1796 on board the 'Britannia' of the 'Third Fleet'. The ship carried 144 males and 44 females, and was known as the 'Hell Ship' because of the excessive brutality of the master.
George's imprisonment was political and prior to the Irish Rebellion of 1798. There is a 'D' signifying 'Defender' in his records. His sentence was for 7 years transportation.
The 'Britannia' arrived in Sydney on the 27th May 1797, and in the 1800 muster, George is recorded as being a convict servant to Adjutant McKellar at Hawkesbury. He received a pardon from Governor Macquarie on 23rd April 1811.
Ann and George had eight daughters – Agnes (1808), Mary (1810), Phoebe (1812), Margaret (1813), Ann (1815), Maria (1818), Catherine (1820) and Sarah (1822).
Sadly, Ann only survived the birth of her eighth daughter by 5 days. She died on 11th October 1822, aged 30 years.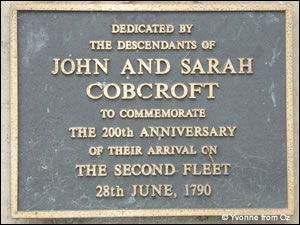 Widowed George McGinnis bought 30 acres at the MacDonald River on 22nd October 1824 from a Samuel Gatehouse. This land was at the junction of the McDonald River and a small creek, not far from Wiseman's ferry.
He died on 29th September 1829 and is buried next to Ann at St Mathew's, Windsor. He left his property to his eight daughters as tenants in common.
His sixth dauther, Maria McGennis, was born 13th October 1818. She would have been just four years old when she lost her mother and around 11 when her father died.
In 1835, when she was about 17, she married George Cobcroft at St John's Church, Wilberforce. This was most probably in the Old School House, as the present church building was not built until 1859.
George's father was John Cobcroft (born c1760) of Keighley, Yorkshire, England, who arrived in the 'Second Fleet' on board the 'Scarborough', on 28th June 1790. John, together with a John Wood and a William Fubbs (or Fielder) were sentenced to death at the Old Bailey on 7th May 1788, for highway robbery
At 4am on 16th April, William Frost, an elderly fisherman, had been driving a cart from Harrow Hill to market in London with his wife and daughter. On Edgeware Road they were stopped by three highwaymen, one of whom brandished a pistol, shouting, "Your money or your life in a minute", and threatening to blow their brains out. The men took a guinea, six shillings, a thimble and some small change and ran off towards Edgeware. Frost then drove to the Bell Public House near Kilburn and raised the alarm. The publican and three other men went out in search of the highwaymen and spotted three men coming from Golders Green along Hendon Road near the 'Bull and Bush' public house on Hampstead Heath. After a struggle the three were arrested and found to be carrying a pistol, a knife and some money. They were taken to the Bow Street Public Office and charged. Frost said he had seen their faces clearly as it had been a 'moonshiney' night.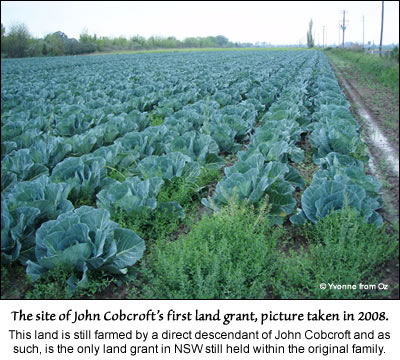 At the trial the three men retained a defence counsel who closely cross-examined Frost, his wife and daughter, trying to discredit their evidence and suggesting that they were pursuing the case only to obtain the £40 reward for the conviction of highwaymen. Cobcroft had been wearing a leather apron and they said he had been the one pointing the pistol. He called six character witnesses who had known him between 5 and 12 years, which suggests that he was well established in London.
The jury recommended him and his co-defendants to the King's clemency. A temporary respite was granted but he was not formally reprieved until the end of the September 1789 Old Bailey Sessions, when he was among more than 100 capital convicts called to the bar of the court and offered a pardon on condition of transportation for life to New South Wales. So on 10th November 1789 he was transferred from Newgate Gaol to the 'Scarborough'.
John Cobcroft received a conditional pardon in December 1794, and a 30 acre land grant on the left bank of the Hawkesbury River at Wilberforce Reach in July 1795. He was granted another 40 acres in the same district in June 1797. By July 1800 Cobcroft had 17 acres sown in wheat with 7 ready for planting maize, owned 9 hogs and 7 goats and supported himself. His wife and three children were supported from government stores. Two years later he had 20 acres in wheat and barley, 6 in maize, and increasing numbers of hogs and goats. He fully supported his wife and 4 children and 2 free workers.
Cobcroft's holdings were increased by a 50 acre land grant in September 1802. He was mustered in 1806 with 120 acres (nearly 33 cultivated in wheat, maize, barley, orchard and garden), 4 horses, 57 sheep, 40 goats and 15 hogs, 15 bushels of grain in store, and supporting his family and 3 convict workers. While many other farmers were suffering from indebtedness and flood damage, his prosperity seems to have continued unchecked.
In June 1820 Cobcroft petitioned Governor Macquarie for additional land. In 1820 he had a wife and 9 children and owned 70 head of cattle. He was granted a further 60 acres at Kurrajong, and in October 1825 he petitioned for the allowance of government rations for himself, his wife, 4 children and 2 convict workers who were living on the grant. He stated that he had cleared and cultivated 12 acres and had built a dwelling house and outhouses. His request was granted shortly afterwards.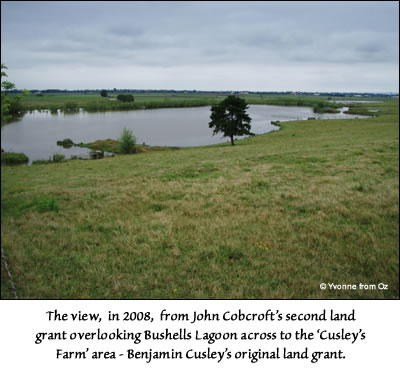 The census of 1828 describes John Cobcroft as a farmer of Wilberforce, aged 68, living with his wife, aged 57, and their younger children. His older sons and their families were established on farms nearby. A successful and prosperous farmer, he held 485 acres (130 cultivated) and owned 7 horses and 300 cattle. He also kept the 'George and Dragon' Public House, Wilberforce Road, Wilberforce (from around 1822-1846), and was actively involved in the public life of the local community.
He died on 4 June 1853, and was buried at St Johns Cemetery, Wilberforce three days later. An obituary notice in the Sydney Morning Herald stated that he left 58 grandchildren and 47 great grandchildren.
John Cobcroft's wife, Sarah Smith, was baptised at Holborn, London, on 3rd December 1772, the daughter of William Smith and Esther Turner. At the age of 17, she was one of a small group of women and their children who embarked on board the 'Neptune' as part of the 'Second Fleet'. They had accepted a government offer of a free passage to the colony for the wives, or de facto partners, of convicts on the fleet. In the colony she lived with John Cobcroft, but for an unknown reason they did not marry until 1842. It seems almost certain that she embarked as Cobcroft's de facto wife. Two of the other free women who embarked on the 'Neptune' were legally married to John Wood and William Fielder, who had been convicted with Cobcroft.
The couple's children born in the colony were – Richard William (1793), Elizabeth (1795) who died as an infant, John Frederick (1797), Sarah (1799), Mary Ann (c1801), Susannah (1805), James (c1807), George (1810), Eliza (1812) and Matilda (1813).
From 1795 the couple were settled on a 30 acre grant on the left bank of Wilberforce Reach on the Hawkesbury River. They prospered steadily, building their landholdings by grant and purchase to a total of 485 acres by 1828. Family lore has it that Sarah was the hardworking success behind the couple's prosperity.
Throughout her working life Sarah acted as a midwife to the women of Wilberforce district and delivered the children of convict women free of charge. A portrait (in the NSW Art gallery) of her in old age, depicts a determined and indomitable matriarch. She was reunited with her sister Susannah after a separation of 50 years when the latter arrived in the colony in 1839 (dying in 1844).
Sarah died on 31st May 1857, aged 85, and was buried with her husband on 2nd June 1857, in the family vault in Wilberforce Cemetery. Their descendants today are estimated to number well in excess of 8,000. In her will, Sarah left money so that her grand daughters could be educated.
Yvonne from Oz
© Yvonne from Oz 2009
---
SOURCES
Benjamin Cusley, First Fleeter by Maureen A Williams 1995
Cobcroft family in Australia 1790 – 1798 compiled by Brian W Cobcroft.
Hawkesbury on the Net: Cemetery register, Church Registers, Lists register.
---