My dad died 18 years ago. I miss him more every day. Yes, he was infuriating, but he had a fantastic sense of humour and introduced me to classical music and the beauty of the spoken word – he would quote Shakespeare quite naturally in conversation. Not bad for someone who left school at 14 to be a grocer's errand boy.
He was born above my grandfather's picture framer's shop at 165 Stoke Newington Church Street, the youngest of four boys. After a childhood of Sexton Blake stories and getting lost in Clissold Park, he worked locally until called up for WW2.
He was in the Rifle Brigade and served in North Africa and Italy, where he met and fell in love with an Italian girl. Her mother disapproved because Dad was not only a non-Catholic, he was a devout atheist, and she couldn't get permission to come to England. Although he never saw her again, they exchanged Christmas cards until he died. He always loved the Italian language, music and wine, and had a painting of the Bay of Naples which he brought back from the war, which is still in my Mum's dining room.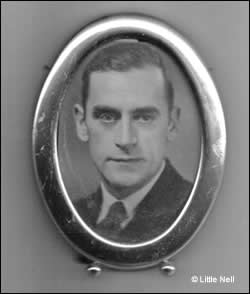 Dad worked as a bus conductor until early retirement. He was always chatty with the passengers and I recall many funny remarks he made:-
To a party of German tourists, complaining that he was late… "Late? Late! We've been waiting for you since 1940!"
To a nun, unsure which destination she wanted… "If you don't know where you're going there's no hope for a miserable sinner like me, then!"
To a pompous man who heard my father singing an aria on the bus… "Did you know that was Verdi you were singing?" Dad retorted, "Blimey no, I thought it was Shostakovich!"
To me, with a lewd wink, when I was getting off the bus two stops before the bus garage when Dad was on his last shift… "Tell your mum to warm the sheets, I'll be home in 10 minutes!"
And to some schoolmates who didn't believe that he was my dad when I told them and who asked him, "Are you Helen's father?" he responded, "That's what her mother always told me!"
One day he started a discussion about Beethoven with my mum and they got married a year or so later. I was conceived whilst they were holidaying in Italy and my brother arrived nearly 3 years later.
Dad grew all our vegetables in our garden and later on acquired an enthusiasm for rhododendrons and azaleas. As children we would be trailed round gardens, boring at the time, though I recall it with fondness now.
It was on holiday when I was 11 that Dad took us to Limpenhoe, on the River Yare in Norfolk, where his father was born and where I took a photo of Dad's grandparents. I visited there again last year.
After early retirement, Dad spent a lot of time in his garden or listening to classical music. I miss him so much and it is a sadness to me that he didn't ever know his grandsons.
Little Nell
© Little Nell 2009