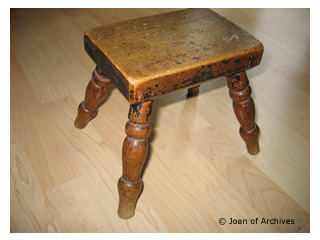 I only have a few possessions that I can truly say have been handed down in my family. There is a small wooden stool that I used to sit on as a child; the little bits of black paint that used to cover it are now worn away, but that has only revealed the rural crudeness of it. I was always told that it was my great grandfather's, and since doing my family tree I discovered that he was the son of a farmer in Bedfordshire, and the stool, that had always appeared in my child's eyes to be specially made for me, was in fact a milking stool.
There is also a mantle clock that is quite hideous, made of black slate and hasn't worked for years, yet spookily started to chime on the night of the recent earthquake!
I was very close to my grandfather, although he was already in his 70s when I was born; he died when he was 91. He had a sister, my great Aunt Lizzie, who I used to visit when I was very small. I remember her with fondness, especially when she gave me a miniature book of psalms on one of my visits. How wonderful I thought that was! I held that little book in my small hands and gazed in wonder at it. It had a leather cover and a wonderful gold edge to all the pages and some very tiny teeth marks on the cover. Later when I was older, I was told that my aunt had a little dog that used to go to meet her from her work every day, and he used to carry this little psalm book to her.
Of course I'm not sure if this was true or just one of those family myths, but I do know that Aunt Lizzie was a very lovely looking woman from her photo. She fell in love with a man who was a jeweller just before the First World War, and they got engaged, but he went off to fight and he never came back. She kept the ring he gave her and never looked at another man; living her life out with just her little dog for company, the same little dog that was her faithful companion and carried that little book to her, the same one that I gazed at in wonder when I was a small child.
Joan of Archives
© Joan of Archives 2008