When I first began looking for my ancestors, my dad wasn't really interested and didn't give me much information to go on.
His father and mother were born in 1905 and 1906 respectively, so obviously didn't appear on the 1901 census. I was lucky with my grandma, as she had a more unusual surname and was the twelfth of fifteen children, so I managed to find her family in 1901, but Granddad's family was harder to find as his name was Thomas Frederick Smith and he was an only child.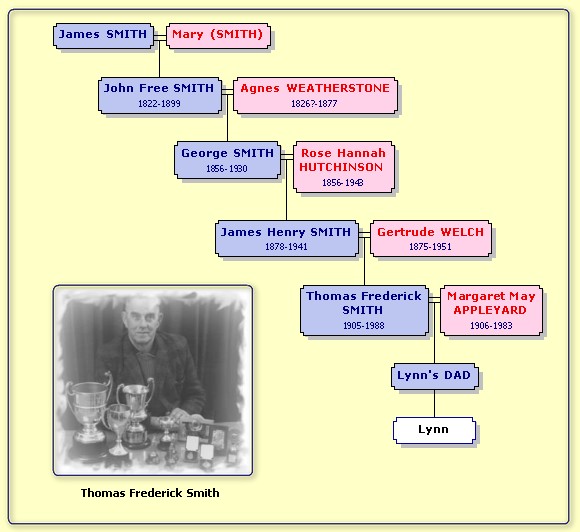 I managed to find his birth fairly easily, as the record had already been transcribed and I knew when he was born. Then I had to search the index for his marriage to my grandma, which I knew took place in December 1928.
Once I had found that, I was lucky enough to find the Lincolnshire Look Up Exchange, and I asked for a look up of their marriage in the parish records. This took a while and in the meantime, I tried to see if I could work out who my grandfather's father could have been.
My dad is the second of three brothers and each has a middle name which I thought could relate to granddad's family. So I started to look for a Smith family, in Barton upon Humber, Lincolnshire, on the census returns, whose names were Henry, George, Frederick and Thomas. I was lucky in that there weren't many to choose from, and I found a family; father George, mother Rose Hannah and sons, James H, John F and Walter W, together with their seven sisters.
I also learned from my uncle that he remembered a great uncle called John, and that at least one great uncle had been lost in the First World War. I checked the Commonwealth War Graves Commission's website and found the death of a Walter W Smith in 1916.
This family definitely looked as though they were mine, so when I got a reply to my look up request, I was able to confirm that they were indeed, as granddad's father was listed as James Henry Smith.
James was born in 1878, and I was able to find his parents' marriage in 1876. This wasn't too hard, as the bride's first name was Rose Hannah and as she came from Barton upon Humber, I was confident that the marriage would be in the Glanford Brigg registration district.
I was then able to trace his father, George, back to the 1871 census, by using his birth year, 1856, and place of birth, Nettleton, Lincolnshire, which I discovered from subsequent census returns. I found him in Tetney, Lincolnshire, with his parents – John F Smith, born c1822 Louth and Agnes Smith, born c1826 Stitchil Scotland, together with his eight siblings.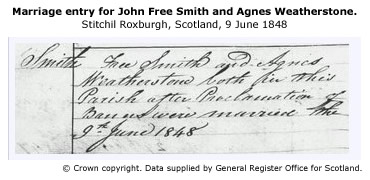 Going back a further 10 years to the 1861 census, the family were again living in Tetney and his father was listed as Free Smith, rather than John. George had a brother called John Free Smith and later had a son with the same name, so it was obviously a family name. George's two eldest siblings were born in Northumberland, so I wasn't surprised to find Free Smith, Agnes and their son James living there in Embleton at the time of the 1851 census.
Looking at the first census in 1841, I found John living with his widowed mother Mary and his two sisters in a brickyard in Louth, Lincolnshire. A lady on Genes Reunited looked up John's baptism for me and found that it took place on 11th October 1822 in Louth, with his parents recorded as James and Mary Smith.
I then searched for a record of a marriage in Northumberland between a John Smith and an Agnes, and found one in Norham and ordered the certificate excitedly. Unfortunately, this was the wrong one, so I ordered the birth certificate for George's brother John Free Smith, as there was only one listed, whereas there were two George Smiths listed in the right year and registration district of Louth. This proved to be the right one and showed his mother's maiden name as being Weatherstone. It was a scan of the original, so I got to see my great x3 grandfather's signature, which was really exciting.
Now I had Agnes' maiden name, it was easy to find their marriage which took place in Stitchil Roxburgh, Scotland on 9 June 1848. However, because it was in Scotland, I was unable to obtain a certificate, just a copy of the parish register, which unfortunately didn't give the names of the bride & groom's fathers.
I managed to trace my Smith family fairly easily through the census returns, mainly due to John having the middle name 'Free'. It was only after piecing it altogether that I noticed what an interesting life he had led.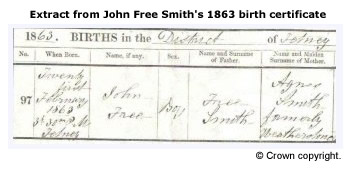 John Free Smith was born in 1822 in Louth, Lincolnshire, where he later worked as a brickmaker. He then travelled all the way up to Scotland where he married Agnes Weatherstone in 1848, then came back down to Embleton in Northumberland, where his eldest two children were born, to work as a brick & tile maker.
By 1853, the family had moved back down to Lincolnshire, this time to Nettleton, where five more children, including my great x2 grandfather were born. His son John Free Smith was born in 1863 in Tetney, Lincolnshire, as were two more children and where his eldest son died.
His wife Agnes died in 1877, so by the time of the 1881 census he was living in Barton Upon Humber with his eldest daughter and working as the foreman at one of the town's many brickyards.
Ten years later, in 1891, John was working at a different brickyard and living with two of his daughters. His youngest son Benjamin had moved to Leicester with his married sister and had sadly died there soon after.
John died in June 1899 and is buried in St Peter's churchyard, Barton upon Humber. My uncle told me that he had heard that John Free Smith was the type of man who thought that he knew everything, but that was because he did! He was certainly a well travelled man, who has made the search for my Smiths just that bit easier.
Lynn The Forest Fan
© Lynn The Forest Fan  2008