God and the hand of fate work in mysterious ways! Two years ago, whilst reading the 'trying to find' messages on Genesreunited I was astounded to see that an adoptee, Liz, was looking for her older half sisters – twins, Anne and Marie. "I knew Anne and Marie when I was about 11 years old", I exclaimed to my 27 year old daughter, "they were in a Catholic orphanage and Anne spent a couple of summer holidays with us and I often wondered what became of Ann and her sister Marie".
After reading so many messages of people looking for their adopted siblings I knew that I just had to reply to Liz!
I explained to Liz how I knew her sisters. Back in the early 1960s, our local Catholic church asked families to volunteer to take children from the orphanage on holiday with them. My mum and dad put their names forward, and so Anne came into our lives for a few brief periods over the next two to three years.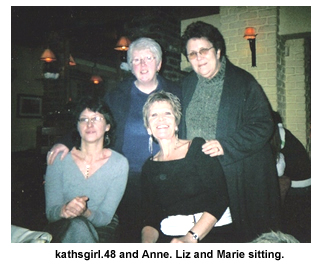 Of course, Liz wanted to know what Anne was like, it was only natural and I could only tell her what I could remember; that she was a quiet, pleasant girl who was a couple of years older than me, and that we got on very well. I do know that my late mum was very fond of her too. I then remembered that there were a couple of photos at my dad's house, so I promised to find them for Liz.
Once I had found the photos, I scanned and sent them to Liz, as by now we had exchanged email addresses and phone numbers and were in constant contact. Liz told me that she was adopted after her mum died when she was still a baby.
Liz had eventually obtained her adoption file from Social Services and was also in communication with the nuns that used to run the orphanage, but wasn't having much joy in finding out anything about her two sisters. Liz was informed that the addresses 'on file' were not current and that they couldn't give her any further information.
Liz's sisters had an unusual surname as their parents originated from Austria, so I thought that I would see if I could find out if Anne and Marie were now married by searching through the marriage indexes on findmypast. Bingo! I soon found their marriages and I let Liz know. She couldn't believe it!
I then told her that I would see if somebody on the Genesreunited message boards could do an electoral roll look-up for Anne, as I wanted to get back in contact with her myself anyway. My mum was told by the nuns at the orphanage that Anne and her sister had been found by their relatives in Austria, so I had assumed that they had gone back 'home'.
A couple of days later I received Anne's address, so again I went back to Liz with this information. Liz and I had several long chats on the phone and it was clear that she was unsure if Anne and Marie knew that she existed and was worried that they might not want to have any contact with her. Liz didn't know if she could bring herself to write to Anne or not. It was all very emotional for her and we shed lots of tears together over the phone.
I then suggested to her that I would be writing to Anne anyway and asked her if she would be happy for me to break the news of her existence in my letter. Liz gladly agreed, so I spent a couple of days composing my letter and once Liz had read it, the letter was posted, first class of course!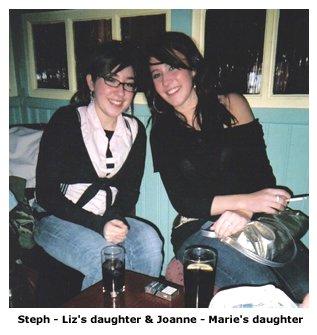 By this time Liz's children, her adopted family, myself and my daughter were all anxiously waiting for a response. Would Anne respond?
Two days later, after a trying day at work and while I was in the middle of preparing dinner, the telephone rang. My daughter answered it and said, "Mum, its Anne for you!".
My heart was beating so fast that I thought I would faint and my mind was racing, would it be good or bad news?
I needn't have worried. Anne was overjoyed and wouldn't stop thanking me for finding her and helping Liz. I had never felt so humbled in my whole life. It turns out that Anne and Marie had known about Liz and had been searching for her since they had to leave the orphanage and fend for themselves at the age of 16. Anne told me that she and Marie had been over to Austria to meet their aunt and other living relatives who also knew about Liz and they too were wondering what had happened to her.
I asked Anne if she was going to contact Liz. "Yes", she said, "as soon as I've finished this phone call!".
Wow, what a wonderful result!
A couple of hours later Liz phoned me. More tears of joy! She was thrilled that her siblings knew of her existence and were looking for her, but most of all she was overjoyed that they wanted to find her!
My daughter and I were invited to join Anne, Marie and Liz at a hotel in Bristol for their first reunion. We had all booked to stay the night.
Liz, her daughter and Liz's adoptive sister arrived first and warmly greeted my daughter and myself, with Liz and myself shedding more tears as we anxiously waited in the bar for Anne and Marie, with a few drinks to help calm our nerves.
Anne and her daughter arrived next, followed by Marie and her daughter, with hugs, kisses and tears all round. Anne, Marie and Liz's daughters looked so alike, it was amazing. What a rollercoaster of emotion it was for us all.
We all sat down for a meal, the drinks flowed and life stories were exchanged. So many years for Liz and her sisters to catch up on. We all then piled into one bedroom and spent a few more hours talking and looking at the sisters' documents and photos.
Anne and Marie must have thanked me a thousand times that night for reuniting them with their baby sister Liz. I was only too glad to help as it was just a bit of genealogy work after all, but rather special because I had known Anne & Marie all those years ago.
Their reunion was a very privileged and humbling experience which will remain with me forever, and I will always be grateful for being asked to share it. I have no siblings myself, so Anne, Marie and Liz hold a special place in my heart.
Back in the summer of 2007, Anne and her husband took Liz over to Austria to meet her birth relatives. She had come 'home' at last.
kathsgirl.48
© kathsgirl.48 2008