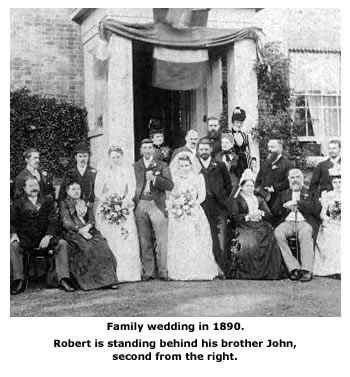 While browsing through some 19th Century newspapers recently, looking for a different surname entirely, I vaguely noticed that advertisements for horse sales by a Robert Tompkins in Reading, Berkshire started to appear regularly in Jackson's Oxford Journal in the 1850s. Actually, to start with I was ignoring those pages completely until I realised that some news was often tucked away at the bottom of a page. I had a Robert Tompkins, auctioneer, in my family tree, so out of interest I had a look at one or two of them. An address and a date appeared on one so I started to work my way through every available edition more systematically and managed to put together a fascinating story about a very interesting person.
I knew the bare outlines of the life of Robert Tompkins, younger brother of my great great grandfather John Tompkins, through census returns. I also had a tiny photograph of him from the picture of the wedding group of John's children's double wedding, but hadn't really investigated him at all.
Robert Tompkins was born in 1834, the second son of Robert Tompkins and Ann Osborn. Robert senior was a tenant farmer, moving around frequently, to the extent that all of his children were born and baptised in different parishes. Robert junior was baptised in Barton Hartshorn in 1834. In 1841 the family were at Spa farm, Dorton, Buckinghamshire. In 1851 Robert was living with his parents at Grange Farm, Sydenham in Oxfordshire. He married Sarah Jane West in the spring of 1856 in the Wycombe area of Buckinghamshire.
From 1861 onwards, Robert junior was living in Reading, Berkshire and describing himself as an auctioneer. His eldest daughter Louisa was visiting John Tompkins in 1891 and Robert, together with his wife, appears in the wedding group of his nephew and niece in 1890. In fact, it was Louisa's place of birth as given in 1891 which helped me work out whether I had the "correct" Robert when I was following him through census returns. He died in Reading in 1897.
This much I already knew from the usual sources, but I gleaned a surprising amount of detail about his life and interests from the pages of the Jackson's Oxford Journal.
The first reference to his auctioneering was an advertisement in August 1857:
HORSE & CARRIAGE REPOSITORY,
OXFORD STREET, READING.
R. TOMPKINS
Begs to inform the Nobility and the Public generally that his next Sale will take place on Saturday the 19th of September (being the show day of Reading Fair), when he will SELL by AUCTION 30 superior NAG and CART HORSES; consisting of Hunters, Hacks and Harness Horses; likewise horses suitable for farm purposes. Warranties of soundness and quietness given, according to the description in the catalogue.
*** Gentlemen who are desirous of entering horses in the above sale will meet with the most reasonable terms, and they are particularly requested to make an early application. Horses must be sent, with a full description, two days previous to the sale. ROBERT TOMPKINS, Auctioneer.
By October 1859 the sources/clients and number of horses and carriages advertised in each sale was growing and the business had moved to 27, Broad Street. Looking at this Map of Reading, you can see that his business premises were very close to the cattle market and the railway station.
Although the majority of the advertisements I came across had been concerning the sale of horses of all kinds of quality, type, breed and size, he was also a general auctioneer, dealing with the selling of carriages, carts, wagons and farm implements. Apart from organising auctions on their own premises, auctioneers would also undertake farm sales. When tenant farmers (or their widows) left their tenancy, the livestock and farm equipment was theirs to sell. In the auctioneers' advertisements, you can often find quite a lot of interesting detail as in Jackson's Oxford Journal (Oxford, England), Saturday, April 21, 1860:
GREYS FARM, WHITLEY
Two miles from Reading, on the Basingstoke Road.
TO BE SOLD BY AUCTION,
By Mr. Tompkins,
On the above premises (by the direction of Mr. Bush who is leaving), on Friday the 4th May, – The whole of the LIVE and DEAD FARMING STOCK; comprising 3 capital milch cows, 2 horses, 4 wheat ricks, 2 well-secured clover hay ricks, capital rick of meadow hay (the whole to go off) also 4 capital iron ploughs, 2 sets of harrows, Suffolk drill, 2 rick stands, a capital set of four-horse harness, set of three-ditto, 2 market wagons (on iron arms), 3 dung carts, Albert blower, the usual barn implements &c –
At some point he acquired a business partner although they must have parted company as I found out from an entry in The London Gazette from the 4th August 1863, which carried the announcement that the partnership carried on by Robert Tompkins and William Henry Sowden, of Reading in the county of Berkshire, as horse dealers and auctioneers was dissolved by mutual consent as from the 11th of July 1863. Robert Tompkins was responsible for all debts from and to the said partnership.
Macaulay's Reading Directory 1865 lists Robert as still at 27 Broad Street.
There is a gap of about ten years for more advertisements, (1864 to 1873) and I haven't managed to establish when he started doing so and whether this was just a title he gave the business himself, but by October 11, 1873 he was calling the business the "Royal Horse & Carriage Repository" and incidentally stating that the business was started in 1856. This was the year in which he had married Sarah. Was the business started with a dowry or perhaps with an inheritance from his mother who had died in 1854? I need to do some more following up here to see if I can find out the answer.
The business had also moved to Friar Street, still close to the cattle market and the railway station. Interestingly, in the same edition, he advertises that "A Military, Hurdle, and Flat Race Meeting would be held on the Race course at Reading on 5th and 6th November, 1873" under his management.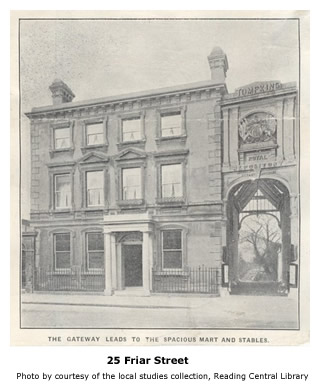 During this time, it looks as though he must have been a reasonably successful businessman and well known within the community, as on November 9th 1872, it was reported that Mr Robert Tompkins, of the well known Horse Repository, was elected a member of the Reading Corporation. In the Reading Municipal Elections, he had headed the list at the close of poll with 251 votes, 91 votes ahead of his nearest rival. The election was by ballot, and the contest was for Abbey Ward. There had been two other candidates, one of whom had previously represented the ward for three years. Abbey Ward is where his business premises were located.
Whether it was because it was an interest of his, or through being a Corporation member, Robert had some interest in rowing. Jackson's Oxford Journal reported that "On the evening of Thursday, 4th December 1873 the annual dinner of the Reading Rowing Club was held at the Upper Ship Hotel, when Mr. Robert Tompkins occupied the vice-chair. There was an unusually large number of members present. The Secretary reported that there was a balance of over 30l. against the Club. He also stated that the donation list was extremely small that year and urged the general public to take more interest in the Club."
The committee must have been successful in their wish for more support as on Saturday, 21st July 1877, Jackson's Oxford Journal carried a long and detailed report on the Reading Regatta in which Robert is listed as one of the umpires. Wikipedia notes that "The Reading Working Men's Regatta was established in 1877. It was promoted by the Mayor and Corporation of Reading, receiving Royal patronage in 1896."
Robert's interest in rowing appears to have been more than as just a committee member though, as The London Gazette of October 16th 1874 lists two provisional patent protections to George Blake and Robert Tompkins, both of Reading, in the county of Berkshire, for the invention of "improvements in boat lowering and detaching apparatus" and "improved means or appliances for steadying and for steering ships, boats and other vessels".
Robert also competed in the prestigious Annual Islington Horse Show, held in the Agricultural Hall, winning prizes for his own horses; third place to a de Rothschild, with a chestnut Hunter named Confidence on one occasion and second prize in a field of 56 horses with another Chestnut, Sunbeam, in the following year.
Tucked away in a paragraph of snippets of local news from Reading on November 14th 1874 it was reported that Mr. Robert Tompkins, so well-known in connection with his Royal Horse Repository in Friar-street, had disposed of his business for the sum of about 21,000l.
The following month, Jackson's Oxford Journal carried advertisements from the new owners, Hammond and Jefferies. An entire column was taken up with their varied sales. On December 12th, they were selling 45 horses at 12 o'clock. On the same day at 2 o'clock they were selling 40 greyhounds, 27 of which have their pedigree listed; 9 of these were owned by Mr. Tompkins, "who is leaving". They announced that they were starting weekly sales of "Hides and Skins" every Wednesday. On the 16th, they were selling 100 beech trees and 3000 fagots on behalf of the late Rev. R. Palmer. They held weekly Fat and Store Cattle sales every Monday and Saturday at Reading Cattle Market. They also announced that they were holding TOMPKINS'S ANNUAL CHRISTMAS FATSTOCK SALE on Monday, 15th December.
Three years later, he bought back the business. On November 17th 1877 another announcement appeared in Jackson's Oxford Journal:
Tompkins's Royal Horse & Carriage Repository
and
General Auction Mart, Reading
Mr. Robert Tompkins begs to announce that he has again purchased and taken possession of the above establishment (which he sold in 1874), with the intention of carrying on the General Auction Business, established by him in 1856, and he hopes that by strict personal attention, combined with integrity and promptitude, to regain the patronage and support of the general public which he formerly enjoyed.
In consequence of necessary repairs the Repository will not be re-opened until Saturday, Dec. 8, 1877, when the FIRST SALE BY AUCTION will take place, entries for which are solicited as early as possible, in order to secure good Stalls, as only a limited number of Horses will be included in the sales during the winter months. The first sale will be limited to 120 HORSES.
In the 1870s there was growing concern about the availability and quality of horses in Britain both for the military and also for farming. Between the years of 1873 and 1882 no fewer than 197,002 horses were imported into England, chiefly for the army, at a relative cost today of £250 million. Consequently, the Government at that time was greatly in favour of encouraging the breeding of horses in this country. Robert wrote a lengthy letter to the editor of Jackson's Oxford Journal in November 1873 entitled "Scarcity of the right class of English Horse" in which he made various suggestions for a solution. He later held a sale of Cart Horses to support his ideas, when as was reported afterwards as "an inducement to owners having horses for sale, he offered 50 guineas in prizes to the owners of the best horses sold, with marked success. Entries were made from a very wide area, embracing most of the home and Midland counties, and the animals were sent direct from the farms. …. The success of the sale has induced Mr Tompkins to announce another in February, on the occasion of Reading Fair, when it will be thrown open to all England."
I came across an article in The London Times from 1893 which gives a clue about him as a person and also gives a rough idea of the dates of when he stopped his "career" as an auctioneer.
(Before MR. JUSTICE HAWKINS and a special jury)
TOMPKINS V. TOMPKINS'S HORSE AND CARRIAGE REPOSITORY (LIMITED).
This was an action to recover damages for wrongful dismissal. The facts of the case are as follows:- The plaintiff was formerly the owner of the business, which is situated at Reading and he sold it to a gentlemen who afterwards turned it into a company, the plaintiff being appointed managing director. He afterwards made a loan (of) £1,200 to the company, for which he had 18 months afterwards to sue them. The solicitor's letter demanding payment was read at a meeting in May, 1893, at the same meeting the plaintiff was dismissed. On behalf of the plaintiff, it was contended that he was dismissed because he asked for payment of his loan, but this was denied by the defendants, who said that the sole reason why plaintiff was dismissed was on account of his violent temper and threats to wreck the company if everything was not done exactly as he wanted.
The plaintiff was called, and, in cross-examination by Mr. Willis Q.C., became very excited, and caused considerable amusement in Court by requesting counsel not to question him about his "temper". He denied that at the board meetings he used to jump up and punch the walls with his fists or kick them with both feet.
After several of the directors had been called on behalf of the defendant company, who gave evidence in support of their case, at the suggestion of his Lordship a juror was withdrawn, on terms which were not made public, Mr Willis Q.C., on behalf of the defendants, withdrawing all charges of personal misconduct against the plaintiff.
The Reading Local Studies Scanned Collection has a copy of the bill of sale for the premises, Tompkins' Royal Horse and Carriage Repository, at No. 25, Friar Street North side, Reading from 1914 which has a description of the auction yard. By this time the company had gone into liquidation. [Link to the sale bill]
"There is a fine covered sale yard with lantern lighted roof, auctioneer's rostrum and office and tan ride. The stabling is in several blocks, comprising 53 loose boxes and 46 stalls. Other buildings are a foreman's cottage, harness room, chaff house, lofts, dog kennels and foiling houses."
The Central Cinema was built soon after on the site of the auction yard and the Ibis Hotel now stands there.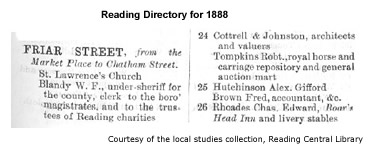 The Reading Directory for 1888 lists Robert's business at No. 24 Friar Street and his son-in-law next door at No. 25. In the 1891 census, Robert's daughter and son-in-law were living at 25, Friar Street and Alexander was described as an auctioneer's assistant. Their youngest son was born in Reading in 1900 and by 1901 they were living in Eye and Dunsden in Oxfordshire and the son-in-law was a house agent (employer). I wonder if he stayed with the firm when his father-in-law finally parted company with the repository and at what point he set up on his own.
Clearly Robert's working life as an auctioneer had come to an end by 1893, but thinking that I might find out more about his interests in rowing, horse and greyhound racing, I began to explore the possible references in the Arts and Sports sections which had come up in my search. To my surprise, I found a Robert Tompkins listed on Saturday, December 29th, 1894 as the proprietor of Queen's Hall, Reading in The Era. It was only when I found an announcement in The Era of the sale of the theatre following his death which gave his home address, which I already knew from the census returns, that I was sure this was the same Robert. No longer being involved in the Auction business, it looks as though he found something else on which to expend his energy although it was to be short lived.
The Queen's Hall and Assembly Rooms is described (in its own advertisements} as "Fully licensed. Two minutes from the railway station and one minute from the market place. Queen's Hall is one of the largest in England with Handsome Assembly Rooms adjoining. The acoustics are simply perfect. This splendid building is now open for Stage Plays, Concerts and other High Class Entertainments."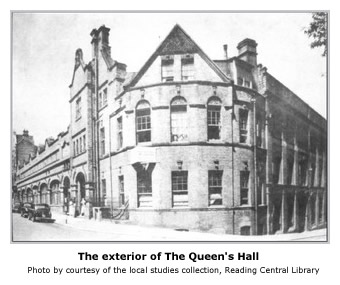 In April 6 1895, The Era reported that "Sir Augustus Harris has acquired a long lease of the Queens' Hall, Reading, and intends to convert the building into a first class theatre. The hall, which has only recently been opened is of larger size, and was erected through the enterprise of Mr Robert Tompkins, who is now to be congratulated upon having secured such an eminent lessee. Mr C Irvine Bacon who has been manager for Mr Tompkins will be retained in a similar capacity by Sir Augustus Harris." Sir Augustus Henry Glossop Harris was an influential British actor, impresario, and dramatist. Manager of Drury Lane Theatre, he was nicknamed "Father of Pantomime".
The Era also reported that Sir Augustus had "added to his many other enterprises a long lease of the Queens' Hall, Reading which he intends to convert into a first class theatre."
By November of that year, Robert was advertising The Queens's Hall New Theatre as complete and "possessing one of the Largest and Best Stages in the Kingdom and open to treat with High-Class Companies for Dramatic Performance and other Entertainments." I wonder if they managed to acquire the "Entire Gas Fittings for a Stage. 24ft. opening in perfect condition.", which they were looking for in July of that year and did they also find the "Scenic Artist, Wanted Immediately, to Paint and Touch-Up Dock Scenery on the Premises.", who they needed in September.
The Era carries many reviews of various musical performances, pantomime and plays staged by various companies during this period. However, according to the Jewish Encyclopedia, the strain of work following Sir Augustus's return from a trip to the United States caused a breakdown in his health and he died shortly afterwards in June 1896. Robert advertised for another lessee in April 1896 "due to failing health" – this could have been due to Sir Augustus's failing health or his own since Robert died himself six months later.
Later that year, having just lost such an important client, Robert then fell foul of the local licensing authorities. In September 1896, the renewal of the dramatic licence for Queens Hall wasn't granted. It was opposed by Harry Brandon Ormsby Trench who was the proprietor of the New Royal County Theatre, who had his own dramatic licence renewed at the same Licensing session.
Like Robert, Ormsby Trench had built his own theatre in 1893, The Prince's Theatre of Varieties in Friar Street, which he then completely remodelled using an architect. It can be seen from the report of the Licensing session in Jackson's Oxford Journal, that Robert was quite proud of the fact that he had acted as his own architect and as the dramatic licence wasn't granted on grounds of safety maybe this was a mistake. The New Royal County Theatre had also been opened in 1895 with full dramatic and wine and sprits licences.
The two theatres were in direct competition as can be seen from the types of acts and plays which appeared there. Both produced pantomimes, but interestingly the Liberal Association held their meetings at Queen's Hall, while the Conservatives held theirs at The Royal County Theatre. It looks as though Ormsby Trench had found a way to see off the opposition. Certainly the reviews of plays in The Era stopped at this time, and any advertisements or theatrical gossip only referred to variety acts.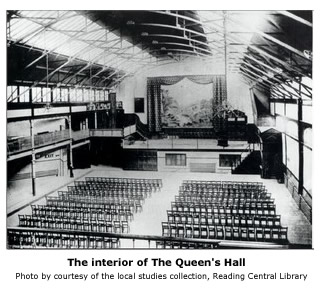 The Era announced Robert's death on Saturday, February 13, 1897 in the Theatrical Gossip column: "Mr Robert Tomkins [sic], the proprietor of the Queens' Hall, Reading, expired at his residence, Westlands, Reading, on Sunday last, in his sixty-third year. Mr Tomkins [sic] had been in failing health for some time past. He was one of the most respected inhabitants of the town, and was also widely known as the founder, and for many years proprietor, of Tompkins's Royal Horse Repository in that city."
His funeral was reported in The Era on the 20th February: The funeral of the late Mr Robert Tompkins, proprietor of The Queen's Hall, Reading, took place on the 11th inst. at Reading Cemetery. The inscription on the breastplate was as follows: – "Robert Tompkins, died Feb. 7th, 1897, aged sixty-three years."
Presumably his family weren't interested in continuing with this business, as The Queen's Hall was put up for sale in, September 1897. "The Queen's Hall and Assembly Rooms. For sale, by private contract in consequence of the death of it owner. This hall is greatly in demand for Exhibitions, Shows and all kinds of Entertainments. Seating accommodation for 2,000. Apply to Tompkins, Westlands, Reading."
It didn't sell privately and was put up for auction in London a year later by Wm. R. Nicholas and Co., Auctioneers. Again it didn't sell and was re-advertised in June 1899. It wasn't until February 1900 that an announcement appeared in The Era saying that it had been sold by private treaty; not as a theatre or for use as a hall, but to a firm of printers to be used as a printing house and factory.
The various advertisements, particularly for the unsuccessful auction and later the private sale of the premises, describe the building. It was situated close to the railway station on the corner of Valpy Street and West Forbury Road and was a substantial size, with a frontage on to the roads of 193ft by 123ft . It boasted a hall (102ft by 69ft), gallery and good stage, five lecture rooms, three dressing rooms, four bedrooms, bathroom, Buffet Promenade etc. It was advertised as "the largest hall in the town and eminently suited for a Theatre of other places of Entertainment, for which it had been specially constructed and was suitable for a variety of other purposes where space was required."
The only other comparable building suitable for "histrionics", The Royal County Theatre, was also advertised for sale by the same firm in 1900. The Queen's Hall was still being used right up to the final sale as can be seen by the dates of various advertisements in The Era and Jackson's Oxford Journal which range from "Rex Fox, a high-wire artist and part of Poole's Myriomara", to a grand gathering of the Liberal Association and the Reading Abbey Boxing Club's Open Competition.
Finally, four years after her father's death, and as announced in The London Gazette in February 1901, Robert's middle daughter, Florence Emmeline Hutchinson was able to begin to wind up her father's estate, for which she had been appointed administratrix in May 1897, by giving notice that all debts, claims and demands upon her father's estate should be received by the end of the following month.
What started out as a cursory glance at some advertisements and what I thought would be a brief article about the work of an auctioneer, turned into the beginnings of a full scale research project into a fascinating person which is still not finished. Ideally, to complete the picture I should obtain his will, and in the future I might even be able to make contact with the descendants of his daughters to discover yet more detail.
We are always told that using newspapers will help us with our research, but I hadn't anticipated being able to find out quite so much detail about one man and his development from the young newly married son of a tenant farmer to a successful and wealthy businessman, as well as gaining an insight into his personality.
Caroline
© Caroline 2008