Louisa Matilda Rumble was born in Marylebone, London, in 1854, and was the daughter of James and Catherine (formerly Dilleyson) and the older sister of my great x2 grandfather, John Ashby Rumble.
On 5th December 1880 she married Christopher Henry Hooper, a blacksmith by trade, at Lambeth, and two children followed – Christopher Hall Hooper in 1881 and James Frederick Hooper in 1884.
Christopher, Louisa and their two small children left England aboard the 'Duke of Sutherland' on 11th August 1885, bound for Queensland, Australia, landing at Maryborough on 9th October that year.
They were among the first selectors of land at Charlestown, where Christopher combined dairy farming with blacksmithing work. Christopher built the family's home using goods and timber carted by bullock teams from Kilkivan railway station, which was the terminus of the line at that time.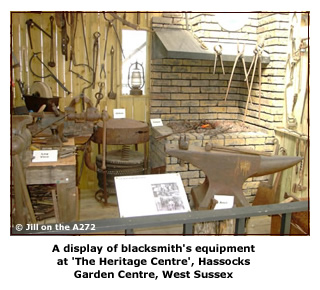 Prior to the birth of their third son, Charles Marchant Hooper, on 4th March 1893 at Tinana, the family began dairy farming at Eton Vale Road, where two more children followed – Agnes Louisa in 1895 and William Arthur in 1897. Christopher was the local blacksmith, wheelwright, agricultural implement maker and horse shoer.
When Wooroolin became a settlement, the family moved to the township and later proceeded to Memerambi.
Christopher and Louisa were the prime movers in the establishment of the cemetery at Memerambi and they took an active part in the establishment of the schools at Wooroolin and Memerambi. They were also closely associated with the Progress Association and the Local Person's Association of that district.
Christopher assisted in building the schools, which were little more than a single wooden building, and Louisa was one of the first teachers at the school at Wooroolin. She refused to charge for educating the children in the area, her opinion was that education was vital and a right for every child.
Following the outbreak of World War One, their son, Charles Marchant, enlisted and served in Turkey, for which he was awarded the 'Gallipoli Star' for his services to his country. He also served in Egypt and the Middle East.
Christopher Henry continued his farming and blacksmithing work until he became ill in early 1917. He managed to see son James Frederick marry Emily Ellen Smith, but died on 29th May of that year. His remains were laid to rest at the cemetery he assisted in establishing at Memerambi.
Following her husband's death, Louisa retired to Kingaroy with her children. Christopher Hall Hooper married Sarah Maud Pickels in 1920 and they had four children. Charles Marchant Hooper married Olive Caroline Maria Olsen at Home Creek Methodist church in 1923 and had four sons. Daughter Agnes and son William spent their life farming in the Goomeri district and neither married.
Louisa died in a private hospital at Kingaroy on 3rd February 1935 at the age of 78 years and was buried next to her husband at Memerambi three days later.
An obituary appeared in the local newspaper the day after the funeral, outlining the many positive changes that Louisa and her husband had helped to implement since their arrival in Australia 37 years before.
Her large circle of friends said that she would always be remembered for her cheery nature, bright disposition and her seemingly limitless energy and willingness to help others.
Louisa may not be my direct line ancestor but I'm very proud to have her in my family tree. She and her husband achieved so much following their decision to emigrate to Australia. Their vision for the development of the township they chose to make their home benefited everyone around them.
jemima puddleduck
© jemima puddleduck 2008