Well, at least I think it's a snuff box, but it may well be a pin tin, and that's not the least of the unanswered questions surrounding this little box.
About half a century ago (ouch!) I went to stay with an 'honorary' aunt, at least I presume she was 'honorary', as I've not yet found anywhere she fits into my tree. She lived in a timbered thatched cottage, with loads of brass ornaments which I enjoyed cleaning!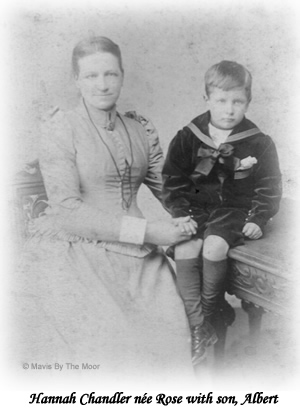 So I returned home wanting brass ornaments and presumably the family was scoured for them, as into my room and my possession came this small brass box. From the beginning it fascinated me. It is very tactile; the curve fits the hand, and I could also put things in it. Even then it was nearly 90 years old, and engraved on it was my surname, so it had been in my family all those years.
When I started tracing my family tree, one of the things I turned to was this little box. My family, I'm pleased to say, have a hoarding side and, as I had been the one to sort father's papers, I had his father Albert Chandler's birth certificate. He was the son of Samuel Chandler and Hannah (formerly Rose), so the tin was part of my direct line.
The inscription on the box places Hannah's father 'Mr Rose', a tailor and draper, at Flookburgh Grange, Lancashire, in 1871. This is confirmed by the census of that year, which records a 61 year old Miles Rose living at the property. Samuel and Hannah called their son Miles, after his maternal grandfather, and amongst the photos in my possessions there are two marked by my father as 'grandfather' and 'grandmother with Dad'.
However, so many questions remain.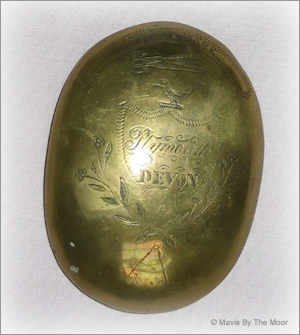 In 1871 Samuel and his family were living in Middlesborough, having moved there from Worcestershire, although they would later move to London. So why has the box got 'Plymouth, Devon' on the back? Was it made there and sold in other places, or were the family on holiday at the time they purchased it?
If you look closely at the image of the inscription, under 'by his son', 'in law' has been added later and is less deeply engraved. This was nearly polished out by my childish enthusiasm. Needless to say, I've stopped polishing now. How was this mistake made I wonder? Did Samuel write it incorrectly when he ordered the engraving? Although that does seem unlikely. Or did the engraver omit the words? If it was an engraving error, then why did Samuel accept such a poor correction? Perhaps he got a good discount or maybe there was no time for a proper correction as they were going to visit him, or send it to him for his birthday.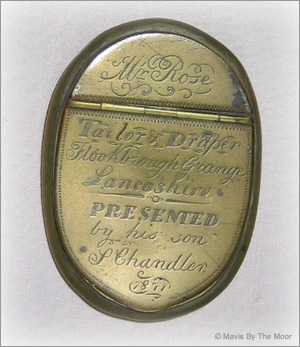 Samuel was a boiler smith, so perhaps there was someone with whom he worked who engraved it for him. When you look at the engraving, would you say it was a professional job? Perhaps this could explain why the mistake was accepted.
Looking at the back of the box, are those Masonic compasses at the bottom? Are they also engraved as a sort of afterthought?
Unfortunately, for all this information, Miles Rose is one of my biggest brick walls. Although he consistently states that he was born either in Cark or Cartmel (which are only a few miles apart) his birth record cannnot be found in the parish registers which Family Tree Forum member, Helen Smith Too kindly searched for me.
Mavis by the Moor
© Mavis by the Moor 2009
---