My great grandfather, Samuel Charles Burchill, was born to the north east of Bristol, at Mangotsfield, in 1855. He was the eldest of the eleven children of Charles and Elizabeth Burchill. Throughout the Victorian era almost all of Samuel's male relatives, including his father, grandfather, uncles, brothers and eldest son, worked as butchers in and around the Bristol area. This job was not for Samuel though.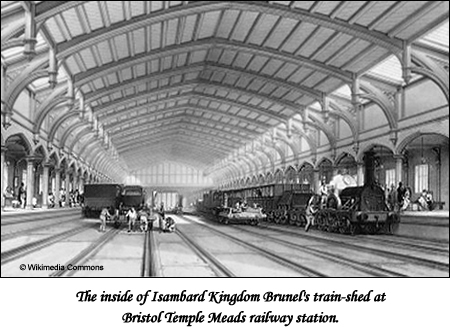 Back in 1840 the Great Western Railway (GWR) had opened Temple Meads station in Bristol. Designed by Isambard Kingdom Brunel, it was the first station to be built in Bristol and is still the largest station in the area. Temple Meads connected the port of Bristol to London via Paddington Station and was therefore a vital trade and passenger link in the south of England. By the time Samuel was in his early teens the GWR was a thriving company having laid over 1,000 miles of track in the previous two decades. Temple Meads was about five miles from Samuel's childhood home, but maybe he would go there to watch the trains coming and going?
By December 1871 Samuel was employed by GWR as an engine cleaner. During the three years he worked at this dirty and arduous job – it would take about ten hours to clean an engine – he gradually learned the role of engine fireman, which was a job he would later hold for about ten years. In 1874 Samuel became a 'passed cleaner' which allowed him to take on temporary fireman duties. The fireman's first duties were to ensure all the footplate equipment was in place at the start of a shift; this would include shovel, brush, coal-pick, bucket, spanners, flares, lamps of various types and bottles of engine oil. The fireman was also responsible for checking the sand boxes – sand was used to help the wheels to grip – and that there was sufficient coal and water for the journey to be undertaken.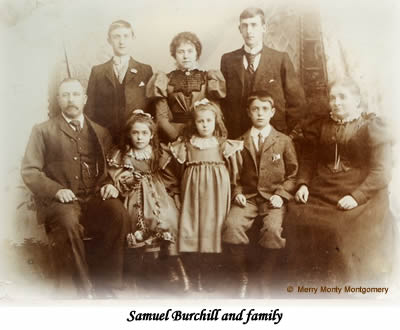 It took some years to progress through the ranks of firemen – from an inexperienced 'passed cleaner' to a 'passed fireman' with a hat badge that cost 10 shillings if you bought one before you had earned it! During this time Samuel would have learned the duties of an engine driver. Once he was a 'passed fireman' he would be allowed to do temporary work as a driver on goods trains and gradually work his way up to being a permanent driver, first on goods and freight trains and then on passenger services.
In 1879, about half way through the years he spent as a fireman, Samuel married Joanna Sage at the parish of Temple Church in Bristol. They moved into 51 William Street in Bedminster and this was where their first child, my grandfather George Charles Burchill, was born. Things didn't run smoothly in their first years of marriage. In April 1881 a tragedy occurred when the mother of a family sharing Samuel and Joanna's house killed her four month old son by drowning him in the bath. Joanna had to give evidence at the court case which must have been traumatic for her as her own son was only a year old at the time. In December 1881 Samuel was involved in a train crash at Slough, where a wrong signal was given in foggy conditions and the passenger train on which he was firemen ran into the back of some empty goods wagons. The impact was at low speed, thanks to the foresight of the driver working with Samuel who sensed something was wrong as they approached the wagons. The resulting enquiry praised the train driver, Henry Bathe and also Samuel for his efficient braking on a train that was seen to have insufficient brakes for the load it was carrying. Luckily, no one was seriously hurt in this collision.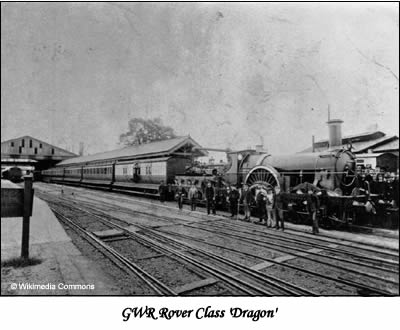 In 1884 Samuel became an engine driver. The driver was responsible for operating the locomotive correctly so as to ensure a smooth, safe and punctual journey. There were many dangers, such as animals or other obstructions on the line, train derailments and faulty signals. Also if the driver and fireman didn't follow the correct procedures there was always the possibility the engine would be seriously damaged or even blow up.
Samuel seems to have been quite a 'character' who didn't always abide by the rules. His granddaughter told me that he would let friends and family members ride on the footplate, which was frowned upon, and also would sound the engine whistle if he saw someone he knew passing by. He was occasionally reprimanded for these offences, but they couldn't have been considered serious enough to affect his job, as in 1886 he was picked out to drive for a special train journey.
In 1873 GWR began building the Severn Railway Tunnel under the estuary of the River Severn. This was a really huge undertaking; when the tunnel was finished it was over 7 kms long and would remain the longest railway tunnel in Britain for the following hundred years. There were lots of problems with ingress of water from the Severn and it took every ounce of Victorian engineering accomplishment to finish the tunnel successfully by the end of 1885. But finish it they did, and the first goods train passed through the tunnel on Saturday January 9th 1886. The driver is reputed to be one Samuel Charles Burchill!
I was first told this by one of Samuel's grandsons and took the story with a large pinch of salt. However, over the following ten years or so I have heard the same story form two other completely separate sources, so I think it is definitely worth investigating and may well be true. I wonder, whoever the driver was, if he and his fireman felt at all scared, travelling through the tunnel for the first time with all that weight of rock and water above them and presumably in complete darkness except for the light from the fire box.
Samuel was an engine driver for thirty years, retiring when he was 60 years of age. He had six children with Joanna all of whom lived to adulthood and numerous grandchildren who he doted on. I wonder if he ever wished he had run one of the family butchers shops, or whether he still enjoyed the lure of the steam after all those years.
Merry Monty Montgomery
© Merry Monty Montgomery 2009