The only seafarer in my husband's family tree was a master mariner (mate), Peter Mitchell, who was born in Ratho, Midlothian, in 1833. He came from a farming family at Lochend, Kirkliston, Midlothian, and how, when or why he went to sea is still a mystery to me.
He is missing from the 1851 census, though his father and step-mother are still on the farm at Lochend until his father died in 1859, so I can only presume (naughty word in genealogy) that he was at sea. In the 1861 census Peter was staying in Leith, Edinburgh, with his wife, Flora Shaw, from Rothesay in Bute, who he had married at St Stephen's Church in Glasgow in 1854, together with their 3 children.

In 1871, his wife and now 6 children were still in Leith, but there is no sign of Peter, so again he must have been at sea! It's interesting that he followed the Scottish naming custom for all of his 8 children, even including his stepmother's family names, but not one name from his wife's side.
In May 1876, at the age of 43, Peter drowned when his ship, the screw steamship 'Calcium', was sunk in the North Sea, off the Holy Island of Lindisfarne.

My husband must have sailed past there many times during his days in the Royal Navy and not known that it was there that his great grandfather had drowned.
I tried to find out more information, but could only find details of a more recent ship of the same name. That was until someone on Family Tree Forum suggested that I contact the Edinburgh Room, which is located in Edinburgh's Central Library, to see if they could steer me in the right direction.
A very kind lady there sent me a transcription of the report from 'The Scotsman' newspaper, which has made quite interesting reading. Peter had been the mate on the ship and was one of only three who drowned.
Transcription from 'The Scotsman' newspaper dated 6 May 1876 kindly supplied by the Edinburgh Room, Edinburgh.
THE WRECK OF THE S.S.CALCIUM
As briefly announced yesterday, this steamer was wrecked at Holy Island on Wednesday night. The 'Calcium', which belonged to the Kirkcaldy and London Shipping Company, was commanded by John Hogg, and was on the voyage from Middlesborough to Leith with 290 tons of iron.
About half-past ten o'clock on Wednesday night, the weather being rather foggy, she struck on the Goldstone Rock at the Ferne Islands. The fore part of the vessel remained fast on the rock, and it soon became evident, from the rapidity with which the steamer filled with water, that she would founder. The forward tank, which holds about 30 tons of water, filled in four or five minutes.
One small boat was launched, and the chief engineer, second engineer, and a sailor got into it. The remainder of the crew endeavoured to clear another boat, and whilst so engaged the steamer came off the rock, and immediately foundered in about 8 fathoms of water, six of the crew being left struggling in the sea. The boat's crew who had got clear away, picked up a fireman and took him into the boat.
They remained about the place for a quarter of an hour in the hope of falling in with others of the crew, but did not find any or hear any cries for help. They therefore judged that the other seamen had been drowned. Their boat being small and well down in the water, it was deemed prudent to make for the land, and they reached Holy Island at twenty minutes to one o'clock on Thursday morning.
In the meantime, the captain and one of the crew who had gone down when the steamer foundered, contrived to get hold of the mast of the vessel, which rose a short distance above the water, and they clung to it for several hours until rescued by some of the fishermen who put off from the island about four o'clock.
Six of the crew were thus saved, and there is no doubt that the mate and two others of the crew were drowned. Both vessel and cargo are insured. The vessel was only four years old.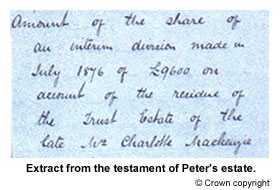 I then found the inventory and testament of Peter's estate on Scotlandspeople, which lists Peter's assets.
Peter had inherited over £200 from his aunt, who had died in March 1876, shortly before him. So his wife, Flora, received his inheritance.
Although I found the widowed Flora on the 1881 census with 3 of her children, I haven't been able to find her on the 1891 or 1901 census returns, but know that she died in Edinburgh in 1916 and wonder where she was living and what she was doing during the intervening years.
As far as I know, Flora was the only member of her immediate family who remained in Scotland (2 brothers unaccounted for but may have died), which may explain why none of her children have her family's names. Her father, stepmother, younger brothers and half sister emigrated to Australia in 1853, where her father died in 1860. Her sisters also emigrated but joined extended family in New Zealand shortly after, where her cousin drowned saving passengers from a ship around the same time as her husband died, but that's another story.
JBee
© JBee 2008