Jessie Nichol was born at sea, off the coast of Greenock, Scotland, in 1850, but no-one knows why. Family stories say that the family were trawler owners on the west coast of Scotland, but if her mother was at sea when she gave birth, it is more likely that she was working on a small fishing boat with Jessie's father, James Nicholl, described on Jessie's marriage certificate as a seaman.
Or maybe she was coming over from Ireland, which effectively puts a full stop at the end of this line. Yet another story claims that we have family connections further south, on the Isle of Whithorn, but other than the coastal connection, the story of Jessie's origin is very blurred.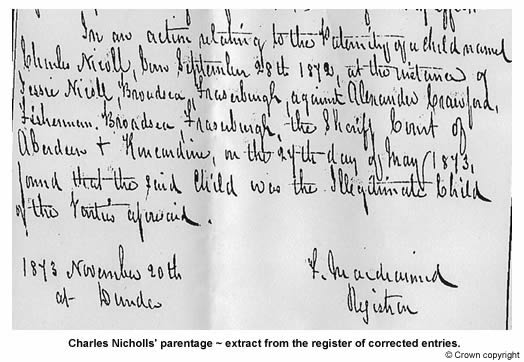 However, thanks to the determined efforts of two intrepid Scottish FTF members, Jessie has been later found recorded as giving birth to Charles Nicholl in Dundee in 1874. Though there is no father listed, she proved in court that Alexander Crawford, a fisherman of Fraserborough, was the father.
The records and stories indicate that Jessie travelled over large distances, all around the coast of Scotland. This is easily explained, as she was 'travelling the fish'.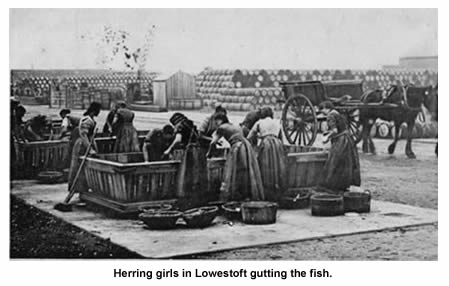 One historical break from the traditional working patterns of women was the 'herring girls', who travelled in gangs around the coast of the UK following the migration of the herring. Their dexterity was needed to gut the catch fast and get it to market in good condition. It was a hard, dangerous, and painful life; sharp knives and salt are a painful combination, a life that developed hard women.
Although, more significantly the women were away from normal life, away from the control of their family and men folk, and were known for their bad language and raucous, immoral behaviour.
Jessie next turns up in the records when she married George Forder in Lowestoft, Suffolk, in 1875 and had three children by him, all born in Lowestoft – Joanna (c1876), George (c1878) and Harry (1880).
George Forder died a month or so before the 1881 census was taken and Jessie, now a widow is variously described on future census returns as a 'kipper woman' and a 'charlady'. It would seem that, although she can no longer follow the fish as she has a family to care for, Jessie continues to work with the 'herring girls', but as it is seasonal work, she works as a charwoman between seasons.
Jessie gave birth to a daughter, Jessie, in 1886. The father was Henry Farman who was later described as the family's lodger on the 1901 census.
Jessie seems to have the sea in her blood and passed it on to her offspring. Her first born son, Charles Nicholls, joined the Royal Navy, and according to the 1901 census, was serving as a leading steward onboard HMS Terror in Bermuda, with his new bride Harriett (nee Doy), living alone back in Lowestoft.
Charles and Harriett had a son, Stanley George, who became a skipper sailing out of Grimsby. During the war he became part of Harry Tate's Navy, when trawlers and fishermen were commissioned to form a fleet of mine sweepers. He served as a lieutenant commander and received a DSO for outstanding bravery. Following the war he returned to fishing and was a skipper for Ross Trawlers until his retirement. Also in this line are fishermen, sailors in the navy and a captain of the luxury ocean liner, the QE2.
Yet another family story links us to a famous pirate, so if I ever prove that one it could blow all of my theories out of the water!
mandy blueknees
© mandy blueknees 2008