It was my mother Dorine's maternal family who hailed from Suffolk. Her parents were Ben Newton and Gertrude Sadd. Gertrude was born in 1890, the youngest child of Luke Sadd and Harriet Packard. She came from Wandsworth, London, like her brother George and sisters Beatrice and Maud. Other sisters Lily, Ada, Flora and Charles were born in Marlesford, Suffolk. Luke and Harriet had married in St Andrew's, Marlesford on 8th March 1873.
Luke was a bricklayer, as was his father-in-law. I presume that the move from Suffolk to London was because of the need to find work.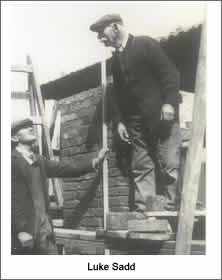 Luke was born in Little Glemham, the only son of Philip and Elizabeth (née Mattin) who had married in 1841 at St Andrew's, Little Glemham. Luke's sisters were Eunice born in Marlesford, and Emma, Caroline, Elizabeth, Sarah, Rachel, Ann and Louisa all born in Little Glemham. Interestingly, on the 1881 census, Rachel and Louisa were in domestic service in Oxford where a 2-year-old baby was head of the household. Philip and Elizabeth had grandchildren with them on the census nights in 1871, 1881 and 1891, so they must have been popular grandparents. Elizabeth Mattin was born in Marlesford in 1818, the only daughter of Robert and Mary (née Arnold). Her brothers were John and James.
Philip's occupation was given as farm labourer when he died at the age of 90 in 1904. Would he really have been working on the land at his age? He was born in 1814 in Marlesford to Jonathan and Sarah (née Lankester) who had married in 1813 at Blaxhall. There was one brother George, and sisters Caroline, Hannah, Mary Ann, Elizabeth and Emma. I was pleased to see from the censuses that once widowed, Jonathan did not have to live by himself as he was living with his son George. I wondered why he was not with his elder son and then thought that probably his and Elizabeth's house was full with lots of grandchildren.
Jonathan was born in Farnham in 1790, his younger brothers being William and Joseph, and the older siblings James, Philip, Mary, Hannah and George. They were the children of Philip and Mary (née Taylor) who married in St Mary's, Benhall in 1779. Philip had a sister Mary who married a William Bulls, and two brothers called James. They were the children of James and Susan (née Chaplin) of Benhall. James was a yeoman, of Benhall. According to his will, proved 25 May 1788, he had two sons called James Sad Junior, a son Philip Sad, yeoman of the same parish, (his executor), and a daughter Mary Bulls. The parents of James, his sister Mary and brother Joseph were James Sad and Susan.
In my Packard line great grandmother Harriet was born in Marlesford on 23 May 1854 daughter of Joseph Packard, journeyman bricklayer, and Harriet Miller who married at All Saints, Eyke on 23 September 1845. She was one of 13 children – Harriet, Joseph, Sally, Emma, Harriet , William, William, William, William, James, Rebecca, James and Mary. Eight of whom died when very young. Great great grandfather Joseph was born in Marlesford in 1820 and had a sister Rebecca and a stepbrother James. Joseph died suddenly on 7th June 1868 in Marlesford at 47 years of age. An inquest was held on 8th June at the house of Henry Minter, landlord of The Bell public house. The Coroner's report stated 'death arose from disease of the heart; there is not any indication of death having arisen from other than natural causes'. In 1871 his widow Harriet was a wash woman, and by 1881 she was living in Wandsworth, London, with two of her sons and near her daughter Harriet and her husband Luke Sadd.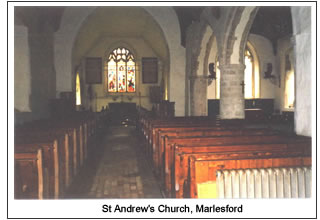 Great great grandfather Joseph's parents were John and Sarah (nee Aldrich) who married in Blaxhall in 1815. John was a bricklayer from Little Glemham. After Sarah died in 1850 he lived with his son Joseph. He died in 1874 aged 90. Like his father, there was an inquest. The coroner's report stated 'in a natural way, and not by any violent means whatsoever'. The inquest was held on 12th May at the house of Henry Minter landlord of The Bell public house. Interestingly, two of the jurors were George Sadd and George Sadd junior.
3x great grandfather John had two sisters, Mary and Sarah, and brothers Joseph, William, James and Daniel. Their parents were Joseph and Mary (née Wright). Joseph died in Little Glemham in 1815 age 60.
In my other lines, great great grandmother Harriet Miller was born in 1825 in Eyke, the eldest child of John Miller and Hannah Ling, with siblings Charlotte, Jemima, Emma, Sarah, Ephraim, Mary, Maria, Hannah, Martha and William. John was born in Eyke in 1804, son of William Miller and Charlotte (née Mallows). Charlotte was born in 1770, in Bressingham, Norfolk, daughter of Thomas Edwards and Sarah Mallows. John's siblings were Ellis, Stephen, Ephraim, Thomas, Sarah, Ellis and Mary. He married Hannah on 10th October 1825 at All Saints, Eyke. After Hannah died in 1852, age only 48, John had their children living with him in Eyke until 1881 when he was recorded as an agricultural labourer, living by himself in Eyke Street.
William Miller was christened in Melton in February 1773 and married Charlotte Mallows in St Edmund's, Bromeswell on 11th November 1800. Stephen Miller and Mary Clarke were his parents who married in Melton in January 1769, and their other children were Stephen, Martha and Mary (twins), Mary, Martha and Ann.
Hannah Ling was born in Manningtree, Essex in 1804, daughter of James Ling and Jemima (nee Skinner). Hannah's brother Edward was born in Lawford, Essex. They were both christened in St Mary's, Manningtree. Their brothers James and John, and sister Jemima, were born in Melton and Frances and David in Eyke. Joseph was christened in Blaxhall, Emma and Mary Ann in Ufford. So James and Jemima Ling moved about quite a bit. James was a gardener and was born in 1768 in Campsey Ashe, one of the children of David Ling and Hannah Woolnough of Swilland. David's parents were George Ling and Mary Coleman of Framsden, and George's parents were William Ling and Mary Sympson.
Joy Dean
© Joy Dean