History was one of my favourite subjects at school and still fascinates me. I also find people fascinating. From reading about history and watching people it seemed a natural progression to investigate the structure of my family. Not just names and dates but learning how they lived, what was happening historically, social conditions, and geographically, where they fitted into the world. I should have started much earlier while my parents and grandparents were alive. My parents died in 1983 and 1987 and my grandparents died in 1969, 1971, 1980 and 1982. I knew three were born in London and the other in Buckinghamshire.
When the time came to start searching the General Register Office's (GRO) birth, marriage and death indexes for the marriages of my great grandparents the fun began in earnest. My husband and I travelled to London for the first of several visits to the Family Records Centre, where we experienced the excitement of finding people, the backache after lifting the heavy books and the frustration of not having enough time. The pieces of the jigsaw came together as more births, marriages and deaths were found. Although the solving of one puzzle usually led to more questions requiring answers, this was all part of the fun and pleasure of the detective trail.
I knew that on my mother's side her father was born in Buckinghamshire and my grandmother's parents were from Suffolk. My father's maternal grandmother was from Ireland and I thought that the rest of my ancestors were from London. How wrong could I have been? I have learnt that I have family from London, Ireland, Kent, Surrey, Devon, Cornwall, Essex, Suffolk and Norfolk. There may be other counties and countries of origin as yet undiscovered.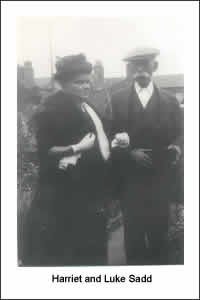 When I found the marriage of my great great grandparents Harriet Miller and Joseph Packard on 23rd September 1845 in Eyke, Suffolk, I posted a message on the Rootsweb Suffolk mailing list saying that I was ordering their marriage certificate. I received a reply from a Ken who said "that if her father was a John Miller then to let me know and I'll let you have the mother's family details". When the certificate arrived, John Miller was Harriet's father. I emailed Ken straightaway. He told me that Harriet Miller was his 1st cousin 3 times removed and he sent me details of her family going way back to the 1600s.
On the Suffolk mailing list Kevin Scott said that he "would be interested to hear from anyone with Suffolk connections to MILLER in Eyke". Eagle eyed Ken saw the message before I did and he made sure that we made contact. We discovered that Kevin's great great grandfather Ephraim Miller and my great great grandmother Harriet Miller were brother and sister. Being that I live so far away from the Suffolk record offices, I have had to rely on other people for help once I had broken the pre-1837 barrier
Last August I had a wonderful time in Penzance and Plymouth where some of my father's maternal family came from; my Corin and Harrison ancestors. Have you ever done this? Walked in their footsteps? Trodden the paths where they trod? Breathed the air that they breathed. Seen the same sea and entered the churches where they were baptised and married, and the churchyards where some were buried? Just to be there is a feeling in itself and no words can really describe it. If you never have, then make up your mind that one day you will. Don't miss the chance.
This summer I took the opportunity to go to Suffolk and experience this again. I checked that my Suffolk cousins, Ken and Kevin, would not be away on holiday, and with help from them and others I found the key holders of certain churches and how to get about by public transport in the villages where I wanted to be.
I am not used to using public transport, so the train journey in itself from Liverpool Street to Ipswich was enjoyable. I followed the journey on a map, and was so excited when the train stopped in Manningtree, the place where my 3x great grandmother Hannah Ling was born. I had to change at Ipswich for Woodbridge.
Unfortunately, the train was delayed because of signalling problems, so the connection was missed, but the train company had arranged taxis for all of the people who had missed their train. I saw signposts to places I had only read about previously.
Arriving at Woodbridge I had time before my bus to Eyke to wander around and explore, to get the feel of the place, and to buy a footpath map in a bookshop. The bus ride was enjoyable because, again, I was seeing names of towns and villages which had only been names on maps before.
I had drawn up an itinerary of churches where my ancestors were 'hatched, matched and dispatched' and addresses where they were recorded as living on censuses, as I wanted to fit as much as possible into a short space of time. Arriving in Eyke, I stood and looked around at the church, the shop, the pub and along Eyke Street. This was the Eyke Street where in 1871 John Miller lived, with daughter Mary and son William, and in 1881 alone. Across the road was All Saints Church, where Harriet Miller was christened in 1825, as were her siblings including Kevin's great great grandfather Ephraim and where she married Joseph Packard in 1845. Her parents John Miller and Hannah Ling also married there in 1825 and were buried there in 1893 and 1853, along with my 4x great grandparents William and Charlotte Miller in 1844 and in 1854.
To get into the church I needed a key and what a big key it was too. The key is kept by the ladies working in the shop, one of whom is Catrina Finch, Ken's daughter. She kindly accompanied me to the church. I had the feeling that family history research did not hold the same fascination for her as it does for her father. Being inside the church was an awesome feeling.
Kevin and I had arranged to meet in the churchyard. What better place for two family research addicts? It was a funny feeling meeting, as it felt as if we'd known one another for years.
Then I had an extra treat when we went to St Edmund's, Bromeswell, where William and Charlotte were married over 200 years ago. We moved on to Melton Old Church, where William was christened, and his parents Stephen and Mary were married. This church is not used for worship now and is more of a museum. It was closed but we could peer through the windows. A man was mowing the grass next to the church and his was the first Suffolk accent that I heard.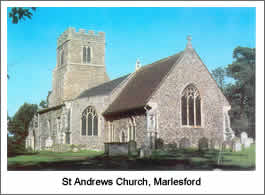 Kevin and I went to his house where I met his nice, hospitable wife Ann who listened very tolerantly to Kevin and I excitedly discussing our family. Then Ken Finch arrived and I heard a Suffolk accent for the second time. How good it was to actually meet my Suffolk cousins who had both 'gone the extra mile' to help me. Ann took a photograph of us, three LING descendants together. The time went all too quickly.
I said my farewells to Kevin, promising to sort out a puzzle as to whether he and I are descended from Benjamin Ling and Deborah Moss or from James Ling and Jemima Skinner, which he has since resolved. Ken kindly gave me a lift to my Bed and Breakfast in Woodbridge.
That evening, after telephoning the vicar of St Andrew's, Little Glemham to find out from where I was to borrow the church key the next morning, I had a lovely stroll round Woodbridge.
The next morning, having been warned that buses were not very frequent, I was pleasantly surprised that the one I wanted to travel on ran about every half an hour. I travelled to Little Glemham and once again enjoyed reading signposts to names of places I'd only seen before on a map, in a book or on an email. One of these was Hacheston, where my great grandmother Harriet and great grandfather Luke Sadd were living in Marlesford Road at the time of the 1881 census. Another was Wickham Market, where Deborah Ling died at Union House. They were all becoming very real to me now.
The key holder to the church was easy to find, however, the key had been borrowed for a short time by a certain Philip Hope-Cobbold, a director of Ipswich Town Football Club and occupant of Glemham Hall. I was interested to meet him after having corresponded last year concerning my first cousin three times removed George Sadd, who had been employed as a carpenter at Glemham Hall according to the 1891 and 1901 censuses.
Just inside the gate of the churchyard, under a yew tree, there is the grave of my 3x great grandparents with a large double headstone bearing the following inscription:
"In affectionate memory of
JONATHAN SADD
who died May 4th 1874 aged 84 years.
Oh the sweet joy this sentence gives,
I know that my redeemer lives.
In affectionate memory of
SARAH SADD
who died February 7th 1852 aged 62 years.
We part in hope to meet again.
Erected by their daughter Mary Ann Dyball."
The headstone is incredibly clear and clean, so much so that I had the feeling that someone had been looking after it. I know that they had a daughter Mary Ann, born in 1821, but have not yet been able to find out any more about her. The photographs of the grave were taken by my Suffolk cousin Kevin. My Kent cousin, Bernard Warren, has also kindly photographed it for me.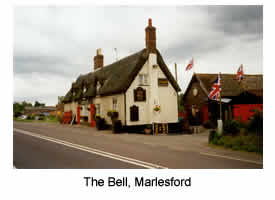 Upon entering St Andrew's, the key turned easily in the mortice locks but the door was not easy to push open. Once inside, it took my breath away to realise that Philip Sadd and Elizabeth Mattin were married, that my 3x great grandfather John Packard was christened and that my ancestors Joseph and Mary Packard were buried there. The church was being decorated with various foliage in preparation for a wedding a few days later.
I then continued to search the rest of the churchyard in the very long wet grass, although I have to confess that I didn't brave the clumps of nettles. I saw the headstone for George Sadd (cousin of my great grandfather Luke Sadd and grandson of Jonathan and Sarah) and his wife and daughter.
From the addresses I had to look for in Little Glemham, Tinkerbrook was still there, which at one time was called Tinkerbrook Road and another time as Tinkerbrook Lane. This is where Philip and Elizabeth Sadd lived at the time of the 1861, 1871 and 1881 census returns. In 1891 they were living in Street. I could not find Timberyard House. I found Church Road where Elizabeth Sadd died in 1907. Her inquest was held in the school which is now a private house. I also saw Glemham Hall, where George Sadd was a carpenter.
I walked along the A12 to Marlesford, which was only a few minutes walk. I feel sure that the A12 used to be Turnpike Road, an address where some of my family lived and the address on the 1881 census for Henry Minter (who was the landlord of The Bell at the time of the inquests mentioned below) and his family.
I was sad that The Bell was not open. This is where the inquests were held into the deaths of my ancestors Joseph Packard in 1868 and for his father John Packard in 1874. I walked around the village, getting a feel of where my family lived and made a visit inside St Andrew's Church. My great grandmother Harriet Packard was christened here in 1854 and this is where she married Luke Sadd in 1873. Philip Sadd, Elizabeth Mattin and Joseph Packard were christened here and the same Joseph buried in 1868. John and Sarah Packard were buried here in 1874 and 1850.
I left the two villages where a lot of my family once lived and returned on the bus to Woodbridge where I spent my final morning in the town museum and the Suffolk Punch horses museum.
I had a wonderful time. I shall return one day to Suffolk; a part of me is still there.
Joy Dean
© Joy Dean 2007
---
JOY'S SUFFOLK CONNECTIONS
It was my mother Dorine's maternal family who hailed from Suffolk. Her parents were Ben Newton and Gertrude Sadd. Gertrude was born in 1890, the youngest child of Luke Sadd and Harriet Packard. She came from Wandsworth, London, like her brother George and sisters Beatrice and Maud. Other sisters Lily, Ada, Flora and Charles were born in Marlesford, Suffolk. Luke and Harriet had married in St Andrew's, Marlesford on 8th March 1873. Luke was a bricklayer, as was his… read more …
---
KEN'S DISCOVERY
One thing that Ken has discovered is that my 3x great grandmother Hannah Ling was sentenced to 14 days in Woodbridge gaol in 1819, when she was aged 15, for 'refusing to go to church and running away to Rendlesham'. Maybe it was her dislike of the sermons, or perhaps she had a secret tryst with John Miller or someone else?
My other contact Kevin has since investigated this further at the Ipswich Record Office. Hannah being our mutual 3x great grandmother.
This is what he discovered:-
Hannah Ling, age 15, female.
Time when committed – 21st July 1819.
Prisoners crimes or offences – 'Upon the oath of Fenn Shemming of Rendlesham in this county, farmer, that Hannah Ling an apprentice of the said Fenn Shemming hath been guilty of divers misdemeanours against her said master and particularly in refusing to go to church on Sunday last when ordered so to do and running away from her said master and her apprenticeship'.
By whom committed – John Fitzgerald & W. Carthew esqs.
Prisoners employment – mending stockings.
Behaviour of prisoner – decent.
Discharged from gaol – 4 August 1819 'She being detained one day after her time had elapsed on a suspicion of theft by her master'.
Ref. Woodbridge Gaol Books 106/3/8.2 page 144.