This article is a testament to the 'team' on Family Tree Forum. From a tiny snippet of vague information which I offered, they unravelled this intriguing tale of a man who rose from unpromising beginnings, to become one of the most feted members of the Magic Circle, who was styled 'the queen's magician' and performed before Queen Victoria and her court at many private gatherings.
Many years ago, whilst constructing a hobby tree, I came across a book which made reference to a James Holden. The information was brief, and vague: 'James Holden….who went to Birmingham, where he became a quack doctor, astrologist and conjurer'.
There was only the vaguest timescale, which placed this man's birth in the late 1700s. I left it for years, thinking this would be a fruitless search. Tying up some loose ends recently, I came across this piece of information again and without much hope, I posted on the site's Research Board.
After a few false starts and much tutting about the unlikelihood of finding anything with such sparse information, the team produced references to Dr JOHN Watkins Holden, the queen's magician. Not James, but the coincidence of two men with the same surname following the same unusual profession was too much to resist and we were off.
John Holden was born on 1st February 1844 at Albany Terrace, Claines, Worcestershire and his birth registered to John, a farmer of Claines and Emma Holden (formerly Holden). Later in life, Dr John Watkins Holden declared that he was the natural son of a high-born man, Lord Lieutenant of Brecon. Astonishingly, his baptism proves this. He was baptised on 8th March 1844, son of Lloyd Watkins and Emma Holden. The minister who carried out the baptism was the Reverend Thomas Watkins, who is either Lloyd Watkins' father or his cousin – both were clergymen. John Lloyd Vaughan Watkins also has an astonishing history, which is worthy of a separate article, but suffice it to say for now that he had at least five illegitimate children and no legitimate heirs. He died in 1865, leaving a will which makes no mention of John.
In 1846, a brother was born. George HOLDEN was born on 3rd September 1846 in Peckham, parents as above. The International Genealogical Index (IGI) on the Family Search website states that his father's name was Lloyd Watkins HOLDEN. George became, first a miniature painter and later a photographer. He does not appear to have married and was still practising as a photographer in 1916, in Swansea.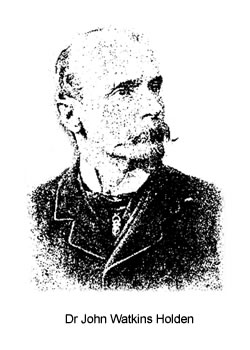 The 1851 census records that John Watkins Holden was with his mother and his younger brother George, with no sign of John Holden, the farmer of Claines. Emma was visiting her sister in Laugherne, Wales. In 1861 George and his mother Emma are back in London and there is still no sign of John Watkins HOLDEN.
However, in 1861, an 'impudent youth' called John Holden was arrested for 'an affray in a public house' in Wigan. He refused to say where he was from, dramatically declaring that he would not wish to shame his family and friends, but does concede that he was in the area for the purpose of distributing hand bills for a quack doctor. I have no doubt at all that this is our John and have speculated endlessly that the quack doctor could be the mysterious James Holden.
I have wondered whether he was perhaps his grandfather, however, this does not seem to be so. The quack doctor was more likely to have been Ben Hamla, who appears to have been John's early mentor in magic.
From an obscure book entitled 'Magic' by David Price, which was found by a kind FTF member, I learnt that John toured with Ben Hamla (who is referred to as a quack doctor rather than a magician) through Morocco, Algeria, Tunis, Tripoli and Egypt. There is also a suggestion that he visited Cape Town in 1873, but this has not been possible to verify. Ben Hamla has proved elusive under that name and I am still harbouring the faint hope that he was really James Holden! John also took lessons from a magician called Robert Hellis. This must have happened before 1877, as Robert Hellis died in that year. Again, I am tempted to speculate that John Lloyd Vaughan Watkins had made some private financial provision for his son, which enabled him to travel. He also bears the distinction of being the first magician ever seen by David Devant, a future master magician who later stated that it was Dr John Watkins Holden's performance which made him decide to become a magician.
John also claimed that he had stood in for Maskelyne at Egyptian Hall, Piccadilly, for a month, whilst Maskelyne was indisposed, but again I have been unable to verify this.
In 1868 John Watkins HOLDEN married Jane (Jenny) Merriman, stating that his father was Lloyd Vaughan HOLDEN, a Colonel in the army. They had three children, Grace, born 1874, Blanch born 1879 and Reynold born 1884.
In 1871 Emma Holden (John's mother) was living with her 'sister' Eliza GENEREY and her family in West Ham, London. Eliza's husband, Charles Generey, appears in 1861 as a lunatic attendant and he was taking care of a distressed clergyman, in the home of the Reverend Thomas Watkins in Albany Terrace, Claines.
Eliza and Emma claim to be sisters but this is not so. Eliza's marriage certificate to Charles Generey, gives her maiden name as Watkins, and she claims that her father was 'John Watkins, a coachman'. It seems likely that John Lloyd Vaughan Watkins was her father, although he certainly isn't Emma's father, as Emma was his mistress not his daughter. The only baptism I can find for an Emma Holden (who consistently says that she was born in Peckham) gives her parents as William and Catherine Holden.
By 1881, Emma is living on her own. She died on 4th September 1887, the 'widow of John HOLDEN, Colonel in the Army'. The informant was her son, John Watkins Holden.
Meanwhile, in 1871, John Holden was living in Worthing with his wife Jenny, working as a tobacconist.
Dr John Watkins Holden made his debut as a professional magician in 1877 at Hope Hall, Liverpool. He shot straight to the top. On May 24th 1879 he appeared before Queen Victoria at Balmoral. He later claimed to be the only magician whom Queen Victoria ever asked to repeat a trick. He then styled himself 'the queen's magician'. Whether this was with royal permission, I do not know! He also sometimes called himself the 'bohemian magician'.
John boasted of being the only magician to appear before two kings and queens within three months. In fact he appeared before the Prince and Princess of Wales on 1st December 1880 at Sandringham and again on February 21st 1881 at their 'town house' Marlborough House, Pall Mall, long before the Prince became King.
In 1881, John and Jenny were living at 16 Hastings St, London, Middlesex. The house was shared with several other families and would appear from the surrounding households to be in a working class area, which fits oddly with his huge stage success.

John's household consists of himself, described as 'the queen's magician and wizard of the wicked world' (the enumerator has rather dryly entered 'performer'), his wife Jennie, who is described as a 'ballad vocalist, audi spiritualist known as UZITA and a good cook' (which was reduced to 'music' by the enumerator). together with their two daughters, Grace aged 7 and Blanch aged 2, both born in London.
In 1886, Dr John Watkins Holden, published a book entitled 'A Wizard's Wanderings in China and Peru'. He glosses over his early life, but claims to be the son of the Lord Lieutenant of Brecon, which is true. Whether the rest of the book is true, I do not know, but he does claim to have met 'the mystics of the east' and learnt many secrets of magic. I am, however, having difficulty in deciding exactly which ten years of his life was spent on this journey of spiritual enlightenment! In 1891 John was in some kind of theatrical digs. There is no sign of Jenny or their children on this or the 1901 census which was taken 10 years later. In 1895 John suffered paralysis of the vocal cords during a stage performance. His voice was never again strong enough for him to perform in halls and theatres and was forced to limit himself to church, school and children's entertainments. Despite this handicap, he was still performing as late as 1913.
By 1901 John Watkins HOLDEN was living with a lady who he later married in 1910. She died the following year. They had five children in all, but as some of these children have living descendants, I do not propose to follow this family any further on a public forum. John Watkins Holden died on 25th November 1917, having 'lost everything'. He does not appear to have left a will.
There are many loose ends to this story. Is this man the one referred to as 'James Holden, eccentric, quack doctor and conjurer?'
If he is not the same man, is this not an incredible coincidence of names, locations and professions? Who were Emma Holden's parents, were they Catherine and William Holden? If they were, where do they fit into a family of Holdens who were firmly entrenched in Darwen, Lancashire. There are no 'missing' William Holdens in that area.
Dr John Watkins Holden was undoubtedly an extremely talented magician and conjurer. He was, and still is, very highly thought of by the Magic Circle, who rate him as one of the best there has ever been. For me, his best talents have been used to obscure, confuse, illuse and 'magic' his past. There is, no doubt, more to discover about Doctor John Watkins Holden, 'wizard of the Wicked World'.
Olde Crone Holden
© Olde Crone Holden 2007