Nearly everyone has a moment, when researching their family tree, that reduces them to tears. Mine was when I discovered the existence of, and half an hour later the death of, Henry Ayton the brother of my great great grandmother Emily Esther Ayton.
The 1851 census had just been released on Ancestry and I was really pleased to find my great great great grandparents, Robinson and Priscilla at home in Portchester, with their family. I was even more pleased to see that they had a 21-year-old son who hadn't been with them on the 1861 census. Unfortunately, everyone but Robinson had been listed by their initials and the new son's initial was very hard to read, although it may have been an R like his father. His occupation, however, was clearly written: a Lieutenant in the Army.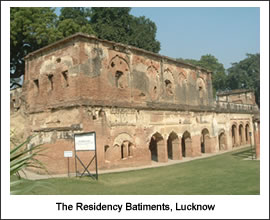 Armed with these two bits of information and frustrated by the lack of a first name, I had a go at searching Ayton+Lieutenant on Google, and the third result about the Indian Mutiny had me blinking back the tears. It read:
Lieutenant H.A.W Ayton – wounded at Lucknow, 16th November 1857. Died of wounds 29th November 1857. Son of Surgeon Robert Ayton 34th Foot. Lost his arm when wounded.
Why did this make me cry? Well, Priscilla and Robinson had at least six children, four girls and two boys. Their eldest girl and boy had both died as children, and of the three other girls, only one had married – my great great grandmother, Emily. I felt sad for them as they had lost another child and I also realised that H.A.W had not married so there would be no other hidden descendents for me to track down.
The details about his death were very interesting, however. I now had some initials to help me in my search and I also had his regiment. The extract from Google came from a site (Indian Mutiny) listing causalities from the Mutiny spanning the years 1857-59. Henry's details are recorded on a memorial to the dead of the 84th Regiment (York and Lancaster Regiment) at the Residency in Lucknow.
A Google Book search using his initials came up with the deaths in India page from the Annual Register, 1858:
November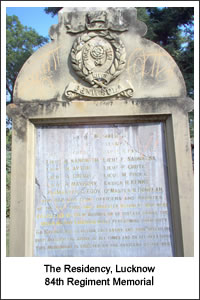 29. Of wounds received in Lucknow, Lieut. H.A.W. Ayton, Eighty-fourth Regt., only son of Robinson Ayton, esq., late Surgeon Thirty-fourth Regt. This gallant young officer was in all the actions of General Havelock with the rebels, and had a horse shot under him at Bithoor on Aug.16, 1857.General Havelock and his force, of which Henry was a part, arrived at the Residency in Lucknow on 25th September 1857. They had set out as a relief force to evacuate the Residency, which had been under siege since 4th July 1857.
L.E Ruutz Rees, a merchant from Calcutta, was at the Residency for the whole of the siege, and in his "Personal Narrative of the Siege of Lucknow" he notes that he made the following entries in his diary for September 1857:
"September 22nd Raining hard. Spies came in last night. Generals Outram and Havelock are coming to our relief. This is true! How can I describe my joy at even the bare thought of being relieved!"
"September 23rd … The commotion in the city seems tremendous. The fire keeps approaching. Hurrah!"
Describing the reinforcements arrival he writes:
"The immense enthusiasm with which they were greeted, defies description. As their hurrah and ours rang in my ears, I was nigh bursting with joy."
Unfortunately, this first relief force had been weakened by disease and the many battles they had fought before arriving in Lucknow, and were no longer capable of evacuating the Residency, but only of reinforcing its defences. The day that Henry was wounded, 16th November, was the day that a second, stronger, relief force – led by Sir Colin Campbell – launched a successful attack and managed to reach the Residency. Had he been wounded helping them to fight their way in?
If I wanted to know more about Henry's Army career then I would have to visit The National Archives in Kew, which holds records for the Armed Forces. From the Army List for 1855 I discovered Henry's full name, Henry Abraham Whitmore Ayton. I then had a look through the card index of officers. This in turn led me to the microfilm that held the details of Henry's Army career (WO 76/338). This was a wonderful find as it gave me his date of birth and the full story of his life as an officer.
He was born on 16th November 1829 in Eling, Hampshire. The day that he was wounded was, in fact, his 28th birthday. The records read that his right arm was wounded during the storming of the Hrin Khana.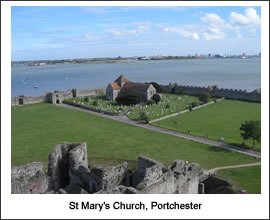 L E Ruutz Rees describes what happened that day. The Hrin Khana (deer house) was part of a group of buildings making up the Moty Mahal Palaces. They were held by the rebel Sepoys and they blocked the way to the Residency. The idea was to mine these buildings in preparation for the arrival of Sir Colin Campbell and to blow them up to help him gain access. It was thought that the relief force would arrive on the 14th but it did not arrive until the 16th, by which time the powder had become damp and had lost its effectiveness.
As a result the buildings were not completely destroyed and so, in order to secure them, it was decided to storm them. A group from the 84th under Captain Willis attacked the Hrin Khana. Henry was part of this group. They and the other groups were successful and Sir Colin Campbell and his relief force were able to enter the Residency, but L.E Ruutz Rees finishes his account of the day with these lines:
"In these operations our loss was, two officers wounded; seven non-commissioned officers and men killed, and twenty three wounded – many, I regret to say, mortally and dangerously."
Henry was one of the two officers wounded. His Army records state that his injured arm was amputated. Although Chloroform may have been used to perform the amputation they would have had very little in the way of antiseptics to stop infection. We can't know for sure, but Henry probably died from an infection and the trauma of the operation.
L.E Ruutz Rees tells us that the wounded were evacuated on the 17th, followed by the women and children the next day. The Residency was finally abandoned on the night of the 22nd November 1857 and was not retaken until the 15th March the following year.
The news of the Relief of Lucknow only reached Britain six weeks later on Thursday 24th December. The first list of the wounded and killed appeared in The Times on the 25th, but Henry's name did not appear on it, nor on any of the subsequent published lists.
It must have been a very worrying time for Robinson, Priscilla and their daughters. They must have been relieved at first, when Henry wasn't listed as wounded or killed, and then more and more worried as time went by and there was no news of him. His death announcement finally appears in the Times on Friday, April 2nd 1858.
Emily named her first son, born in 1862, after her dead brother.
I thought that this was the end of Henry's story, but, at the end of July, The British Library put some of its India Office Records collection online, and while searching the Ayton name, I found a reference to a monumental inscription at St Mary's Portchester for Henry. Fortunately this was just before a planned trip back home, and so on a very sunny, if windy day, I set off to Portchester with my family in tow to find the inscription.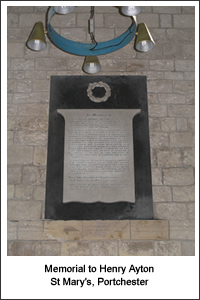 St Mary's is a lovely church dating from 1120 and built in the grounds of Portchester castle which itself started life as a Roman fort. We split up and searched the churchyard but found nothing. With the church being so close to the sea a lot of the gravestones are now completely illegible. The children soon got bored and so my husband took them off to visit the castle while I had a last turn around the churchyard before going into the church itself, and that's when I had a wonderful surprise. Halfway down the nave on the right I found a marble plaque on the wall above the pews. It read:
In memory of Lieutenant Henry Ayton, 84th regiment, who died on the 28th of November 1857 of wounds received in Lucknow on the 16th of November 1857 on which day he completed his 28th year.
He was one of that gallant band under Major General Havelock, which after having been once compelled to retire and fighting several battles with the rebels succeeded in throwing themselves into the distressed and memorably enduring garrison of the residency on the 25th of September 1857. There remaining and assisting them to hold out till finally relieved by Sir Colin Campbell on 22nd of November 1857. It was in making a diversion in favour of the advance of Sir Colin that he received his death wound.
Lieutenant Ayton's gallant conduct and intrepidity on every occasion before the enemy was most conspicuous and was noticed more than once by the late Major General Havelock. Extract from 84th Regiment after ? 11th December 1857.
"What I do thou knowest not now, but thou shalt know hereafter"
This tablet is erected by his friends as a memorial of his heroism and of their sorrow for his loss.
Robinson and Priscilla died within a day of each other in January 1864 and are buried in the churchyard at St Mary's along with Emily, who died in June of the same year, giving birth to my great grandfather.
Georgette
© Georgette 2007
---
HENRY AYTON'S SERVICE RECORD
Ensign – 2nd West India Regiment 14th August 1846
Lieutenant – 2nd West India Regiment 13th October 1848
Lieutenant – 84th Regiment 1st August 1851
'Expedition 80 miles up the Gambia, West Coast of Africa in 1849 and was engaged at the storm and destruction of the fortified town of Bambacoo on the 6th of May and the attack and partial destruction of Keeming 7th May and in the action with and defeat of the savages on the plains of Tendebar 8th May as Lieutenant. The expedition was commanded by Captain Hill of the 2nd West India Regiment.
Served on the staff of the Army in Turkey.
Served in Bengal during the Mutiny, was engaged in the actions of Fatehpur 12th July '57 Cawnpore 15 July '57 Unao and Bashirat Ganj 29 July '57 "Bashirat Ganj 5th August '57 Bithoor 16th August '57 Mangalwar 21st Sept '57 Alam Bagh 23rd Sept relief of Lucknow 25 Sept '57 storming of Hrin Khana 15 November '57. Wounded under Sir H Havelock KCB'.
Service Abroad
27 Feb 1847 – 19 Mar 1848 Bahamas
20 Mar 1848 – 22 April1848 Jamaica
23 April 1848 – 14 Oct 1848 Honduras
25 ?? 1849 – 3 May1850 Africa
18 Dec 1852 – 22 June1854 East Indies
7 Jan 1857 – 28 Nov 1857 East Indies
---
THE INDIAN MUTINY 1857-1859
150 years ago, the Indian Mutiny broke out in Meerut on 10th May 1857. The previous day 85 Sepoys from the 3rd Light Cavalry had been court-martialled and stripped of their uniforms for refusing to use the cartridges for the Pattern 1853 Enfield Rifle. Rumours had been spreading all through the spring that the cartridges were greased with pig and cow fat, and this only served to reinforce the already growing suspicion, that the British were trying to force Indians of both religions to convert to Christianity.
From Meerut the mutiny spread to Delhi and Lucknow but confined itself largely to Bengal where relations between the East India Company's Bengal Army's British officers and their Indian soldiers had been strained for a number of years. The Company's Madras and Bombay armies were less affected and the Sikhs, Punjabi Moslems and Gurkhas remained loyal.
Many of the local rulers in Bengal helped the mutineers because they had grown tired of the Company's new system of 'lapse', which meant that, any state whose ruler died without a direct successor, was forfeit to them.
The mutiny was brought to an end in June 1858 but sporadic outbursts continued into1859.
As a result of the rebellion control of India passed to the British Crown and the East India Company was abolished. The Indian Army was also reorganised so that it could not function without help from the British Army.