When you live somewhere for a long time it is easy to become complacent about the house or home. It is only after having left home that I realised how much it had become part of me. Now that I am researching my mother's family and coming across the remarkable fact that over 250 years ago a set of my 5x great grandparents had married in the same village church that I was baptised and married in, I really wanted to discover the history behind my childhood home.
Firstly, I would like you to imagine the front of the house; path to the large three quarter glass front door that is reached by three circular stone steps decreasing in size. Four large windows, level with the front door (two on either side) and on the level of the bottom step underneath the large windows, two small long closed bricked up windows. On the first floor level there are five large windows and in the roof three triangular attic windows – et voila every girl's dream doll's house, and I was lucky enough to live in it.
The house did not start out like that though, but got to it through stages of metamorphosis. The house started life as a long single height farmhouse, and there is mention of it in the Domesday Book. The land belonged at that time to the church and at some point in the 14th century it became a prebendal manor house. It was leased by the Crown during the 16th century, before being purchased in 1624, remaining in the same family until 1741. The last member of that family carried out some major alterations to the property, with the back of the farmhouse pulled down to about three feet and then the aforementioned frontage built.
Going in through the new front door there is a wide hallway and on either side are two large doors complete with massive architraves leading into large high ceilinged rooms (15') with, in one room, a huge stone fireplace and in the other an original Adam grate. Asides from the large front windows there is a high up stone window in one room which is a leftover from the old building.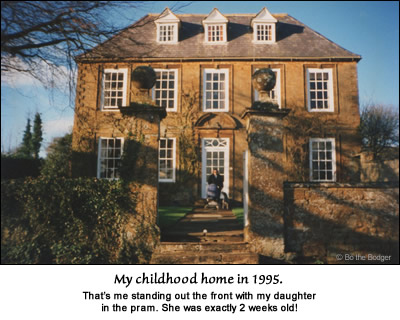 Moving on down the hall, straight ahead, you see the old front door. It used to open, but now age has really caught up with it and it has become fragile in its extremely old age. It is a wooden studded door only about 6 ft high, yet about 4ft wide, and was the front door from about the 15th century. The only person who opens it now is the ghost… more about him later.
Off the hall is a small door leading into a room with a low ceiling, lined with wood and stone mullion windows. It has a massive stone fireplace, and in the corner (where my father installed his record player) there used to be a circular staircase up to the servants' quarters (not that we had servants I hasten to add!).
I can remember one Boxing Day drinks party (when I was offering food to all the grown-ups) looking up at the ceiling, which was papered, and thinking that there was a very large spider's web on it. Like all good children should, I pointed this out quite loudly to my mother, expecting her to deal with it despite there being a room full of guests. Her reaction was much as you would expect, however that wasn't good enough for me, so I went and got a feather duster to remove the said cobweb, only I couldn't because it was in fact a large crack appearing in the ceiling! This necessitated some major restoration work and when the builders took the ceiling down they discovered original building materials from Elizabethan times.
In the hall there is another half size door, like the ones leading into the front rooms, next to the old front door. This goes down into the cellar. The stone steps are very worn with deep dips in them. The cellar would have served many purposes in its life as it has a constant cool temperature and is very dry.
The other feature of the hall is the magnificent seven flight oak cantilevered staircase that goes all the way up to the attic and hanging down from the top is a chandelier. The staircase has a 'burglar' step on the second flight. This is a step that is made with a slightly higher rise than the rest, so that somebody coming up the stairs who doesn't know the house will trip on it, waking the residents.
The landing on the first floor is an oddity as there are three tiny Elizabethan doors which lead into massive high ceilinged rooms like the downstairs ones. It is quite obvious that a provincial architect was responsible for the conversion, but just had no idea how to fit the large scale doors in – so gave up and left the original ones. Again in one bedroom there is a large stone fireplace and a low down stone window, and in the other a small Adam grate, but large windows. When my father bought the house, some of the bedroom windows were still bricked up from the window tax days.
My grandmother lived with us and she slept in one of the front bedrooms. There were some occasions when she used to tell my mother that my brother had come home very late and could he be quieter when shutting the door and coming upstairs. My mother knew that my brother hadn't come home, so it must have been our ghost. An American visitor once told my mother that our ghost was a Cavalier and didn't like the fact that his bedroom was now a bathroom!
The house changed hands six times until it was sold by auction in three lots in 1892. In the particulars of sale it was described as, "An Estate compromising of an old-fashioned and substantially built residence, in a nice position on high ground with farm homestead, two sets of off-hand premises, a smaller dwelling house, a cottage and about 306a : 1r : 29p of very fertile land of which 123 acres are pasture." The blurb goes on to say that it is in the midst of good hunting country and fair shooting.The downstairs rooms were described as a billiard room and drawing room, and also on the property was a brew house.
The new owners of 1892 put in plumbing and central heating. One of the baths, second hand even then from an even larger local house, is still in situ and the most perfect wallowing bath – roll top with claw feet and a very heavy 2' cylindrical drop plug. Babies have learnt to swim in it!
The house changed hands four times before my father bought it the late 1950s. During the late 1930s/early 1940s it was owned by a well connected family, and being outside London during the war, was used as a retreat for the young princesses. I really have no idea which bedroom they would have used, but for their sake I do hope that it wasn't mine as it was freezing cold. With three outside walls and at the end of the heating system, the heat never got to it.
My parents had the house rewired in the 1980s and the whole job was undertaken by one man (J), with help from our black cat who liked nothing better than going under the floor boards. J was never sure what he was touching when he had his hand down a gap and touched something furry! He did come across a couple of live wires, but the one that gave him the biggest shock – literally – was the one that had practically lost its insulation and was wrapped around the water pipe leading to my parents' bathroom and their cast iron bath. He assumed it was dead but got quite a shock – actual and mental – when he discovered that it was still live. As he said to my mother, it could quite literally have been murder and would've taken quite a while to track it down.
The manorial court rent records show that the same families were paying rent from 1726 to 1791 but some were less efficient than others at paying them.
In my searching I can find no record that my 5x great grandmother lived in this house, but I live in hope. The fact that somehow through fate my father brought a house in the same place that his wife's family had lived 250 years earlier, I find amazing, especially given that my father was a Londoner born and bred.
Bo the Bodger
© Bo the Bodger 2009
---
Researching a Property
Has this article inspired you to research the property in which you live?
Bo used the resources at her local records office to research her childhood home. For further guidance please click on the following links:-
National Archives: Looking for records of a house
English Heritage: Discovering the history of a house