How a family story she thought was untrue led Zoe Linkson on a search through historic newspapers to uncover the truth behind her football playing great grandfather.
When I was younger my Nan often dropped into conversation that her father-in-law played for Manchester United. Most often this fell on deaf ears. My brother and I were very unimpressed as we were Tottenham fans anyway. Nan passed away shortly before I started researching my tree so at the outset I knew no more than the surname I was researching – Linkson. I decided to begin with a resource I was familiar with – the internet – looking for Linkson and Manchester United. I immediately got a hit on a Barnet FC fans' website. Oscar Linkson was "possibly one of the most successful Barnet players in terms of his career progress. He signed for Manchester United in 1908 with 55 league and 4 FA Cup appearances". He was born in New Barnet in 1888 and killed in action in 1916. The website featured a small, grainy photograph of him. At last I knew his name.
A search on the 1901 census online which had not long been launched yielded only 28 people called Linkson and only six living in East Barnet. A 13-year old Oscar with his father William, a house painter, mother Rebecca and three sisters. I imagined the pride William must have felt when his only son became a professional footballer just seven years later. I stuck with online resources and used Ancestry and Family Search to track the family in 1891 and 1881. Going backwards unsurprisingly revealed nothing more about Oscar.
My limited research by this point had made me realise how uncommon my surname is. I headed to the Family Records Centre in London which holds the indexes of birth, marriages and deaths for England and Wales and conducted a mini one name study. I quickly got distracted with attempting to connect every Linkson I had found and forgot about Oscar. I would occasionally drop him into conversation. One day a colleague asked me whether he was a good player and being unable to answer (without fibbing) I was prompted to return to him. My study had revealed so far that in fact he had been the youngest of five boys born to William and Rebecca, three of whom – William, Robert and Alfred had been lost in childhood along with their sister, Margaret. The second youngest boy Sidney had died in 1901 of injuries sustained in the Boer War which just left Oscar and his three sisters as I had originally found them in 1901. I could recite the dates and facts of his family but knew nothing about him as a man.
I began by emailing the Barnet FC fan who ran the website I had originally found. He responded immediately with a career history including the teams he had been with: Barnet and Alston FC, Pirates FC, Manchester United, Shelbourne FC and Queens Park Rangers. I contacted the four teams still in existence to see if they held records. My only reply came from the archivist at the Manchester United Museum. They wrote with the basic facts the club still had. Oscar made 55 league and 4 FA Cup appearances and he was signed in 1908 and transferred in August 1913 to Shelbourne FC in Dublin. He was a defender wearing the No.2 shirt and playing at full back. His cup games had all been in the season when United first won the F.A. Cup and he had played in the 1910/11 team that won the League Championship. He stood at 5′ 9 1/2″ and weighed 11st 10lbs.
It was a trip to the British Library Newspaper Collection at Colindale to look up old match reports that proved most fruitful. I prepared myself well beforehand and compiled a list of newspapers that would reflect his career path: the Barnet Press, the Athletic News (a Manchester based sporting paper), Irish Sporting Illustrated and their small set of official Manchester United programmes. The programmes were part of the collection that has not been microfilmed so I was able to handle them in their original format. This was probably the most moving part of my search for Oscar – holding in my hand something that almost a century earlier a spectator had held as they watched him play.
I relayed this feeling to a friend on the GenesReunited website a few months later which led to my most valuable contact in my search. Her father had been a football statistician and she put me in touch with a family friend who was able to provide details of matches, venues and whether as the backline of defence he had helped the team keep a clean sheet. It turns out that a football statistician is even more obsessed with facts, facts, facts than a genealogist. With his help and the newspaper clippings I built a fuller picture of Oscar the player.
Barnet Alston FC were the works team of a local dental manufacturing company. On October 2nd 1907 Oscar was playing for their reserve side. An injury to a player prompted his move to the first team that December. He impressed the coaches and he remained as a full team player for the rest of the season. The following summer he took up with an amateur side called Pirates F.C. The Athletic News reported in August 1908 that "he toured abroad with Pirates and Manchester United heard of him whilst on their Continental tour". Before the start of the season his transfer from amateur to professional books had been completed. He made his debut against Nottingham Forest in October 1908 at the age of 20.
That first season he only made the cut for ten matches when regular players were injured or being rested but after one of these appearences the Athletic News writes "Linkson is a nicely built lad, nimble on his feet, and kicks well. He has the makings of a fine back". That year United had their first victory in the F.A. Cup beating Bristol City 1-0 in the final. They paraded the cup on a horse drawn carriage through the centre of Manchester and a civic reception was held for them at City Hall.
For four seasons Oscar learnt his trade with Manchester United. He honed his skills in the reserve team working on his match fitness and was back in the squad during their championship winning campaign, with the official programme commenting "a gratifying feature of the game was the decided improvement of Linkson, he got down to his work in a really practical manner [taking] nothing for granted. It is always better for a full-back to be sure than sorry, and the wholehearted manner Linkson slipped into his task was decidedly refreshing"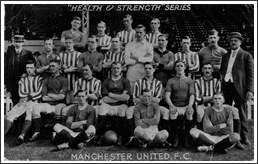 For his last two seasons he was a regular fixture in the first team although blighted with injuries. In September 1912 the programme reports that, following a kick, he underwent a groin operation to remove an abscess during the summer. Due to this he had been unable to join pre-season training yet played the first match of the season against Woolwich Arsenal "a little too energetic and lusty". Maybe his home life was having an effect on his style of play as only a month earlier Oscar had married 16-year old Olive May Fenton, a Publican's daughter. In November he suffered again, having "several teeth knocked out and his jaw smashed in the match against Notts County". Following the run of bad luck he played just eight more times for United.
His transfer in August 1913 was reported eagerly by Irish Sporting Illustrated. "The news that Shelbourne had secured Oscar Linkson the Manchester United left-back … created quite a sensation" . At the time of his move Olive was already expecting my grandfather and he moved leaving his young wife at home in Barnet. Match commitments meant he was absent for the birth of Eric. Mother and son followed to Dublin after the New Year and at the end of 1914 the family was completed with the birth of daughter Olive born at their new home in Donnybrook in the south of the city.
By now War had now broken out and Oscar and family returned home to Barnet and he went on to London to enlist. The introduction of Pal's Battalions meant he could sign up alongside his teammates and opponents and he joined the Middlesex Regiment's "First Football Battalion" who were made up entirely of professional sportsmen, mostly from the football fields. He also signed up to play with Queens Park Rangers, whilst not on active service, a team close to his battalion's base at Richmond Athletic Ground, but following public outcry the league was suspended and the men returned to battle.
The Footballers Battalion formed part of the 2nd Division posted to the Western front in 1916. In late July they moved southward to the Somme taking part in the Battle of Delville Wood and the attempt to capture Guillemont. The first British effort to seize Guillemont on 8th August 1916 was described as "a debacle". That day Oscar disappeared in the field of battle. His death certificate simply states "death presumed". The war claimed the lives of 86 men of the First Football Battalion – thirty two were killed in action, nine died of wounds and forty five went missing. 117 were wounded and it is likely that most of them never graced the pitches again.
Within less than eight years Oscar signed to defend one of the greatest football teams in the world and died defending his country.
samesizedfeet
©samesizedfeet
---
MORE ABOUT OSCAR
In 1912 the Football Association operated a maximum wage system limiting earnings to £208 per year.
That year the clubs and the players union were in negotiations to secure payment for players who were unable to work through injury, sickness or misconduct rather than the pay-as-you-play system they were using. The clubs worried that the insurance payment would mean that players unable to participate would get a higher wage and more men would "pull a sickie". Using the average earnings index, Oscar's 1912 earnings were roughly equivalent to a current wage of £64,000 per year. By comparison, Manchester United's current No.2, Gary Neville, is reputed to earn £50,000 per week.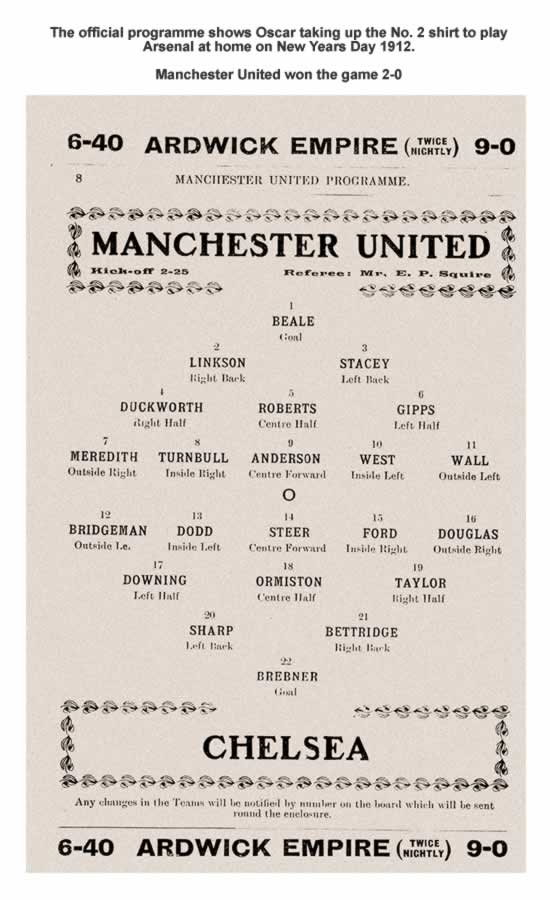 ---
OSCAR'S TEAM MATES
Dick Duckworth b 1880 Collyhurst, Lancs
Charles Roberts b 1883 Darlington
Billy Meredith b 1874 North Wales
Harold Halse b 1886 Stratford
James Turnbull b 1884 Bannockburn
Alex Turbull b 1884 Hurlford
Jack Picken b 1880 Ayrshire
George Wall b 1885 Boldon Colliery
Alex Turnbull b 1884 Scotland
---
RESEARCHING WILLS
Oscar might never have been born had the terms of his great grandfather William Rennoldson's Will not been challenged in court. William was a wealthy ship owner who died in February 1837 leaving a large estate to his two daughters and his second wife. A codicil to his will instructed that his daughter Margaret Rennoldson was suffering from a nervous debility that "unfits her for the control of herself" and William believed her incapable of choosing a husband nor fit to have children and that in event of either she was to be disinherited – thinking that a man would take advantage of her for money. Her "nervous debility" was most likely epilepsy as her death in 1894 was a brain haemorrhage bought on by an epileptic fit.

In 1841 her stepmother's sister Catherine died from the effects of childbirth, leaving a husband, Robert Linkson and several children. Robert had been one of four executors to William Rennoldson's Will and therefore bound to enforce the terms strictly. However, in 1842 Robert Linkson and Margaret Rennoldson married leaving the newlyweds in the peculiar situation of husband being sued by wife for the right to her inheritance. They eventually went on to have ten children together – not so incapable after all.
---
PALS BATTALIONS
At the outbreak of the First World War, Britain did not have a system of conscription in place.
Lord Derby championed the idea of groups of men from towns and villages to enlist and serve together, promising that they would be able to fight alongside friends and neighbours. These became known as the Pals Battalions. They were popular from the outset and with a huge poster campaign backed by Lord Kitchener, men flocked to enlistment centres. Between September 1914 and June 1916 three million men volunteered, contributing towards the 643 locally raised battalions. The Football Association used matches to encourage fans to enlist, with players signing up in front of the terraces. Their campaign alone led to 500,000 new recruits.
The drawbacks of the scheme were realised on the first day of the Battle of the Somme when those who signed up alongside one another perished together. Of the 700 men who joined together, forming the 11th battalion East Lancashire Regiment, 585 died.
---
ONE NAME STUDIES
Check out the Guild of One Names Studies to see if anyone is researching your surname. One namers collect all occurrences of a surname worldwide and you may find that someone has done the research you need already. Although my surname study isn't quite up to their standards yet, by collating all the Linksons from census and indexes and putting my research on the internet, I am able to help anyone connected to a Linkson trace the line back to the early 1800s. If you have an unusual surname it is worth trying.