Mary Ann Baker is my great x2 grandmother, the mother of my maternal grandmother's father. She was born in Horsted Keynes, Sussex, in 1835, the second of Abraham & Lydia Baker's seven children.
By the time of the 1851 census, when Mary Ann was 16 years old, she was working as a servant in the household of a John Mills, a married plasterer, living at Marine View, Brighton, Sussex. However by November 1853, she was back in Horsted Keynes baptising her son John Mills Baker. I'm in no doubt who John's father was, even though I have no written evidence to prove it.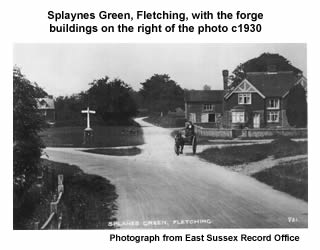 Mary Ann met my great x2 grandfather, Reuben Packham, who worked for his father, Henry Packham, in their wheelwright workshop at the Tiger Inn, in nearby Lindfield. They married in the adjacent parish church on 11th April 1857, when she was six months pregnant, and against his father's wishes. No doubt he thought that Mary Ann was 'not good enough' for his son.
Reuben and Mary Ann's son, Henry, was born almost three months later. It appears that he was named after his paternal grandfather in an effort to appease him, however this was to no avail as father and son went their separate ways, with the older Henry dying the following year.
Mary Ann and Reuben, together with John and Henry, and Reuben's 17 year old brother Charles, left Lindfield for Horsted Keynes, where they ran their own wheelwright business. Their daughter Martha was born there in 1859. They stayed for a couple more years, then took over a wheelwright business in Ifield, near Crawley, as it was on the London to Brighton coach route. Their son Alfred was born in Ifield in 1862.
In 1863 they moved to Splaynes Green, Fletching and took over the running of the 'Plough Inn', where they ran the beer house, as well as continuing their wheelwright
Their fifth child, my great grandfather Abraham, was born at the 'Plough' in 1868, and he was followed by five more siblings – Frederick, 1870; Margaret, 1871; Edward, 1873; George, 1875, and Frank, 1881.
By the early 1880s they took over the running of the nearby forge.
The owners, the Maryon Wilson family of the nearby Searles estate, improved the property by building the adjacent family home, as well as extending the forge itself. The family continued to run the 'Plough' as well as the forge, as the 1882 Kelly's Directory of Sussex describes Reuben as a 'coachbuilder, wheelwright, smith, agricultural implement maker & beer retailer'.
As the boys grew up they worked with their father in his workshop. Mary Ann recorded the business' transactions in ledgers, which are now held at the local record office. The family were doing well for themselves.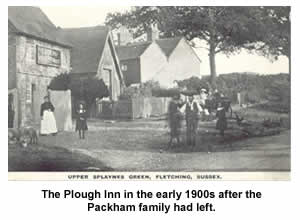 However, in 1888 fate dealt the family a cruel blow; Reuben developed pneumonia and died on 19th June. He was 53 years old.
Mary Ann was now a widow. Even though John, Henry, Martha and Alfred had by this time married and had children of their own, Mary Ann still had children at home, the youngest, Frank, being 7 years old.
The headmaster at the village school wanted her son, Edward, to attend grammar school, but Mary Ann forbade this; she had no option but to continue to run the businesses and needed her family to help her do this.
Alfred took over the running of the forge, with Edward later joining him in partnership. The family stayed there until just after the Second World War, employing at some time their brothers John, Abraham, Frederick, George and Frank, as well as other local men.
Nonetheless, Mary Ann was still the matriarch of the family. In 1891, when she was 56 years old, she was described in a trade directory as a 'coach builder, smith and beer retailer'.
She stayed at the 'Plough' until around 1895, when she took over the running of 'Flitteridge Farm', which lay behind the forge. She was by this time 60 years old, an age when most women are thinking of slowing down. She planted the fruit trees of the orchards at both the farm and the the forge. One of her granddaughters remembers an old cider press at the forge, which her grandmother had used to make cider for the men working in the fields.
The 1901 census described her as a 'blacksmith and farmer'.
However, sad and tragic times were to follow.
She lost two of her sons to Phthisis (Pulmonary Tuberculosis) – Frank in 1902 and Henry in 1907.
Her son Frederick died exactly two months after his older brother Henry. He worked as a carter at the farm and had sustained internal injuries after being kicked by a colt.
In January 1915, her eldest son John died suddenly at the age of 62.
By early November 1916, with the First World War raging in Europe, Mary Ann was 81 years old and suffering from a weak heart and rheumatism. Her husband and five of her children had predeceased her. Her daughter Margaret, whose husband ran a nearby farm, was by this time living with her as her carer.
On 2nd November 1916, Margaret helped her mother up the stairs to bed. Mary Ann rested in the chair at the top as usual and said that she was exhausted. She then collapsed into her daughter's arms and died. Her funeral 5 days later was reported in the Sussex Express, in which she was described as 'an old and respected inhabitant of the village'.
She is buried in Fletching churchyard, with her husband Reuben and daughter Ellen, surrounded by most of her children and a few of their descendants.
In her will she left £1604 18s 8d to be shared equally between her surviving children, and the family of her son John. This is worth almost £54,000 in today's money (using the Retail Price Index to calculate the equivalent). I consider this quite something, as her own father had died in the workhouse in nearby Cuckfield, 34 years previously, and she could have quite easily followed the same path.
When I was a child I didn't even consider that my grandparents could actually have grandparents themselves and now wish that I had asked about them. My gran would have been 9 years old when her grandmother, Mary Ann died, so would have been able to remember her well.
I'm therefore so pleased to have been able to piece together Mary Ann's story. I see her as strong, both mentally and physically – a truly inspirational woman.
Velma Dinkley
© Velma Dinkley 2008
---
FURTHER READING
Women in England 1760-1914 A Social History. Author: Susie Steinbach. ISBN 0753819899
Women of Victorian Sussex Their status, occupations, and dealings with the law 1830-1870. Author: Helena Wojtczak. ISBN 1904109055
Researching your female ancestors. Author: Margaret Wood. ISBN 1853068187
ONLINE RESOURCES
Celebrating women's history A major and unique project in women's history, examining through the lives and organisations of Yorkshire women, the role women have played in history.
Intute: Social Sciences – Women's studies